This week's #ThankfulforFamilies #OutdoorFamilies Instagram Bonanza got a bit of my Thanksgiving Spirit flowing early and it's made me think about disabilities in the outdoors.
One of the things I'm most thankful for this Thanksgiving season is a healthy and able family. Everyone in my family is able to walk, talk, interact with others and enjoy the outdoors. It's a blessing I often take for granted, but it's been on my mind recently for three reasons.
Out of My Mind
First, a few months ago I read the book Out of My Mind by Sharon Draper. Out of My Mind is not an outdoors related book; it's a story about a tween girl with cerebral palsy. She cannot communicate verbally in the way we do, but her mind is as active as any girl her age. The story opened my eyes to the ability side of disability and has helped me question my own prejudices about people who use wheelchairs, can't speak or have physical limitations.
Speechless
The second reason I've been thinking about disability is ABC's new comedy TV series Speechless. The main character, JJ DeMeo, is a 16-year-old boy with cerebral palsy played by Micah Fowler (who himself has cerebral palsy).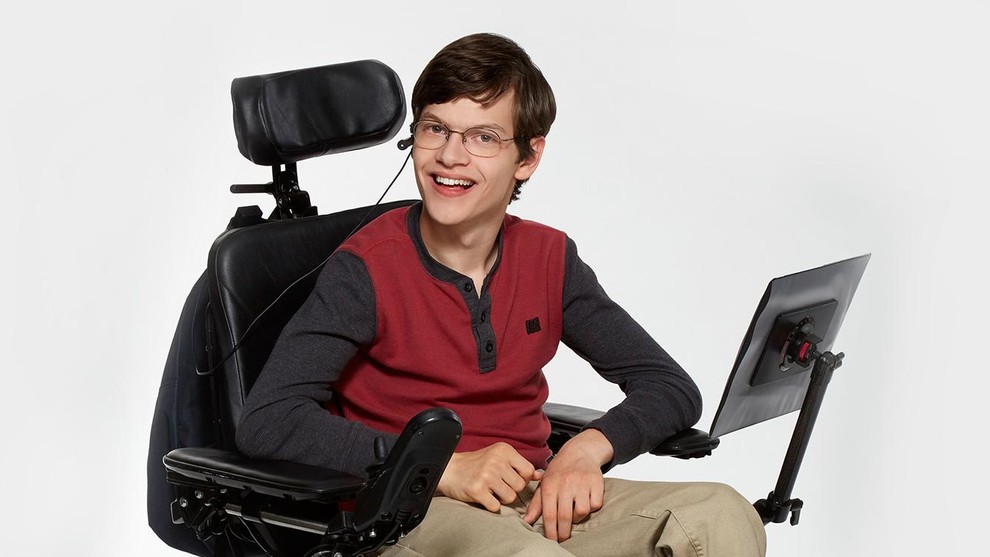 Watching the show has also broadened my awareness. This is going to sound terrible, but while watching the show I found myself thinking, I didn't realize someone with cerebral palsy could be so funny. I know. So NOT politically correct, but I'm unfamiliar with cerebral palsy. I've never been educated about it.
Cerebral Palsy Guidance
That brings me to the third reason disability has been on my mind. Several weeks ago a reader emailed me and asked if I'd introduce you all to his website – CerebralPalsyGuidance.com. Alex lives with cerebral palsy every day and his website is full of useful information about the disability. It's a great resource to get a little better educated about what cerebral palsy is all about.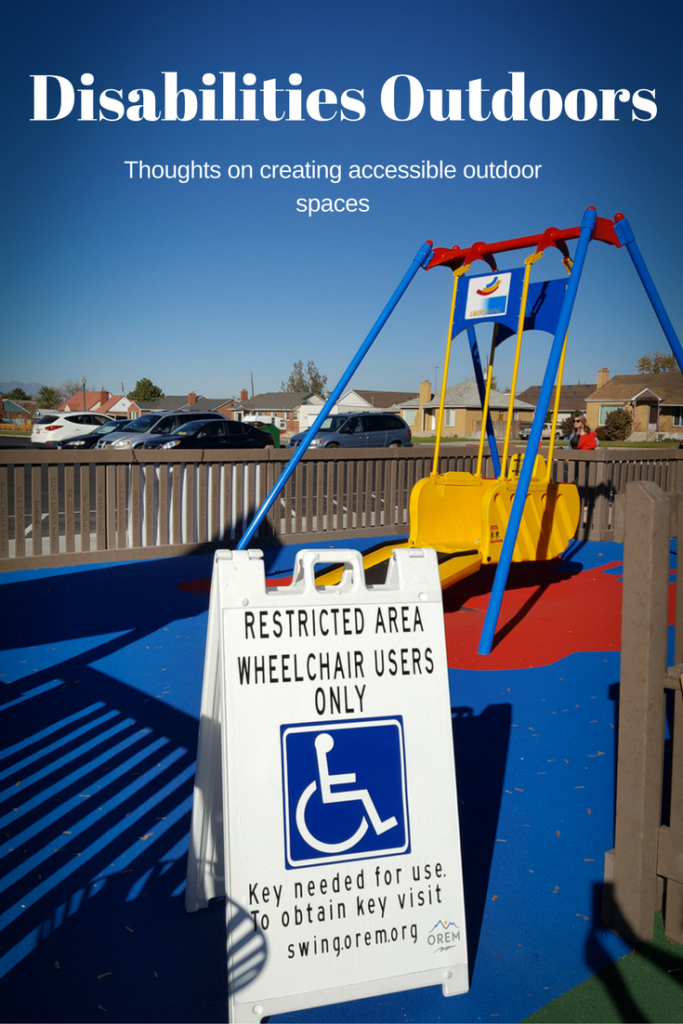 This post on Tips for Traveling with Cerebral Palsy had suggestions that are helpful for traveling with anyone who needs extra help. For example, I didn't know TSA has a special program to help disabled people and their families with airline security. Also, there are specially designed wheelchairs for beach combing and other off road adventures. I never would've thought of that either.

Being a Mountain Mom has brought so much joy to my life that I want everyone to have that opportunity, even those with physical limitations. I applaud cities, counties and towns who invest in paved hiking and biking trails. As a Mom with a stroller I've appreciated the effort as well. I will never again be annoyed that I can't reserve the wheelchair accessible campsite, even if it's the last one available. And I will try not to take for granted my ability to see, hear, carry, run, snowboard, climb and move in the outdoor world.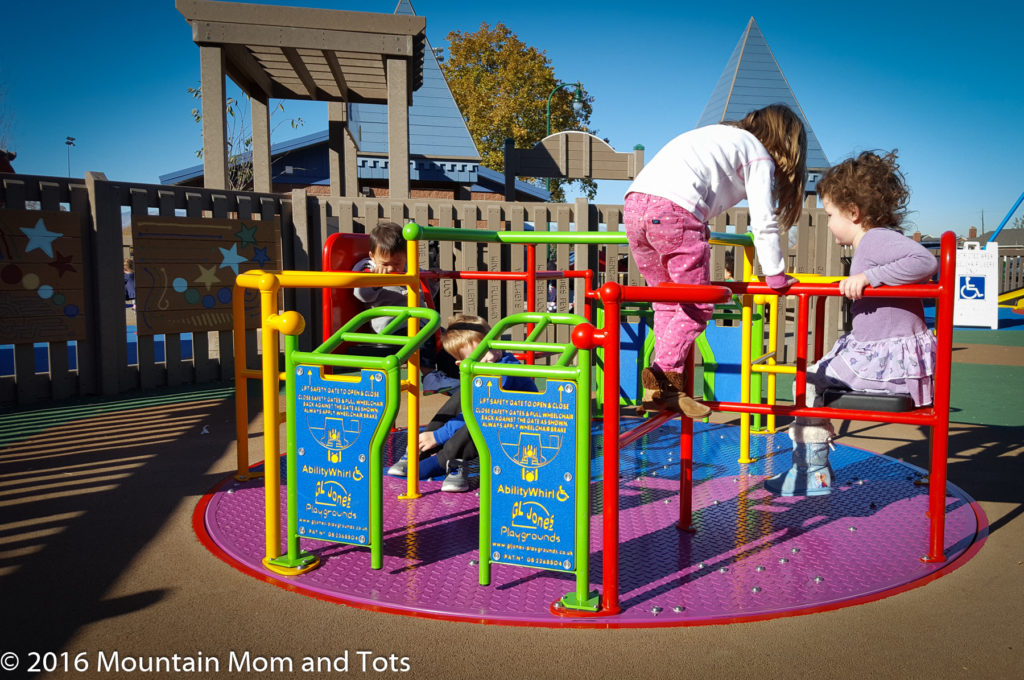 All Together Playground
I recently visited my local All Together Playground, a city park that was designed to include handicap accessible play equipment. Little G and Baby L loved the seated swings, and teeter totter. They played on the in-ground merry-go-round complete with gates that would allow a wheelchair aboard. They ran up and down the ramps of the jungle gym laughing along with all the other children there. Being in that outdoor space made me appreciate the patience of those with disabilities trying to educate the rest of us. I'm grateful for their efforts and the efforts of those around them, because I want to live in a world where everyone can explore outdoors.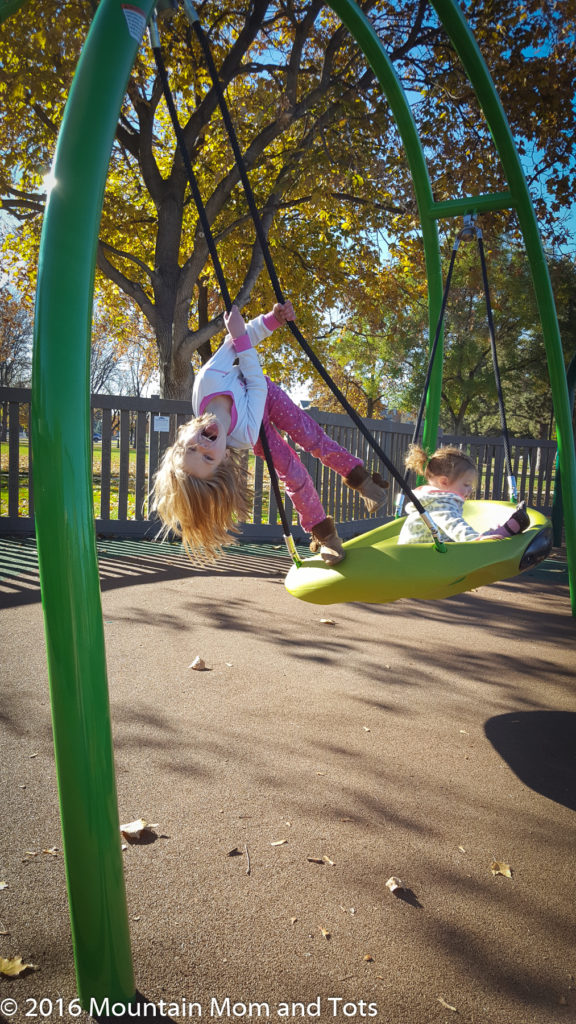 All children (and adults) should have access to safe, fun and accessible outdoor activities, whether that's a park, trail or campsite. As a member of the outdoor community I welcome everyone to enjoy the outdoors however they can. I may not know much about what people can and can't do, but I know that I want them to feel the same joy that I do when I'm in the outdoors.
What about you? Do you have a handicap accessible trail or park near you?
You may also like this post I wrote about Team Utah Snowboarding's Adaptive Chapter.
This post contains affiliate links. If you purchase something through this link I receive a small commission. We're talking a few cents, people, no need to freak out.