In honor of Earth day April 22, 2017, I thought I'd share 50 Ways to Go Green That I've Personally Tried. Over the last eighteen months I've been motivated to change my habits to be more environmentally friendly. Some of these habits became easy lifestyle changes, others…well…not so much.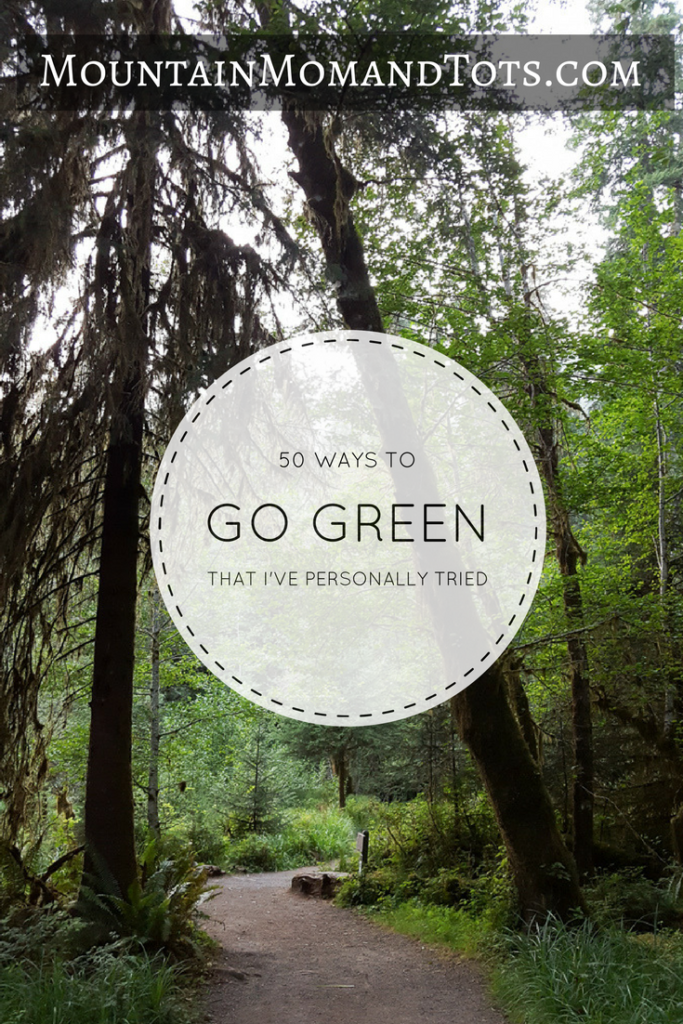 This list of 50 Ways to Go Green is by no means comprehensive. It's a collection of mistakes mixed with successes. Not all of my Go Green efforts produced results, but at least I tried. Maybe these can give you ideas of things to try to Go Green in your own life too.
50 Ways to Go Green – Change Your Outlook
Adopt a Minimalist mentality

Donate excess stuff to charity
Reject the idea that happiness comes from things
Contain all shopping to just one day a week
Consciously think about every item that enters your home. Does it bring joy? Does it require maintenance? How will you eventually dispose of it?
Try hauling your own garbage to the dump for a month and see if it inspires you to create less trash.

Produce Less Waste 

Cloth diaper.
Use handkerchiefs instead of tissues.
Bring reusable bags (including produce bags) to the grocery store. If you leave your bags in the car, just put your items back in the cart and bag them yourself in the parking lot.
Reject single use items like paper plates, plastic straws, throw away cups and napkins.
Bring your own reuseable water bottle everywhere.
Every time you throw something away, even a candy wrapper, think about how you could've avoided producing that trash.

Use Alternative Energy

Adopt solar power when camping.
Use products that produce their own energy like the BioLite Cook Stove.
Hang clothes to dry.
We haven't installed solar panels or a wind turbine on our home, but when my power company offered a wind credit I purchased that.

Talk to others about habits you're changing.

Brag to your friends and family about your cute reuseable water bottles and grocery bags.
Gift previously-loved items. We buy pre-owned clothes, toys and books as often as possible, usually from a thrift store. Not only does it reduce the need for extra manufacturing and waste disposal, but it also saves money and supports a charitable cause.
Become a Go Green Zealot. Talk to everyone about the new green changes in your life.
Recycle
Sign Up for Curbside Recycling.

Have a kitchen recycling can that is as large or larger than your kitchen garbage can.
Add Recycling bins on every floor of your house. Toilet paper rolls, empty shampoo bottles and papers are recycleable too.
We live in an area that doesn't offer curbside recycling, so we haul all of our recycling to a recycle center.

Pick up litter (including recycleables) in a local park or trail.

Keep a bag in your car to use as a dedicated litter bag.
Separate recycleables from litter you find.

Turn used paper and plastic into other things.

Kids draw great pictures on scrap paper.
Make creative toys from empty bottles and cereal boxes.
Reduce
Buy in bulk.

Avoid packaging by bringing reuseable bags to the bulk aisle in your supermarket.

Walk, bike, bus or use public transportation to reduce car emissions.
Buy locally grown food (or grow your own) to reduce food shipping costs.
Watch your water use.

Stop washing your car. Technically I did this out of laziness, but it works for going green too.
Shower less.
Only water your lawn if it's wilting. Even better, xeriscape to use less water.
Only run the dishwasher or clothes washer when the load is full.

Sell your car.

Our family of five has one vehicle.
Depending on where you live it's cheaper to use public transportation or Uber than pay for a car, gas, insurance and parking.

Cancel junk mail.

Contact OptOutPreScreen.com and sign up to "Opt Out of Firm Offers" for five years to reduce the amount of credit card offers that come in the mail.
Contact CatalogChoice.org and request to be removed from catalog mailing lists. You can also call the phone number on the back of unwanted catalogs to remove yourself from their mailing list.
Contact DMAChoice.org and add your name to the "do not mail" list to reduce the amount of junkmail you receive.
Reuse
Several of these items have been listed before, but it's worth mentioning again.
Cloth diaper.
Change to using a Diva Cup for feminine hygiene.
Carry a handkerchief instead of tissues.
Reuseable containers for lunch.

I only use reuseable bags or tupperware for Big E's lunch.
Refill water bottle. They hold soda from soda fountains too.

Use what you've got.

I turned extra flannel burp clothes into reuseable diaper wipes.
With extra fabric I made bulk shopping grocery bags.
Bring reuseable containers to the deli counter for meat and cheese. They can weigh the container and take the weight out of the total price for the item.

Creative decor.

Last December we bought a Christmas tree in a pot so we could plant it in our yard in the spring.
I made a reuseable cloth birthday banner to use to decorate for birthdays.
Garden
Begin a compost pile.

Thirty per cent of household waste is compostable. Even if your compost pile is a neighborhood-animals-free-lunch pile like mine, it helps support native plants and wildlife.

Start a garden.

Grow local fruits and vegetables
Reduce emissions by getting your food locally
Enhance the environment
Have a beautiful outdoor space
Install drip watering and use a timer to conserve water
Every spring I get excited about planting a garden. Over the years I've grown peas, lettuce, strawberries, tomatoes, raspberries, carrots and more. The neighborhood animals love them.

Join a CSA – Community Supported Agriculture
Replace your lawn with natural landscaping.

I never have to mow or water my lawn. I don't miss it for a minute.
Eco Inspiring Books and Movies
Reading and watching documentaries have really expanded my outlook on Going Green. They're great because even if you don't have the energy to attempt any life changing habits, you can easily sit and watch a documentary, or listen to an audio book while you work.
Here are a few of my favorite Eco-Inspiring Books and Movies. Many are written primarily to tell a different story, but themes of living in a more eco-friendly way (organic farming, climate change) came through. For other good book recommendations check out the Mountain Mom and Tots Book Club.
Zero Waste Home: The Ultimate Guide to Simplifying Your Life by Reducing Your Waste by Bea Johnson

Reading this book inspired me to buy bulk, bring reuseable containers shopping, use cloth napkins and handkerchiefs and completely declutter my house.

Gaining Ground: A Story Of Farmers' Markets, Local Food, And Saving The Family Farm by Forrest Pritchard
DEEP The Story of Skiing and The Future of Snow by Porter Fox
Better Off Flipping the Switch on Technology by Eric Brende
The Omnivore's Dilemma: A Natural History of Four Meals by Michael Pollan
Schoolhouse Rock! Earth – My kids listened to this album over and over and over on our National Park-to-Park Highway tour.
Minimalism: a Documentary About the Important Things – currently available on Netflix.
Learn about the Great Pacific Garbage Patch – larger than the state of Texas and I didn't even know it existed until last year.
Psst…these links are affiliate links. If you purchase something after clicking this link I make a few cents at no extra cost to you.
50 Ways to Go Green Challenge
Now it's time to put these ideas into use! Join my April Go Green Giveaway and not one, but TWO lucky winners will receive an Ultimate Go Green Prize Pack from Chicobag and To-Go Ware!
To enter this Go Green Giveaway, sign up for April's monthly outdoor challenge. When you sign up, you'll get exclusive content sent right to your inbox with challenge specifics, tips, tricks, research and ideas. Plus when you complete the challenge you'll have a 1 in 50 chance (or better) of winning this awesome prize pack from ChicoBag and To-Go Ware.
The cost for joining my monthly outdoor challenge is just $3.00 per month. I like to think of it as an in app purchase for life.