This "I Love Lucy" Dutch Oven Recipe was sent over by a friend of mine – Stefanie Cosman from SheWoreStars.com. Since June is Great Outdoors Month I wanted to share this story from a NON outdoorsy gal. See, even people who enjoy the indoors can benefit from outdoor time!
Enjoy this guest post from Stefanie Cosman from SheWoreStars.com! And if you're looking for more camping food posts click here.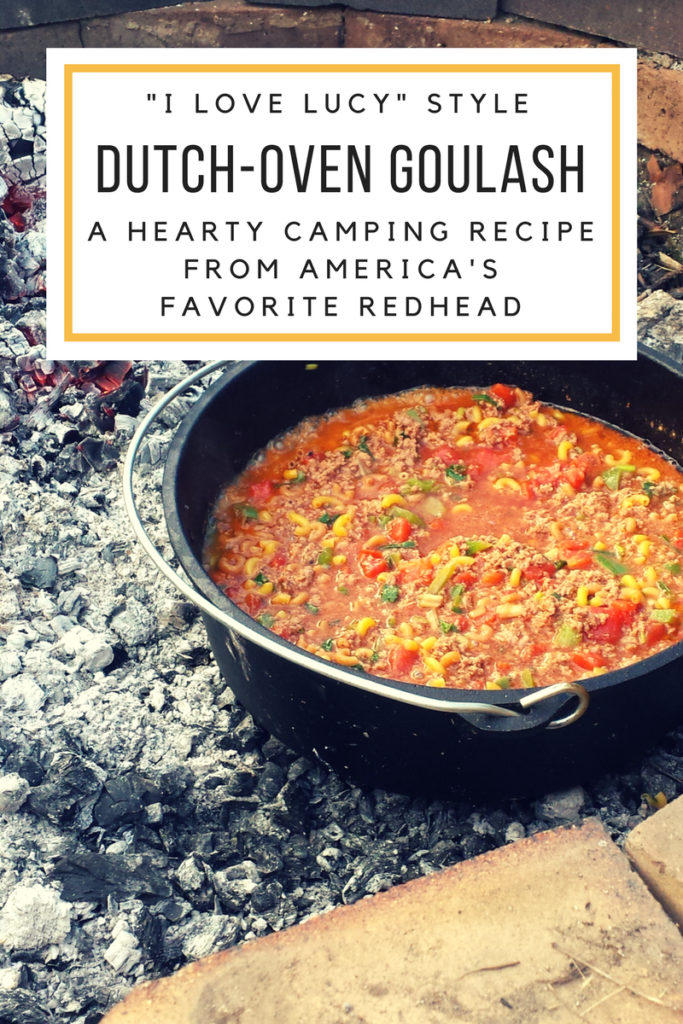 More of an Indoor Girl
I've always been more of an indoor girl.  
Don't get me wrong, I've wished I had the skills of a gal who could rough it. I've watched the television commercials where independent women blaze their way up rocky mountain-sides to golden-crested peaks, gazing upon the rosy hued sunsets that awaited them at the top. It seemed pretty amazing to me!
But I grew up in a household where my father is more likely to be found watching a re-run of Frasier than be caught on a hiking trail… and my mother has often told her story of waiting in the car as a teenager while her family gazed at the wonders of the Grand Canyon. (No, seriously, after that long drive she didn't even get out of the car to look at it.)
I come of non-outdoorsy stock, to say the least. And my greatest "wilderness" discovery of late was the excitement I felt when I read that Victoria's Secret Bombshell perfume doubles as a mosquito repellent. (That is not a joke. A study at New Mexico State University found that the VS fragrance was more effective and longer-lasting than some of the top mosquito-repellant brands.)
Then one day, Mountain Mom and I were chatting over lunch about our blogs, and I suggested we should do a collaboration. But since my blog is about Classic Hollywood lore, and my outdoors skills are next to nil, we were at a loss as to what I could possibly contribute to Mountain Mom & Tots…
Rugged Lifestyle of Lucille Ball
Until one day, as I read a biography of Lucille Ball, it mentioned the rugged lifestyle she led on the farm she owned with Desi Arnaz, as well as her recipe for Sunday evening goulash. Which got me thinking about a particular I Love Lucy episode…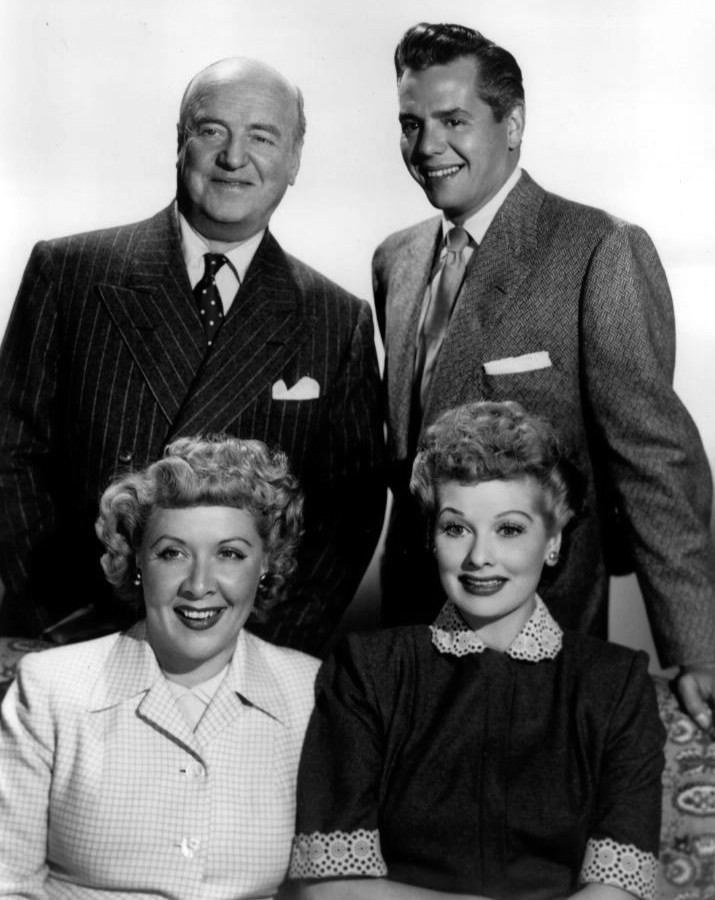 If you aren't a fan of the series, you may not be familiar with the episode where Lucy becomes infuriated when her gal pals insist that after a few years of marriage, the honeymoon must be over between her and Ricky. Lucy argues that they are still blissfully in-love. She is even going camping with him… after all, they do everything together!
Ricky decides that he is going to make her first camping experience so miserable that she will never want to step foot in the great outdoors again. When Lucy learns about his plotting, she doesn't cancel the trip. No, no, no… she decides to get revenge.
Lucy "catches" a ton of trout (fish Ethel bought from the market and delivers right to Lucy at the river), while Ricky doesn't catch a single fish. She "races" him back to camp (Ethel gives her a ride back to the campsite). When Ricky finally arrives some time later, breathless from running, he finds Lucy has arrived so early she even had time to wash her hair.
Inspired by Lucy's scheming "conquer the wild" attitude, I set to work… if she could do it, so could I! I may not have had Ethel, but I had a few nieces & a trusty brother-in-law to get the fire started… and a husband to help lift the heavy Dutch-Oven on and off the coals as-needed.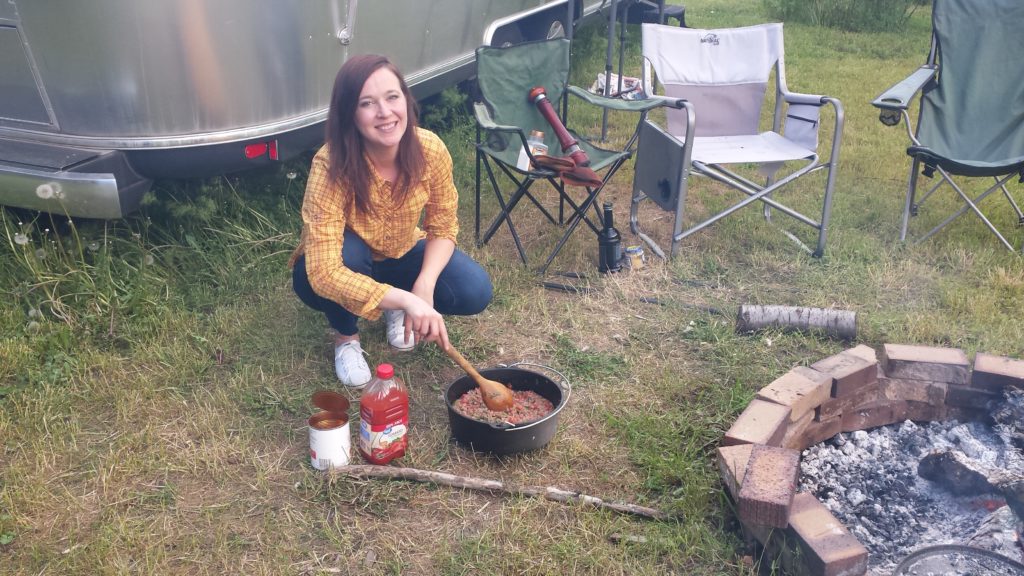 I Love Lucy Goulash
Here's Lucy's original recipe:
2 lbs. ground beef

1 green pepper, chopped

2 cloves garlic, minced

2 bunches green onions, chopped

11 1/2 oz. Tomato Juice

1 (12 ounce) can diced tomatoes

salt and pepper

1 1⁄2 cups uncooked noodles
Directions: To convert what is usually a kitchen recipe into a Dutch oven recipe there are a few modifications from Lucy's original instructions. I suggest prepping the veggies ahead of time.
Second, coat the Dutch oven in a goodly amount of veggie oil, and sauté the peppers until slightly tender. Depending on how many coals you have on the Dutch oven, this could happen very quickly, so check after a few minutes to see how fast things are cooking!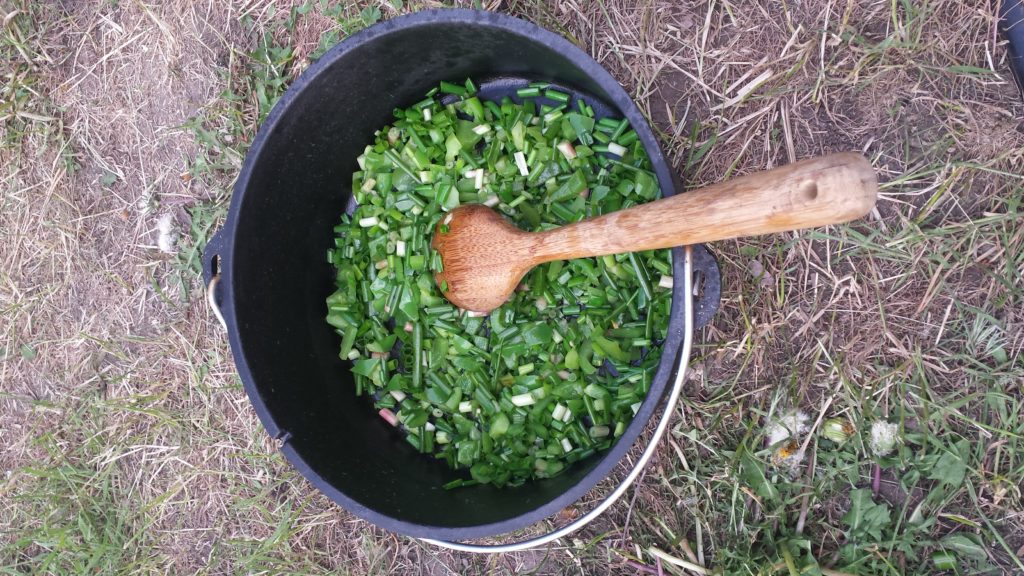 Toss in the onions, the garlic, and the beef, and let this simmer until all the beef is cooked and the juices are relatively low (if you move too quickly to the next step, the end result will taste a little too fatty).
Toss in the tomato juice, the large can of tomatoes, the noodles, salt and pepper to taste, and let it simmer until the pasta is tender. For us, this took about 20 minutes.
Great Outdoors
I have to say, gathering around the campfire as the sun went down, telling folk stories, and chatting with my family, was a surprisingly refreshing getaway. Everyone had their cell phones turned off, and for a moment, we were truly disconnected from the chaos of life. Lately most of what I see in the world is communicated to me via a tiny universe of the small screen … making the world feel even smaller. The simplicity of a simple meal around a fire made everything feel better… and bigger, somehow. In a good way.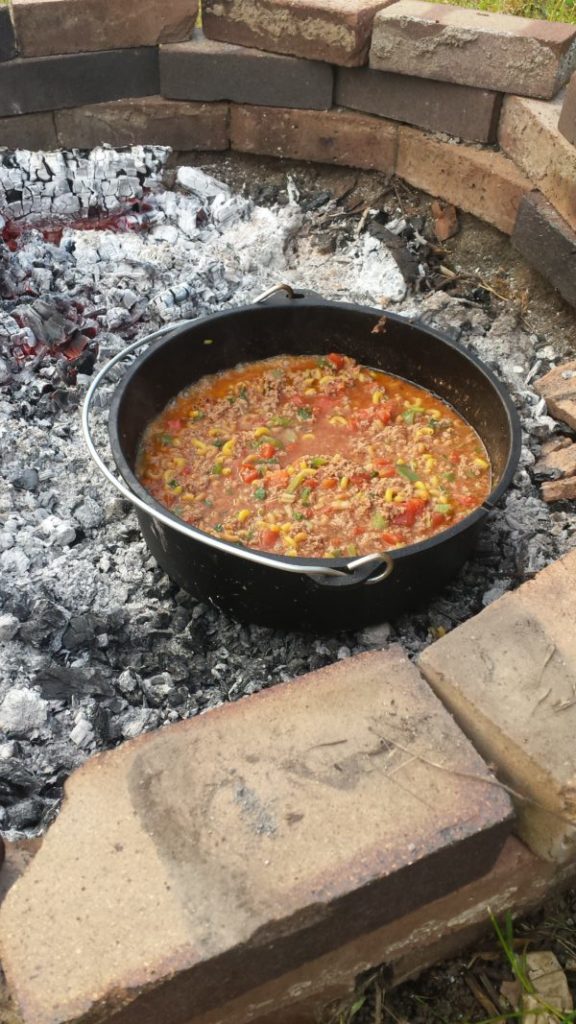 The summer is just getting started, and this little cooking experiment inspired me to want to go beyond simple day hikes and marshmallow roasting. Maybe I'll eventually get brave enough to actually go camping for more than one night…
If the squirrels promise not to get me.
Stefanie Cosman writes about Classic Hollywood lore & lifestyle on her blog She Wore Stars. Follow her journey digging up stories from yesteryear that will make you feel like a silver screen goddess yourself.   
Quote:
Ethel Mertz: "Gee, this high altitude sure gives me an appetite."
Fred Mertz: "What's your excuse at sea level?"