We've got BIG news for you today, the first day of National Park Week 2016. I mean blow your mind, I wish I were you, experience of a lifetime BIG. Are you ready for it?
Good. Here we go.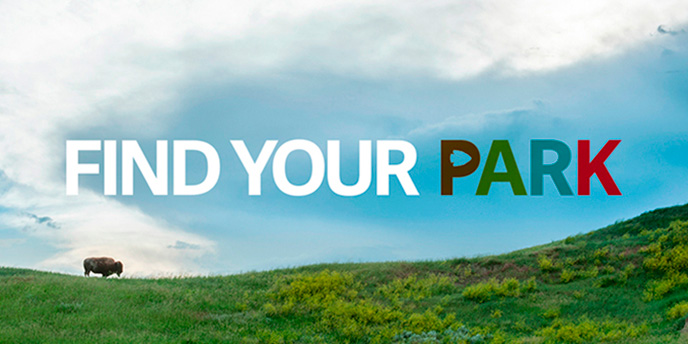 Did you know that 2016 is the centennial anniversary of the National Park Service? 100 years is no small feat. It deserves a celebration of epic proportions which is exactly why Mountain Dad and I have spent the last several months planning something HUGE.
I'm talking 5,000 miles, 7 weeks on the road, 15 National Parks and 3 National Monuments huge. That's right. This summer, we're taking our Mountain Family on an epic road trip visiting some of the greatest outdoor wonders of the world. Using the National Park to Park Highway as our guide we will be hiking, biking and camping our way through 15 iconic National Parks (and 3 National Monuments) of the West and you're invited to come along for the ride!
The Original National Park to Park Highway Tour
Spearheaded by Stephen Mather, our nation's first National Park Service Director, the National Park to Park Highway was created in 1920 to link 12 National Parks on a loop of mostly dirt roads spanning over 5,000 miles.
The goal was to promote the National Parks by capitalizing on the country's booming automobile craze. In August of 1920, 12 vehicles set out on a 76 day tour to see the Parks as no others before them had. Roads were rough and cars were not very reliable 100 years ago, so not everyone finished the journey, but the publicity from the tour helped increase tourism to the National Parks.
Almost 100 years later, we have decided to drive the National Park to Park Highway in honor of the National Park Service's Centennial celebration. In addition to the 12 original parks pictured here we will also include 3 new National Parks (Great Sand Dunes, Olympic, and Grand Teton) as well as 3 new National Monuments (Hovenweep, Canyons of the Ancients, and Devil's Postpile) on our tour.
Mountain Mom and Tots National Park to Park Highway Tour
If you've read this blog you know we're no stranger to family camping, but this project is a whole different level of camping commitment. To accomplish the lofty goal of sagebrushing (the 1920s term for car camping) through the wild lands of the west we'll be turning our Chevy pickup into the ultimate camping vehicle.


No RVs or tents for us. We'll be sleeping our family of five in a full sized pick up for weeks on end. Even as I write that it sounds crazy, but that's the plan and if anyone can pull it off it's me and Mountain Dad.
For seven weeks we will be hiking and biking through some of the most beautiful spaces in the United States, dragging our 7, 4 and 1 year old with us. Literally. Baby L will be riding in the bike trailer or the hiking pack most of the time.
Join Us
Have you ever had a hair-brained idea that you're so excited about you want to tell the whole world? That's how I feel about our National Park to Park Highway Adventure. I want to share all the experiences we have along the way with as many people as will listen.
If you're one of those people, sign up for the Mountain Mom and Tots newsletter for exclusive info on our explorations and discoveries. I promise I won't bombard your inbox or sell your email address. I just want you to come with me on this exciting adventure and I don't think anymore people will fit in our pickup truck.
You can also follow along on twitter, instagram and facebook. I'm telling you it'll be awesome.
Sponsors
This National Park to Park Highway Tour wouldn't be possible without some amazing gear sponsors. Throughout the trip we will be highlighting the gear that makes this undertaking possible. You can check out all the awesome companies in one place on our Sponsors page, but I have to give a special shout out thank you to Burley and Woom Bikes. Without their elite sponsorships of gear this trip wouldn't be possible.
So buckle up, hang on and join us for an adventure of epic proportions! Woohoo!
Interested in becoming a sponsor? Contact me at susan@mountainmomandtots.com.