Our final Beat Black Friday Outdoor Giveaway is here! Gifts for Mountain Dad are always tricky. If you're like me, you're always on the lookout for something an outdoorsy guy would like. For my final Beat Black Friday outdoor giveaway I contacted the companies to below, because I knew they had gear for men who love the outdoors.
I was right. Mountain Dad already added the Blackfire Rechargeable Work Light to his wish list.
You'll especially love the Duct Tape Survival tool, because guess what? It was created by Mountain Dad himself! Enter to win over $120 in awesome gear before Friday November 25, 2016. Be sure to enter our other Beat Black Friday Giveaways too!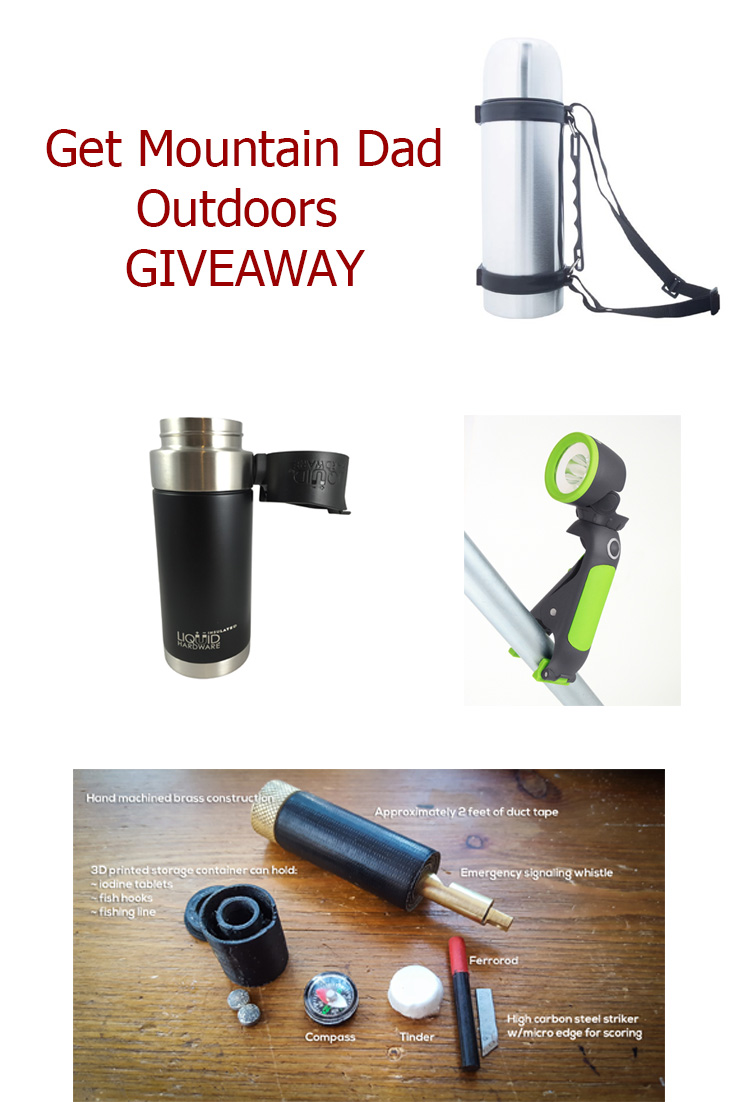 Blackfire Flashlights – All of Blackfire's flashlights are made to stand up on their own. With the integrated clamp feature you can set it and forget it, making it easy to use and store. Blackfire gave me their backpacking and mini clamp lights to use on our camping adventures and my kids love them.
Liquid Hardware Aurora Cafe Mug – Never lose your lid with Liquid Hardware's new cafe series. This insulated stainless steel coffee mug has a magnetic top so you never have to worry about where you put the lid.
Timpworx Duct Tape Survival Tool – This handy tool was designed and developed by Mountain Dad himself! With two feet of duct tape, a brass emergency signal whistle, a micro compass, tinder, ferrous rod, striker and container for iodine pills or fish hooks, its an all in one emergency tool designed to clip on your key chain.
Timolino Steel Vacuum Thermos – Made of food-grade 18/8 stainless steel inside and out, this vacuum insulated thermos will keep your food or drink hot (or cold) and fresh for hours. We loved the Alpine Vacuum Thermos Timolino sent us for our Perfect Picnic Posts earlier this year and the outdoorsy man in your life will love this one too!
a Rafflecopter giveaway

Best of luck! You have until Black Friday, November 25, 2016 to enter. Don't forget my other Beat Black Friday Giveaways:
I chose the companies above because I've reviewed their products and believe in their quality. Seriously, I wouldn't recommend crap. These companies gave me free product or compensation for this Beat Black Friday Giveaway Post. This post may include affiliate links. If you purchase an item through an affiliate link I receive a small (we're talking maybe a dollar or two usually) commission. Read my full disclosure policy here.