Twice a year tens of thousands of outdoor industry professionals descend on Salt Lake City for the industry's largest trade show – Outdoor Retailer. January 10-12, 2017 brought thousands of outdoor industry professionals together to showcase snow sports, apparel, accessories and gear for the outdoor lover.
If you're looking for the Best of Outdoor Retailer Winter Market 2017 look no further. These top fifteen gear picks are really cool.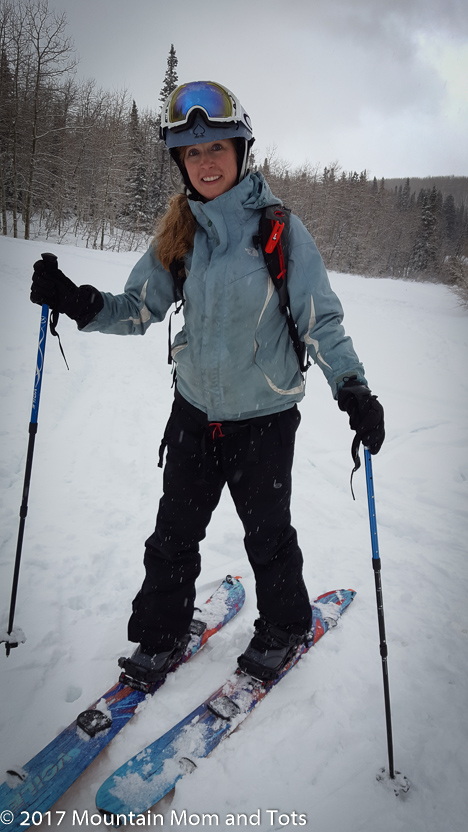 In case you're curious, none of the companies below compensated me to be included in this list, but some of the links are affiliate links. If you purchase something through one of these links I receive a small commission at no extra cost to you. But don't sweat it too much, I really just wanted to share my favorite finds with all of you.
1 Voile Revelator Split Board
The first day of Outdoor Retailer is always my favorite – Demo Day! Companies bring out their skies, snowshoes, boots and let attendees try out all the new styles. This year I rode a Voile split board on a three hour Utah Mountain Adventures tour near Solitude Mountain Resort. Unforgettable.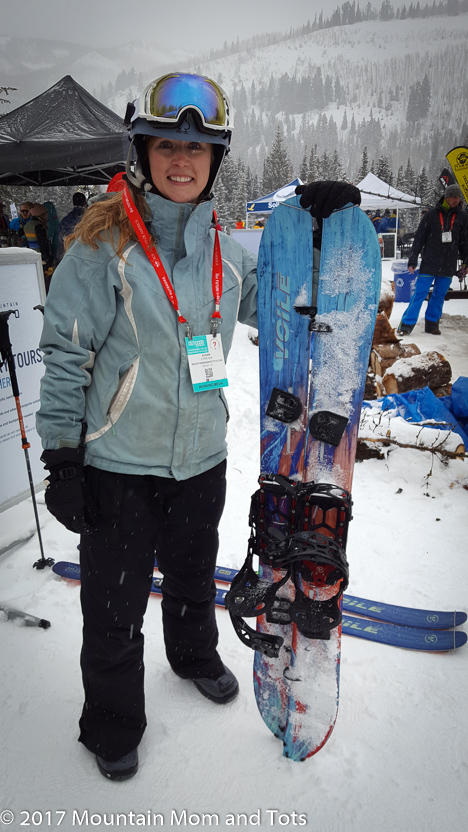 Click in bindings connect to a middle mounted bar for the uphill, then slide on to the base when it's time to ride down. The Voile Revelator's well-thought-out design impressed me from top to bottom. Two stage risers help on uphill sections, lightweight collapsible poles are sturdy and stowable, and locks keep the ski skins connected on the bottom. Bonus: Even though their name sounds French, Voile is based in Salt Lake City. Local Love!
Trying out the Voile Revelator split board on this Utah Mountain Adventures tour was by far the best of this season's Outdoor Retailer show for me. That's the reason I put it as number one. It's an experience I won't soon forget.
2 Crescent Moon All Foam Snow Shoes
New at Demo Day this year – Crescent Moon All-Foam Snowshoes. Made from dual-density EVA with a tire like tread, these lightweight rocker style snow shoes made it easy to move in the snow with each bouncy step of the scoop design. Look for these snowshoes to make it to stores in fall of 2017.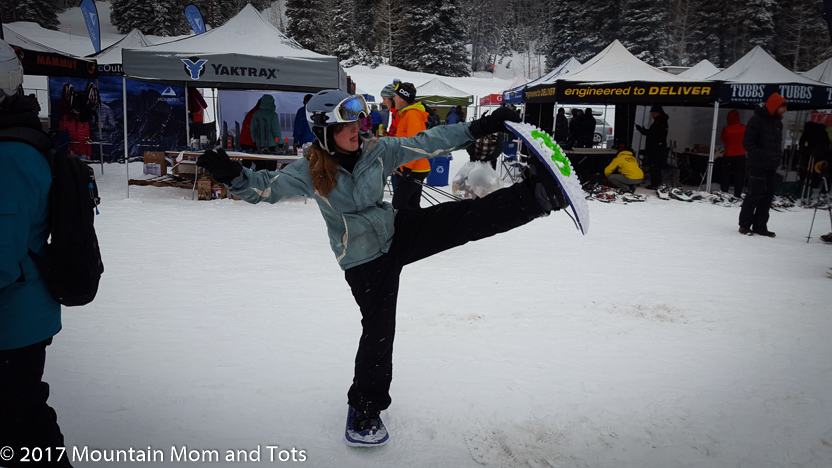 3 Flylow Gear Foxy Bib
The day before meeting Britt White, VP maker of Stuff at Flylow Gear, I spent a few wet hours on a ski lift wishing my snow pants were more waterproof. Because of that, I was really interested in Flylow Gear's Foxy Bib designed especially for women. The waterproof breathable membrane combined with Durable Water Resistant fabric makes for a dry day of riding while unique features like the kangaroo pocket, inner thigh vents and two mid-thigh pockets make a great snow pant.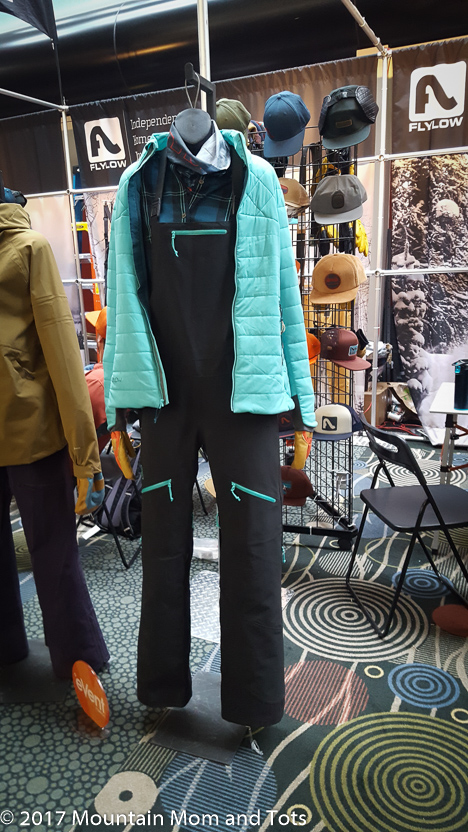 Those features are all well and good but my favorite one by far are the long side zippers that allow easy in/out access for back country potty breaks. Men may not appreciate how genious this design feature truly is. I could pee in the woods without taking off my coat and completely stripping down. Brilliant!
4 Tentsile
These tent hammock portable tree houses are like something from another planet. The mesh bottom functions on its own as an elevated platform, or add the tent cover and you've got a floating fortress.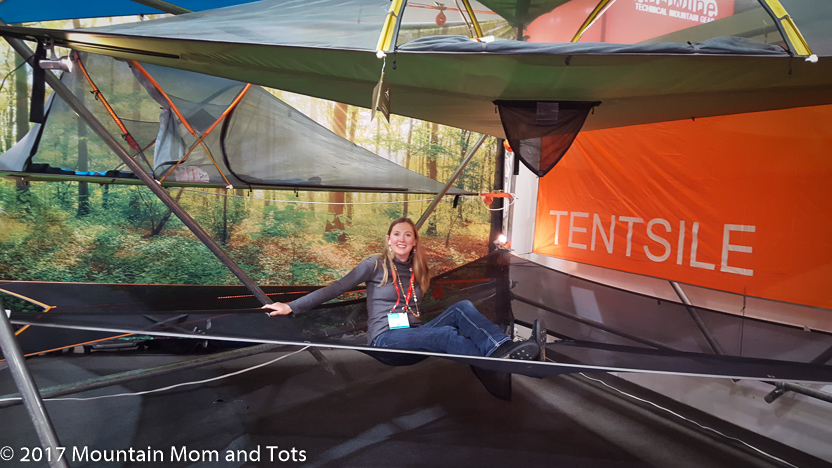 I like the idea, but I'm not sure I'd use Tentsile in real life. What would you do if you camp in the desert, a place with flimsy trees or trees that grow in uneven spacing?
5 Absolute Canada Northern Lights Boot
There are light up sneakers all over the kids shoe aisles but these were the first light up snow boots I've ever seen. Absolute Canada Northern Lights Boot Collection have LED lights in both the ankle and base of their new boot. It makes sense – winter is always a dark time of year. Why not add a little light? Maybe if I had a pair of those my daughter would be excited to put on snow boots.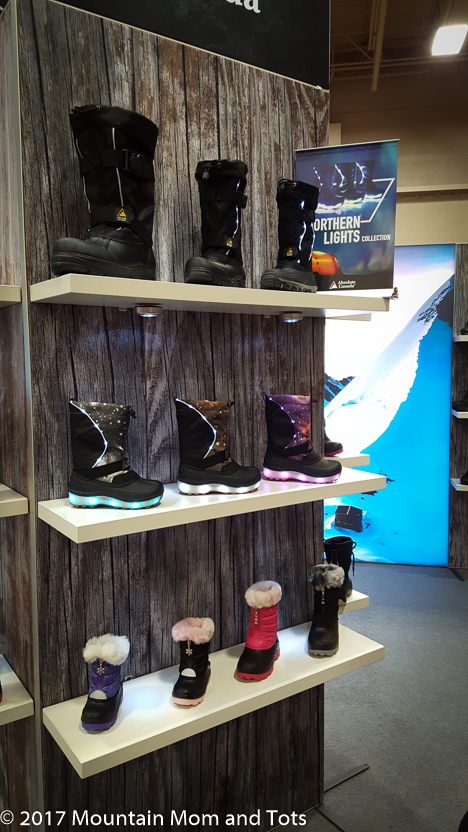 6 Lamzac
This air filled chair is a breeze to set up. Literally. All you do is catch air in the Lamzac bag like you're waving a wind sock, tighten the end and you've got an instant outdoor recliner that packs up to the size of a small backpack. Super comfy.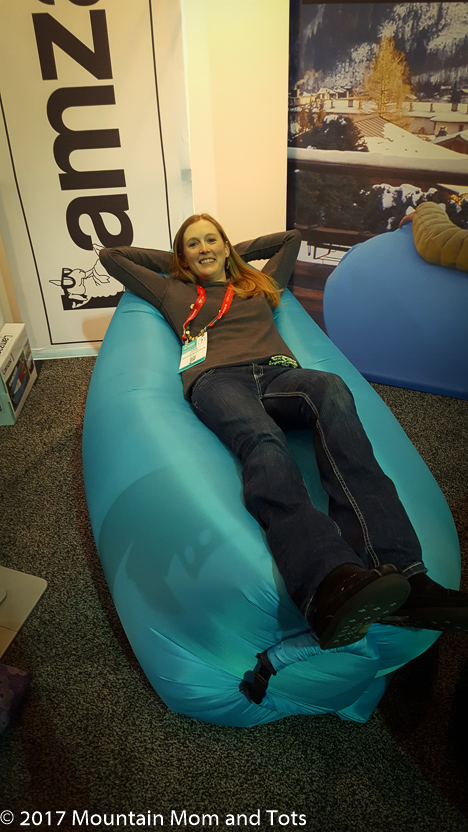 7 PeaPack Mitten Company
One of the best part of Outdoor Retailer is finding small businesses with great messages. PeaPack Mitten Company is exactly that. Roberta Hummel and her daughter began the company nine years ago at their home in Minnnesota. Roberta only realized the sales potential of these custom mittens after her daughter sold them to friends at school each day. Made from recycled sweaters sourced from local thrift stores in the beginning, these mittens are unique, warm, eco-friendly and made in the USA.
8 O loves M
Another small company that made my list of Best of Outdoor Retailer is O loves M, a unique lifestyle bag company based in Colorado. While doing yoga one day, O loves M creator Merle O'Brian wondered, "What happens to yoga mats when they're thrown out?" That question led to the O loves M company and a complete line of adorable totes and bags made from recycled yoga mats and repurposed webbing. Made in the USA. Eco Friendly. O loves M.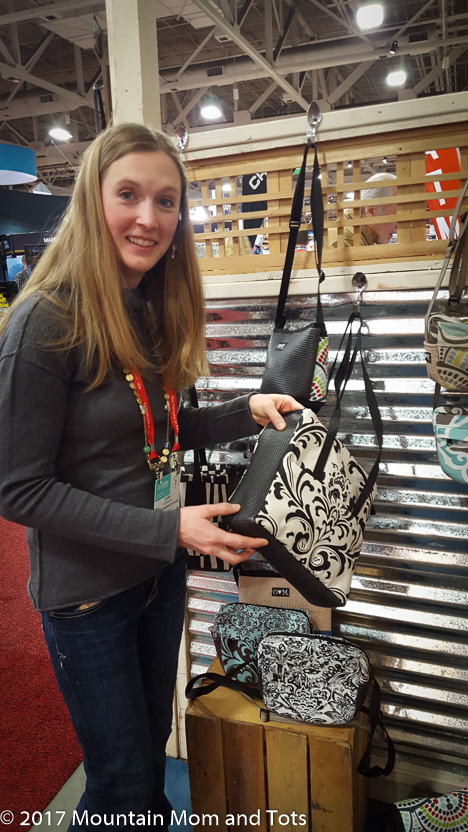 9 HotShotz Reuseable Heat
I like warm fingers and toes, but I hate throwing away the handheld heat packs. That's why I was so interested to find HotShotz Reuseable Heat packs.
These reusable heat packs are really cool. Press the button inside the green liquid filled chamber and a chemical reaction creates instant heat up to 130 degrees. After a few the heat pack completes the chemical reaction and hardens. Then just drop it in boiling water to reset the HotShotz pack for the next time.
10 Red Rock Outdoor Gear
Red Rock Outdoor Gear specializes in tactical bags for military use. While they're designed for the gun totting consumer, when I first saw their endless customization I immediately thought – DIAPER BAG!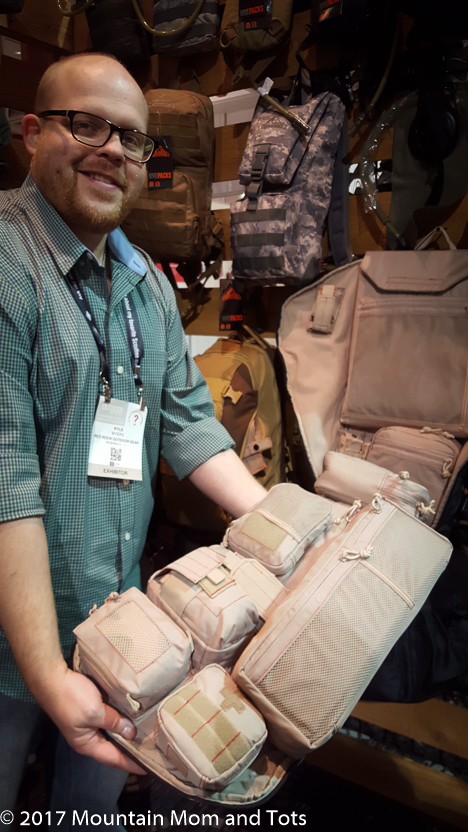 Snap on a first aid kit. Organized compartments. Pull out area for diaper changes. Perfect.
There you have it. My Top 10 Best of Outdoor Retailer Winter Market picks. There were so many cool choices it was hard to narrow it down to just ten. Because of that I've included these honorable mentions. They're pretty cool too.
Volt Resistence Heated Clothing – Electronics in my clothing are not my norm, but when I tried on these heated gloves I was in heaven.
Kamik Boots – Kamik boots have been around years, but I never knew they have a recycled boot program. Certain boot liners made from recycled materials provide warmth and certain styles of their boots are completely recycleable.
Gumbies – Again with the recycled shoes, these flip flops are made from recycled tires. Melted down and shaped like a waffle, this Austrailian company stretches the limits on footwear.
Lily Trotters – I never knew compression socks could be so cute. I also never knew they were used for exercising. Apparently helping with blood flow goes beyond just pregnant ankles.