Earlier I wrote about how to dress kids in layers for winter play, but that's not the whole story. If you want happy snow kids you can't forget the accessories. This post on how to dress kids for winter play focuses on the extra things that make a huge difference for staying warm. Usually I think of an outfit's accessories as nice, but not necessary. In winter, the accessories are essential.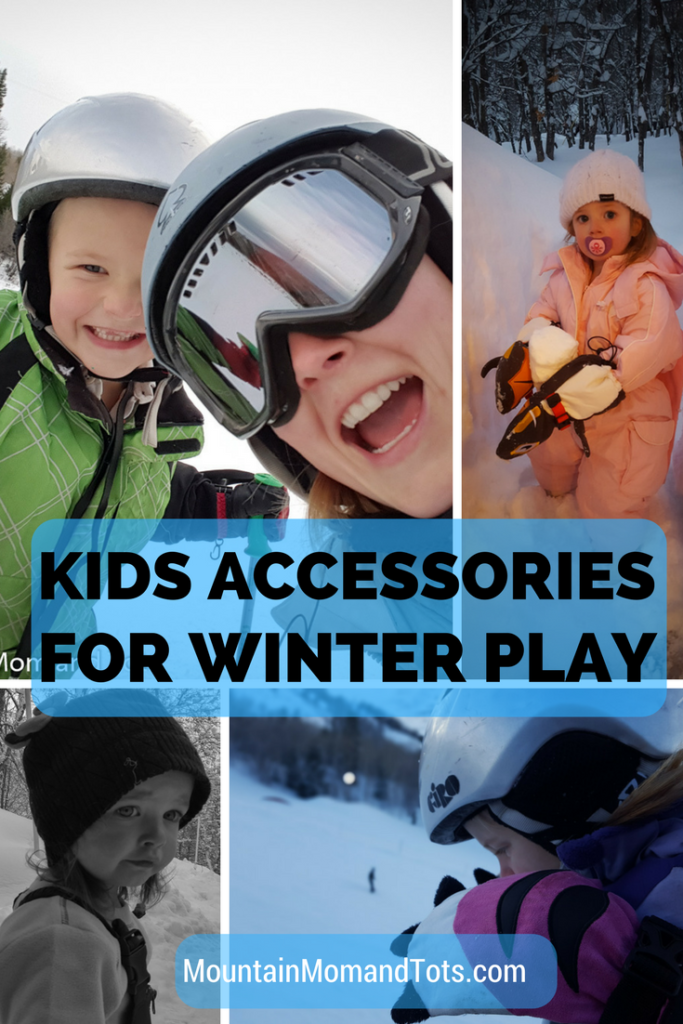 Gloves and Mittens
Toddlers and young kids don't need five-fingered gloves. Don't even bother. Instead put them in a high quality mitten or mitt. I'd heard good things about Veyo Kids Mittyz so I contacted them for some gear to review. Here's what Little G, Baby L and I liked.
Waterproof
Machine washable (just turn inside out)
Elbow cuff keeps snow out and mittyz attached
No thumbs – a benefit for toddlers
Cute designs – Little G gets compliments on them EVERY time we ski.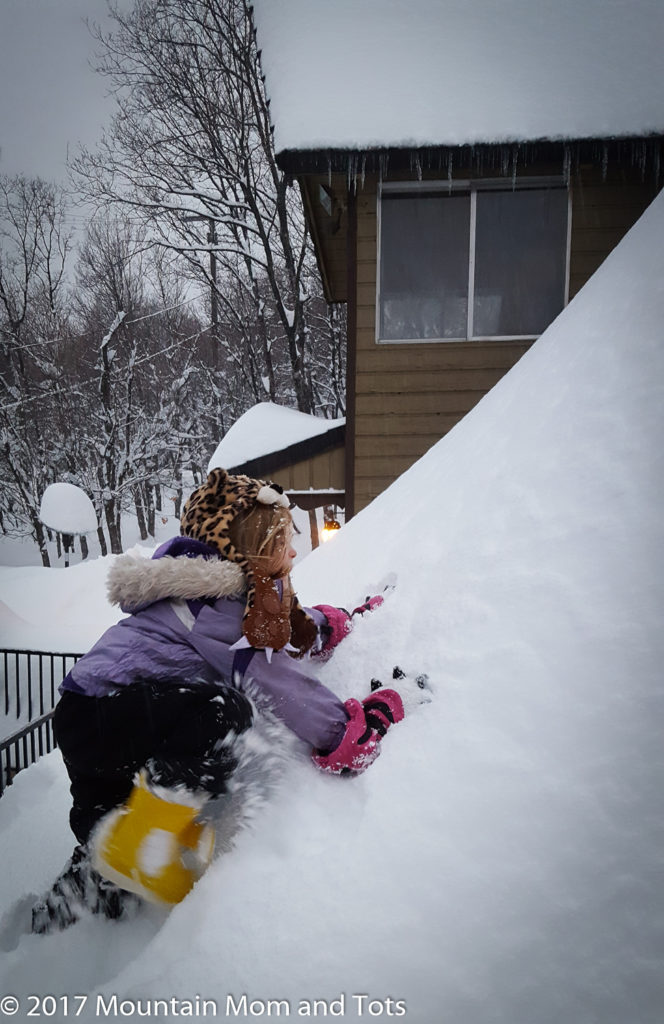 Be warned. Veyo Kids Mittyz don't even have thumbs. With little tots that's a good thing. Baby L can't figure out finger holes yet anyway. I thought no thumbs would be a problem with Little G too, after all, it's hard to hold ski poles and make snow balls with no thumbs. But I was surprised to find that she has no complaints about that.
She's still able to maneuver the fabric enough to climb, pack, dig and throw. The first time Little G used her Veyo Kids Mittyz she complained that her hands were cold, which surprised me with the fleece inner lining, but she hasn't complained about it since.
Baby L had a harder time using her hands while wearing the Veyo Mittyz, but they'd be great for a winter hike or cross-country ski where the child isn't wanting to grab the snow.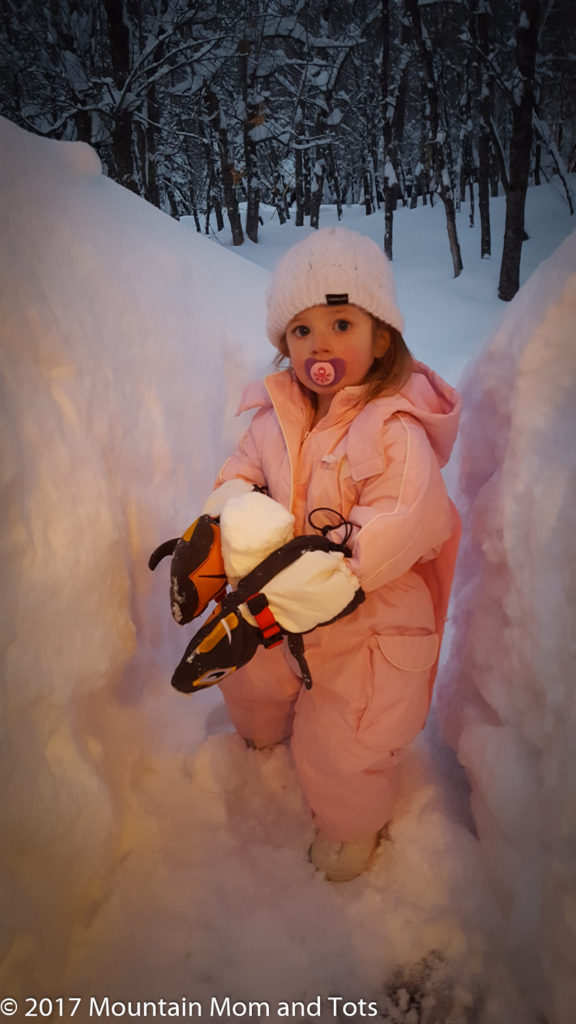 Veyo Kids Mittyz come in sizes Small (6 months to 2 years), Medium (2 to 4 years) and Large (4 to 6 years). The price is 39.95, a bit steep for kids mittyz, but right now they're having a 30% off President's Day Sale. Check out all of the styles at VeyoKids.com.
Here's what we didn't like:
No thumbs – a possible disadvantage for preschoolers
Difficult to grab things like snacks
Price $39.95
Overall we're more than pleased with the Veyo Kids Mittyz. They stayed put, kept fingers warm and are super fun. Plus they can can double as a hand puppet.
TIP: Don't bother with gloves on toddlers. Get a high quality pair of mitts instead.

Socks
I fight with my kids about wearing socks more than any other article of clothing. For some reason Big E and Little G don't like wearing them, even in the winter. That's just too bad for them because socks are required for outdoor winter play.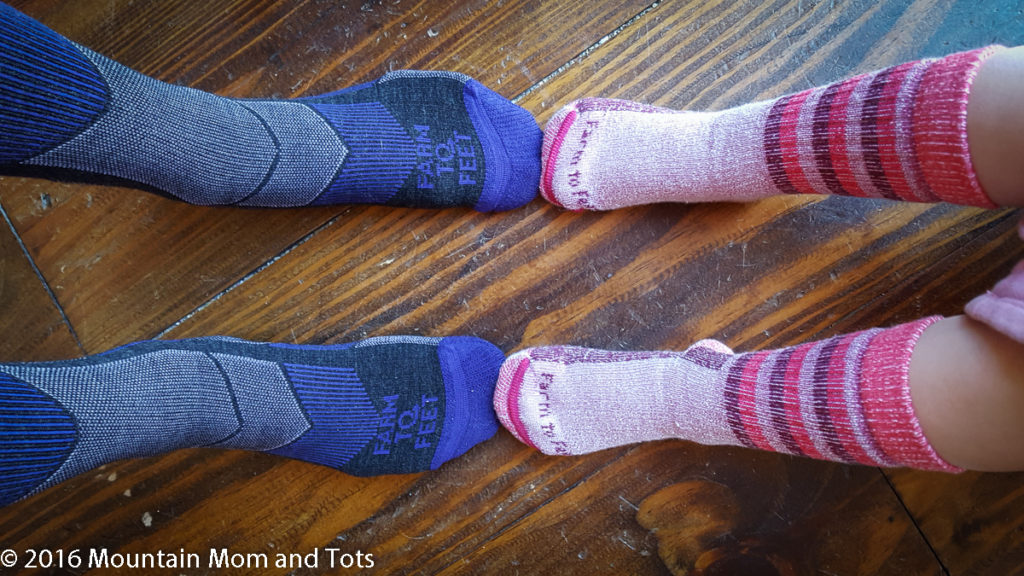 Cold feet is a common complaint my kids have when playing outdoors in winter. That's why I make them wear warm wool socks under their boots. Wool has natural wicking properties and can stay warm even when damp. Some sock brands we like are Farm to Feet (review here), Darn Tough, Smart Wool and Fox River (review here). You can see all of the gear we currently use in our resources tab.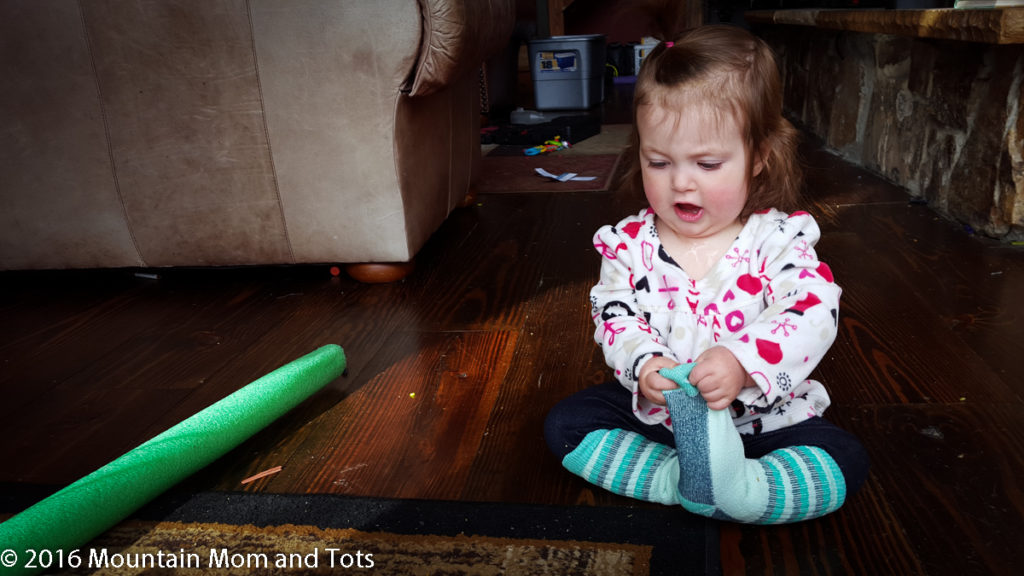 With toddlers I recommend using socks that are slightly too large. I put Baby L in socks that I know are too big, partly because that's what I have, but also because I like to pull them high up on her leg. Why?
She can't yank them off as easily.
They are another layer to keep her lower leg warm
They don't bunch up inside her boot
TIP: You should only need one good pair of wool socks when skiing with tots. If their feet get cold it's probably because the ski boots don't fit properly.
Boots
Waterproof, warm boots are important too. Some brands we've tried in the past include Bogs Boots (review here) and Butler Overboot (review here), but I've also heard good things about Stonz Baby Booties.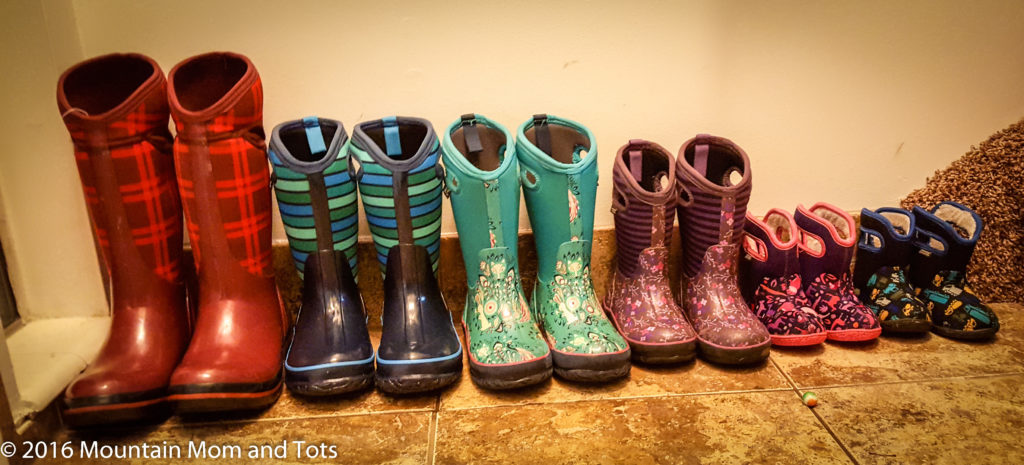 Again, see our resources tab. Right now Baby L is in hand-me-down boots because that's what I have that fits her. Psst…REI has Kids Bogs Boots at 50% off right now!
TIP: Fingers, toes and noses get cold fastest.
Hat or Helmet
One key to dressing kids for winter play is to keep their head warm. Although the claim that half of your body heat is lost through your head is overblown, it is true that little ears are prone to cold and frostbite.
When choosing a winter hat or helmet for kids look for comfortable warmth. I like wool hats, but they can get itchy. My favorite hat is an Adidas Women's Beanie that Mountain Dad bought for me years ago. Unfortunately it's also Baby L's favorite hat so she often steals it.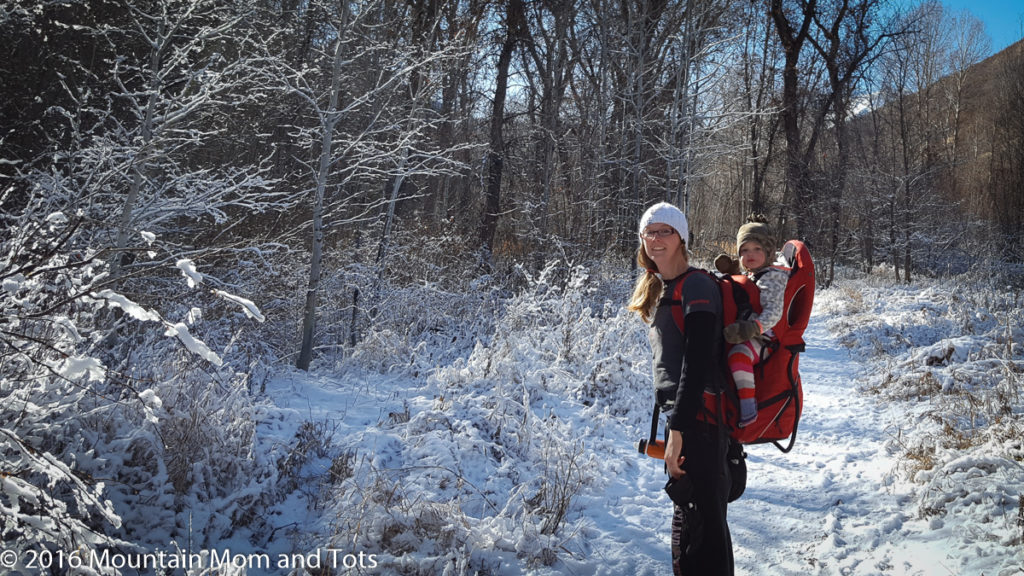 When skiing, helmets are a must for kids. Toddlers' heads are larger in proportion to their bodies compared to adults. They need to be protected. We have a Giro snowboarding helmet we bought for Big E when he was four that has a convenient adjustment dial in the back. He has since outgrown it, but Little G uses it like a pro.
TIP: If you have a helmet that's slightly too big for your child try putting a stocking hat under the helmet. This helps the helmet fit more snugly. You can test if a helmet is too big by having your kid shake his head. If the helmet moves in its own path, not in sync with the head movement, it's too big.
How to Dress Kids for Winter Play
Knowing how to dress kids for winter play includes layering and accessorizing correctly. These tips can make the difference between a happy snow baby and screaming, crying and whining. We've experienced both and the happy snow baby is definitely my choice.
I'll leave you with two final accessories you'll want to fully dress kids for winter play – tissues and chap stick. I can't tell you how many times I need to wipe a runny nose in the cold. Now I keep a tube of chap stick and a handkerchief in every coat in our house, including my kids'. That way I always know where to find them if I need them.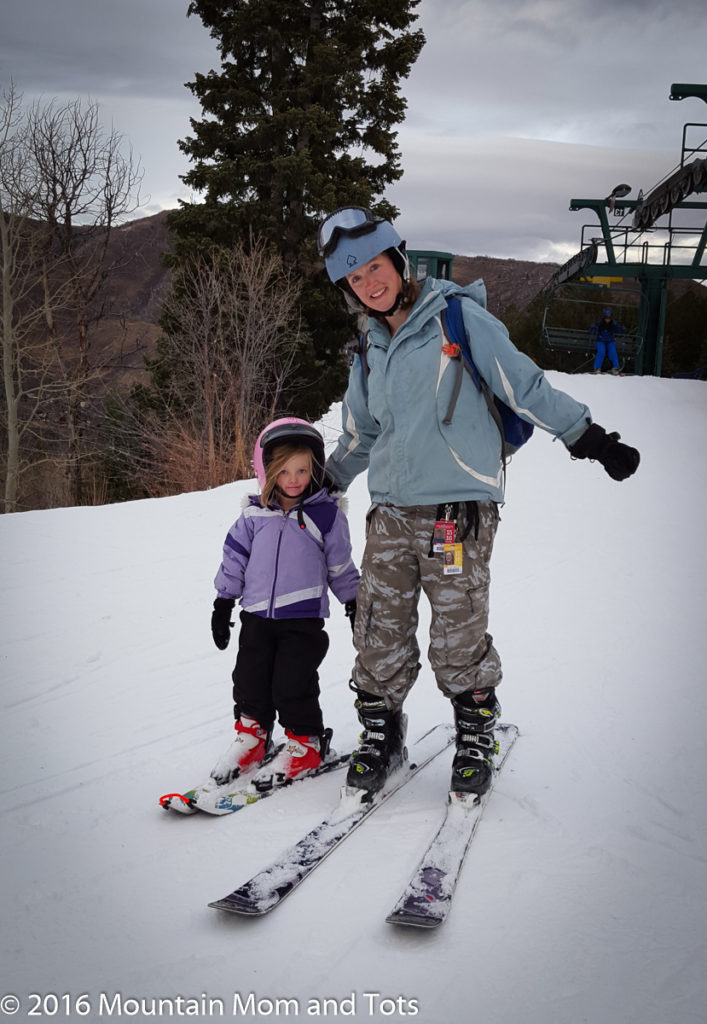 TIP: Have a handkerchief or pack of tissues and a tube of chap stick live in your child's zippered coat pocket. You'll always be prepared for cold runny noses and chapped lips.
That's it! I hope these tips help you get outside with your kids. Don't forget to check out How to Dress Kids for Winter Play – Layering. See you in the outdoors!
Want more tips on how to Dress Kids for Outdoor Winter Play? Check out these posts from some outdoor family blogger friends:
Wild Tales Of – How to Dress Kids for Cold and Rainy Weather
Active Kids Club – Get Dressed for Winter (YouTube Video)
Play Outside Guide – Keeping Kids Warm in Winter
Born to Be Adventurous – Dressing a Baby for Winter
Wilder Child – How to Dress Your Kids for Outdoor Winter Activities
This post includes affiliate links. I get a small commission (we're talking a few cents) if you purchase something through these links. And it costs you nothing. Maybe if we work together I'll finally be able to afford new boots for Baby L.