A reader recently asked me how to dress kids for winter play. Since me and the tots are outside almost every day in the winter, I thought I'd share a few tips. This is the first post in a two post series on How to Dress Kids for Winter Play. Read How to Dress Kids for Winter Play – Accessories here.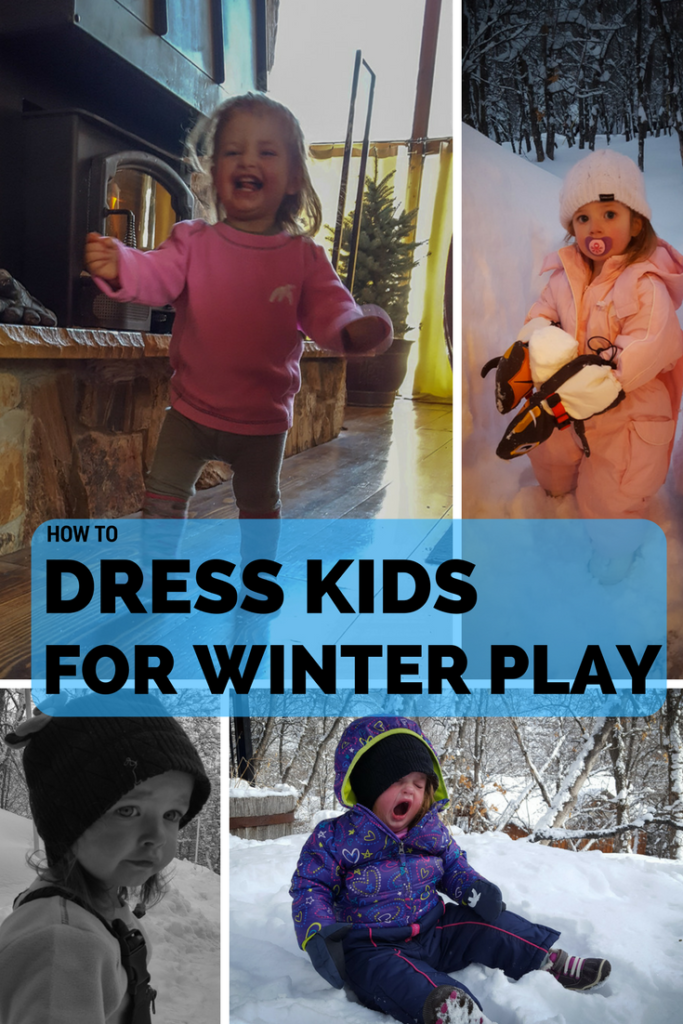 How to Dress Kids for Winter Play
Getting outdoors when it's cold and snowy is not easy. It seems my kids, especially Little G, can't handle the cold. But staying indoors all winter is not an option for me. I go a little stir crazy and my mood resembles that of a troll.
Over the years I've discovered that if my kids are dressed correctly for winter play they last longer outside, there's less complaining and we can all enjoy ourselves more.
The key to dressing kids for winter is simple – layering. Here I'll go through the three layer system I use to make sure my tots stay warm in the snow.
You should know that I contacted the companies below and requested to review their gear. All of my opinions are my own.
Base Layer
When dressing your child for winter play, a good base layer is essential. Until this year I didn't have an official base layer for my tots – I just dressed them in fleece or footie pajamas and a long sleeve t-shirt. That worked well enough, but cotton as a base layer isn't ideal because it can get wet, cold and heavy. That's why I contacted Ella's Wool and asked to review their thermal base layers for kids.
The 100% Merino Wool is machine washable, naturally flame retardant and odor-resistant, and stays warm even when damp. But the best part? They are so soft and not itchy at all. I don't often open a package and say, "Wow, that's better than I expected," but I did with these base layers.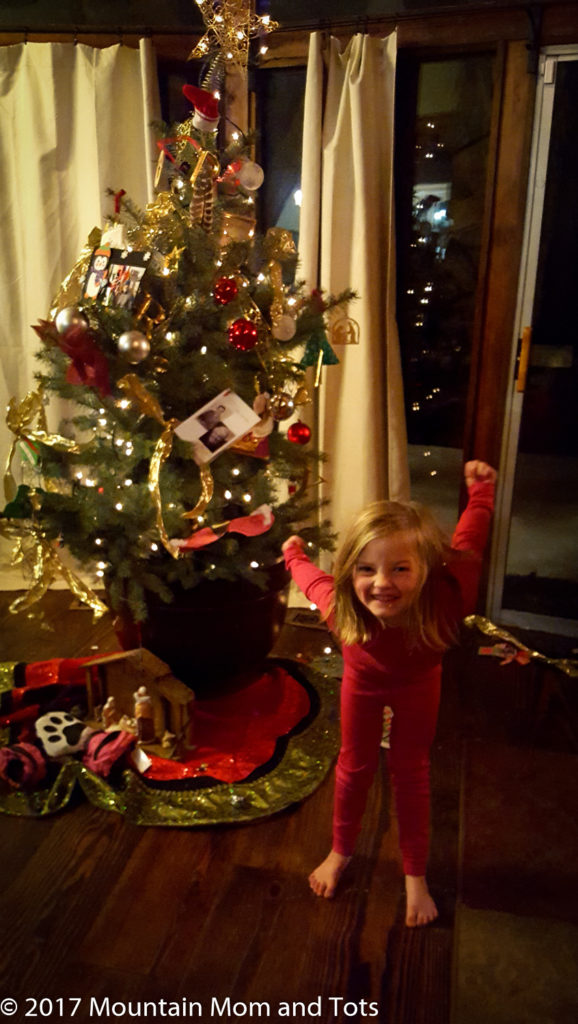 Ella's Wool thermal base layers for kids have changed Little G's life. At the beginning of the season every time we went outside she'd complain about the cold. She'd refuse to leave the house or cry and whine while surrounded by all the fun snow. Since getting these Ella's Wool Base Layers she's been much more interested in playing outside. A few days ago she even got all her snow stuff on without my asking to build a snow fort with me and Big E. I attribute that to having the good base layers.
Ella's Wool Thermal Base Layers cost $69 for the shirt and pants set. Sizes range from Ella's Wool Base Layers to 10 years.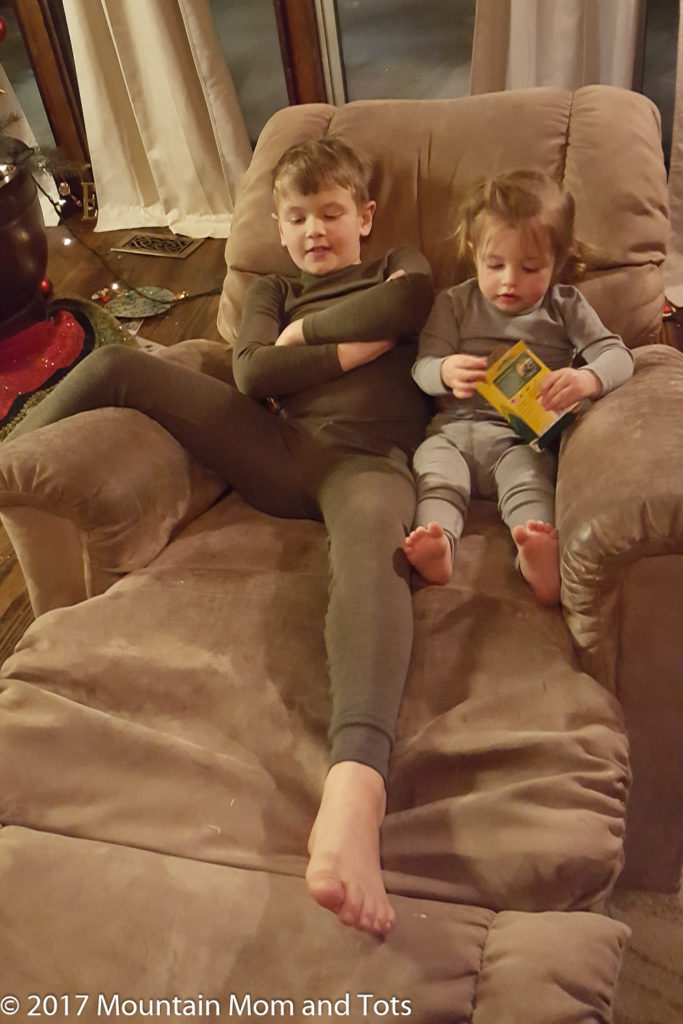 Pros:
So soft. I couldn't believe they were wool, they felt like soft cotton.
Long torso and sleeves that will last more than one season.
Sustainable and eco-friendly.
Warm. Kept Little G warmer longer (and not complaining).
Cons:
My son – after trying them on one time he said, "I don't want to wear them. I look like a Christmas elf."
TIP: Before we had Ella's Wool I used footie pajamas as a base layer for my toddler. They're warm, familiar and they reduce the amount of things to fasten, zip and attach, but diaper changes were always a hassle.

Mid Layer
When dressing your child for winter play, the mid layer comes next. This layer is optional based on the temperature, expected activity and how long you'll be outside. For example, if you take your kids cross country skiing on a 40 degree day you'll all be getting a workout and a base layer paired with snow pants and light jacket would be enough. If you take your kids sledding for four hours straight in 25 degree weather, you'll definitely want a good mid layer on.
Put fleece or wool pants and a shirt on next over your kids' base layers. If you're really worried about the cold, you can add more mid layers – add as many as you want – but if your base layer and coat are doing their jobs, you should only need one.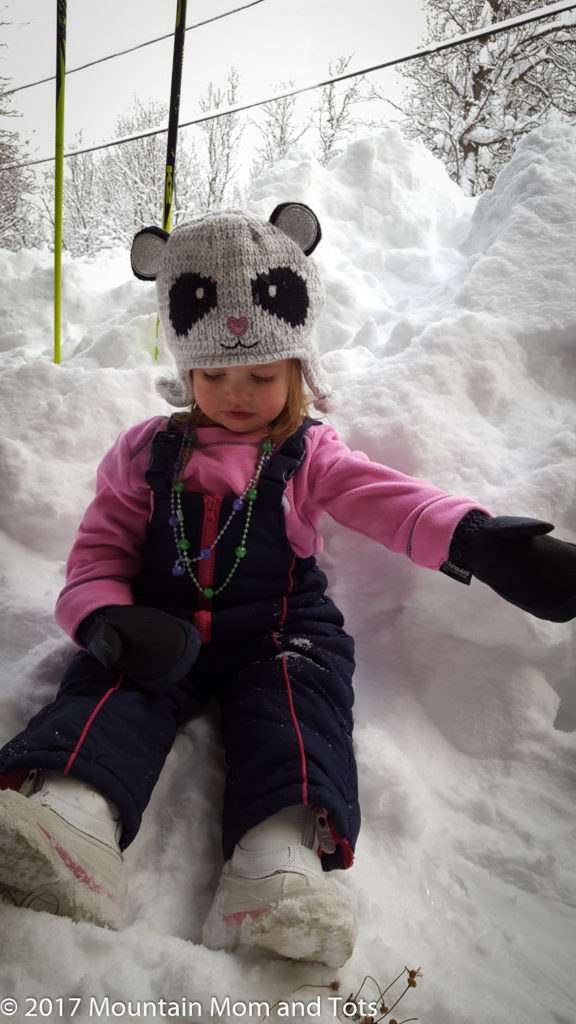 We tried out Cubbies mid layer for toddlers from ETS Apparel. This high quality fleece is soft and warm, but it's unique feature is the zip on mittens design. With mittens firmly attached to the mid layer, snow can't sneak into your toddlers sleeve and there's no worry that one mitten will fall off and get lost.  I love the idea, and they did their job well, Baby L didn't get snow in her sleeves at all. The tough part was keeping her still long enough to zip the gloves on.
You want to zip on the gloves before putting on the coat for best results. That makes it a bit tough if you are driving to your winter outdoor destination because you have to bundle up your toddler before loading into the car then re-bundle at the trail head or parking lot if you want them to be able to use their hands in the car.
Cubbies colors are pink or blue. They come in sizes 18 M to 4T and cost $38 each.
Pros:
Gloves stay on, snow stays out
Thick, warm fleece
Cute pink or blue
Cons:
Zipping on the mittens is hard with a squirming toddler.
I didn't like having to put on the gloves before the coat, especially when driving somewhere before winter play.
TIP: Fleece pajamas work well as a mid layer.
Outerwear
After the mid layer comes the final layer – Outer wear. The best coat and snow pants combine warmth on the inside with a waterproof exterior. Essential features include elastics around the wrists and ankles to keep out snow and zippers with a fabric flap covering so cold and snow can't sneak in. I don't care about hoods, they always fall off anyway.
Coats and snow pants for kids come in different styles, just like they do for adults. Baby L wears a full body snow pant and coat combo when we're getting out to door in a hurry. Just zip up once and go. However, the full body set up makes diaper changes a cold hassle, since you have to completely undress them in the cold. If I know we'll be out longer I opt for a separate snow pants and coat for Baby L.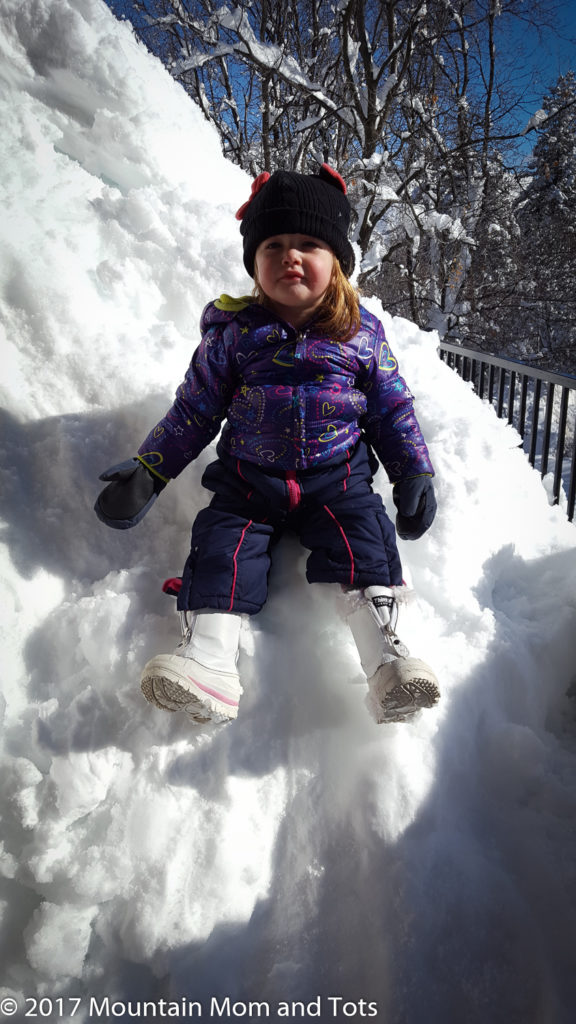 What I like about these hand-me-down bib overall snow pants is that the shoulder straps un-clip easily. That means I can undo just her snow pants for diaper changes and leave Baby L in her coat. Re-threading the straps under the coat is a hassle, but it's still warmer than taking her coat off completely.
TIP: You can typically find good quality second hand snow pants easier than coats because they aren't worn every day like coats usually are. Buy one size bigger to have them last more than one season.

Get Out and Play
So there you have it. My tips to dress kids for winter play. Come back soon for part two of the series – Accessories. Those fingers and toes don't stay warm on their own!
Want more tips on how to Dress Kids for Outdoor Winter Play? Check out these posts from some outdoor family blogger friends:
Wild Tales Of – How to Dress Kids for Cold and Rainy Weather
Active Kids Club – Get Dressed for Winter (YouTube Video)
Play Outside Guide – Keeping Kids Warm in Winter
Born to Be Adventurous – Dressing a Baby for Winter
Wilder Child – How to Dress Your Kids for Outdoor Winter Activities
See you in the outdoors!
This post includes affiliate links. If you purchase something after clicking through these links I get a small (we're talking pennies) commission at no extra cost to you.