When teaching kids to ski, the right ski training tools can make all the difference. I've had lots of experience teaching my tots to ski so I thought I'd review some ski training tools for kids. Some of these are great, and others are frankly terrible.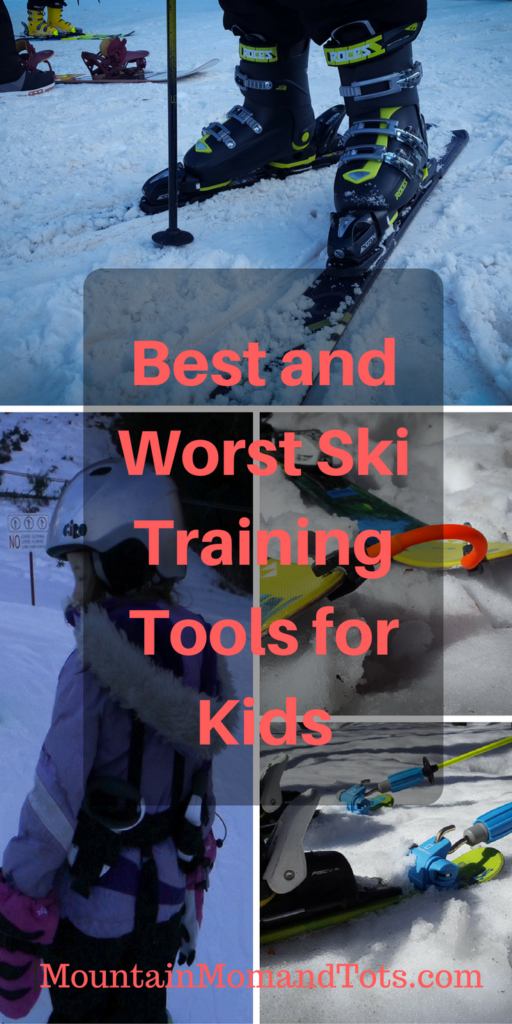 Roces Ski Boots
My favorite ski training tool for kids are actually ski boots – Roces Idea ski boots. I'm a huge fan of well designed gear and these ski boots deserve a gold medal.
What makes these boots unique is their adjustable liner and boot shell. Because of this innovative design, your kids can wear the same pair of boots for MULTIPLE seasons. Do you understand what I'm saying? The shoe grows along with your kid! It's amazing.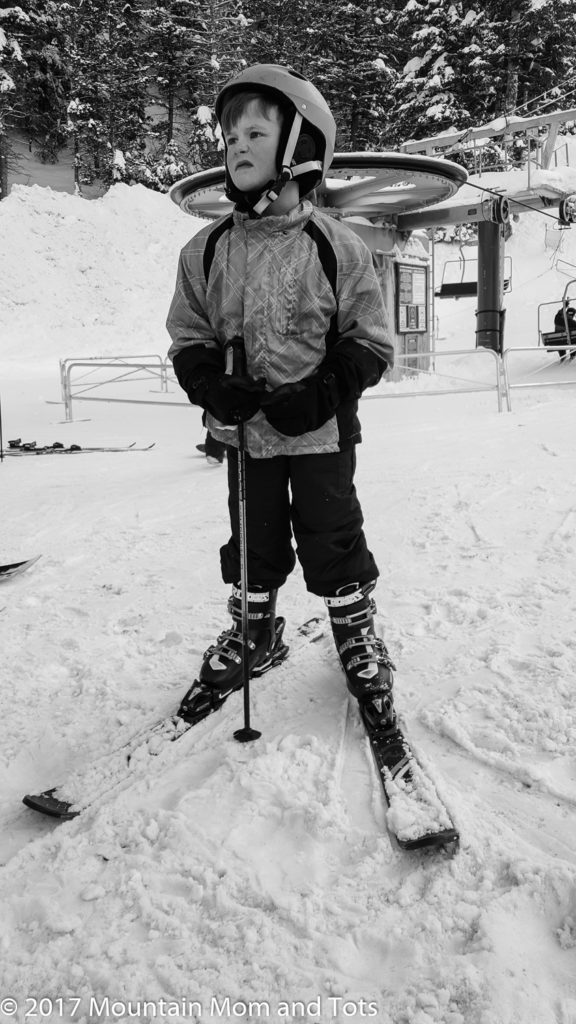 When I asked Roces if I could try out their boots, I expected the process of changing a kids ski boot size to be difficult. It totally isn't. All you have to do is turn a knob. REALLY. See it in action here.
Roces Idea ski boots are my new favorite piece of ski gear.
Pros:
Fits up to six ski sizes (My 8-year-old and I can fit in the same pair of boots) 
Really simple adjustment
Cost is around $99.00 – a great value considering they will last for years
Edgie Wedgie
This small piece of stretchy plastic is the most important ski training tool for kids. And it's so simple it's silly.
An Edgie Wedgie clips onto the front of the kids' skis, connecting the ski tips. This connection allows the child to easily make a wedge and stop. Most young kids don't have the lower leg coordination to make a strong wedge on their own. An Edgie Wedgie allows them to control their speed and teaches them correct ski position.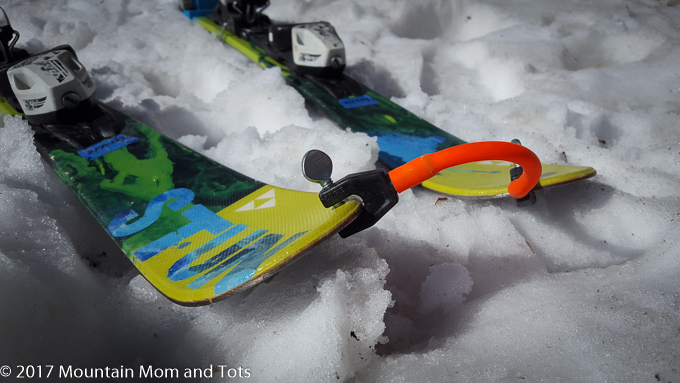 It makes a world of difference. In my opinion Edgie Wedgies  are mandatory for kids aged 2-4, Very Highly recommended for kids aged 5-6, and optional for kids 7 and older. Several ski instructors I've talked to use these with their students. That can't be said for the other tools listed in this post.
Pros:
Easily attaches to child's skis, even while wearing gloves
Costs between $10-15 and worth every penny
Helps teach correct ski position
My girls love the bright colors
Ski Harness Controversy
There's a lot of controversy over whether or not to use a harness as a ski training tool for kids. Almost every ski instructor I've talked to discourages using a harness.
The concern is that a harness can teach bad skills, throw off a child's center of gravity and make them too reliant on the parent to control their speed. I understand that. But as a parent, I also understand the desire to introduce the love of skiing to my child.
So much of a ski day revolves around loading and unloading equipment, managing the cold, keeping kids (and parents) happy. Sometimes I just need my child to grasp the joy of the sport, to feel the thrill of sliding on snow. A harness can help that happen even when my kids aren't quite skilled enough to stay in control on their own.

Lil' Ripper Gripper Harness
There are several brands of ski training harnesses. I asked Lil' Ripper Gripper to review their harness because of its well thought out design. The leashes attach to the child's hips, not their back. This allows them to have better balance without being pulled backward. Attaching at the hips also helps the child initiate turns with just a small tug from mom or dad.
The other unique feature with the Lil' Ripper Gripper is the retractable leashes. Since the ropes retract at the push of a button, it's easy to reign in speed demons, or give your kid some slack when they're ready for it.
I recommend the Lil' Ripper Gripper for tentative kids ages 3-6. At the beginning you can keep the leashes short – between 2-4 feet. This allows you to help your child up from a fall or to ski with them between your skis without causing major back pain. As they get more comfortable you can lengthen the leashes with a flick of a switch, or shorten them just as quickly. The ultimate goal is to have slack in the line, showing that your child is in complete control of their speed.
One drawback of the Lil' Ripper Gripper (or any harness) is the added clipping in. Try it on your child before getting on the slopes so they're comfortable with yet another thing to fasten/zip/clip in before skiing.
The Lil' Ripper Gripper costs $89.99, more than any other ski harness on the market. However, the retractable leashes, included edgie wedgie and clip-to-the-hip design make it stand out above the rest.
Pros:
Connects to kids' hips, not back
Retractable ski leashes allow for easy adjustments
Can be used for both skiing or snowboarding
Storage of leashes on the child's hips keeps them out of the way on the chair lift
Handle on the back helps with lifting the child 
Caution: Make sure all ropes, leashes, backpacks and loose equipment are secured before loading the lift. Just this season a kid's backpack got caught on the chair lift at our local resort and he ended up hanging twenty feet in the air while ski patrol rushed to save him.
Slope Ropes
Slope Ropes Ski Trainer is a new ski training tool for us. It's super simple (are you sensing a theme here). Two lengths of rope are connected with handles. You hold onto one handle while your child puts the other around their hips. This allows you to control your child's speed.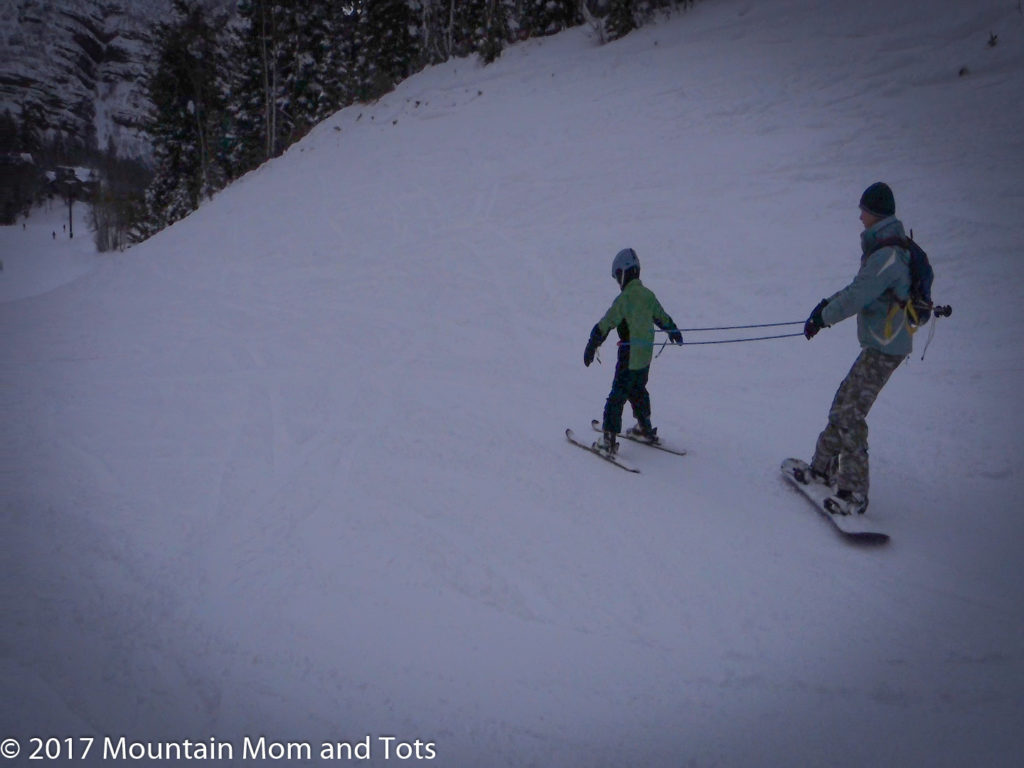 I recommend this for strong beginner skiers who already know how to maintain their body weight. The Slope Ropes Ski Trainer allows you to prevent mad speed dashes and can give your tentative child confidence that you're right there with them.
Also, you can use it from a snowboard (bonus for me) and you can use it in reverse. The Slope Ropes Ski Trainer makes it easy to tow your child on flat sections like getting to the chair lift.
You can't use it with ski poles very easily, but I recommend leaving your ski poles at home when teaching your child to ski anyway. They shouldn't have them, why should you?
I prefer Slope Ropes Ski Trainer to ski harnesses for my kids, because it requires no extra clipping in, but my kids are already pretty solid skiers. Slope Ropes Ski Trainer work best with a stable beginner who's not falling a lot. A harness provides more support when helping a child up from the ground.
Slope Ropes Ski Trainer cost $29.99.
Pros:
Simple design
Easily fits into a backpack
Can be used to tow your child on flat sections
Controls child's speed
No clipping in required
Bright colors
Hookease
The worst ski training tool for kids are Hookease. These are terrible. Do not buy them.
Hookease utilizes the adult's ski poles to attach to the child's skis. A small device attaches to the back of your child's ski and another attaches to the bottom of your poles. The hook on the end allows you to control your child's movement, including forcing their skis into a correct wedge position.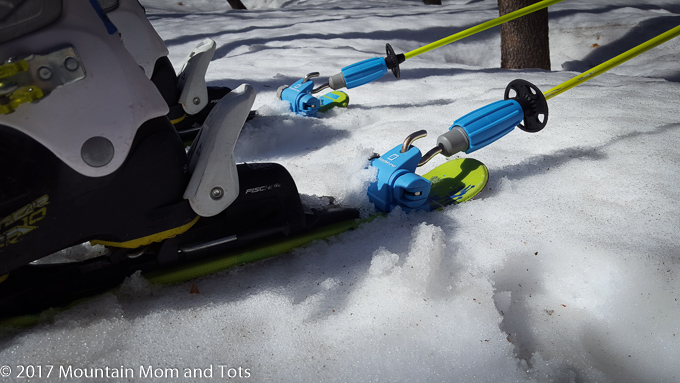 The problem is that to the child you are an extra weight dragging them back. They don't feel the motion of sliding on the snow with a giant adult acting like an attached brake. Also, without flexible leashes you both must travel at the exact same speed. That doesn't work well if your child wants to speed up or slow down even a minute amount or needs to turn suddenly.
While trying out Hookease I was reminded of a prison ball and chain and Little G whined and complained the whole time. It felt like I was tripping her and that she wasn't learning any skills of her own.
Sure they look cool. We got plenty of comments from other skiers on how awesome these looked, but in practice I think they do more harm than good.
Hookease cost $59.99.
Pros:
None

Other Ski Training Tools for Kids
Hula Hoop – Our local resort ski instructors use these sometimes. The child skis inside the Hula Hoop while the adult holds onto the back. This allows the child to maintain their own body weight while the adult controls the speed.
Copilot – This harness system attaches a leash to your child's ski boots and allows you to control their speed from behind. I HAVEN'T TRIED THE COPILOT SKI TRAINER personally, but interviewed some parents about it. They raved about the CoPilot Ski Trainer, but to me it seemed liked you would trip the child or get tangled in the leashes easily.
Ski Poles – Sometimes the best ski training tool for kids is what you have on hand. Although I don't recommend using poles when teaching your kid to ski, sometimes they can be helpful. Have your child hold onto your poles while you ski backward in front of them. I've also had Little G hold onto my pole and ski beside me.
Rope – Yes, you read that right. I haven't tried this personally, but I have seen adults tie a rope around their child's waist and ski several feet behind them.
Those are the best and worst ski training tools for kids. Are there any others you use?