Mother's Day is just around the corner. You know what that means. Time to show the mother in your life some love with some outdoor mom gifts!
Here's my Top Ten Picks for Outdoor Mom Gifts. Be sure to scroll down to enter an awesome GIVEAWAY and see links to other outdoor family bloggers' Mother's Day Gift Guides.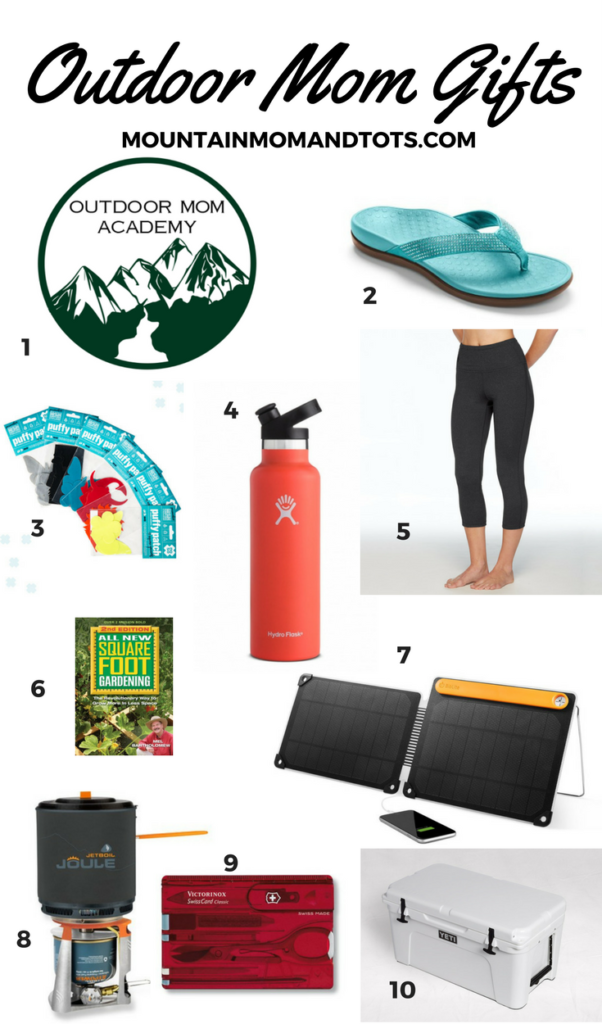 Psst: You should know that I affiliate-linked the heck out of this post. You should also know that, in general, I never promote a product I haven't tried personally. I received some of the items below to review, but most of them I purchased myself or I got as a gift from Mountain Dad (or his brother). If you click on a link and purchase something, maybe I can buy myself a nice Mother's Day gift too!
1. Outdoor Mom Academy
If you want to take adventuring with kids to the next level, you have to sign up for the Outdoor Mom Academy. I've teamed up with TalesofaMountainMama.com and HikeLikeaWoman.net to present a six week course focused exclusively on Outdoor Moms.
We'll be teaching skills to get outdoors safely with kids including:
Raising Outdoor Leaders
Assessing Risk in the Outdoors
Family First Aid
Family Camping Made Simple
How to Pack What You Need
Outdoor Adventures on a Budget
Right now we're offering a $5 discount and early bird pricing so hurry over to Hikelikeawoman.net and check it out!
Price: $40.00 – $60.00 early registration starts May 1, 2017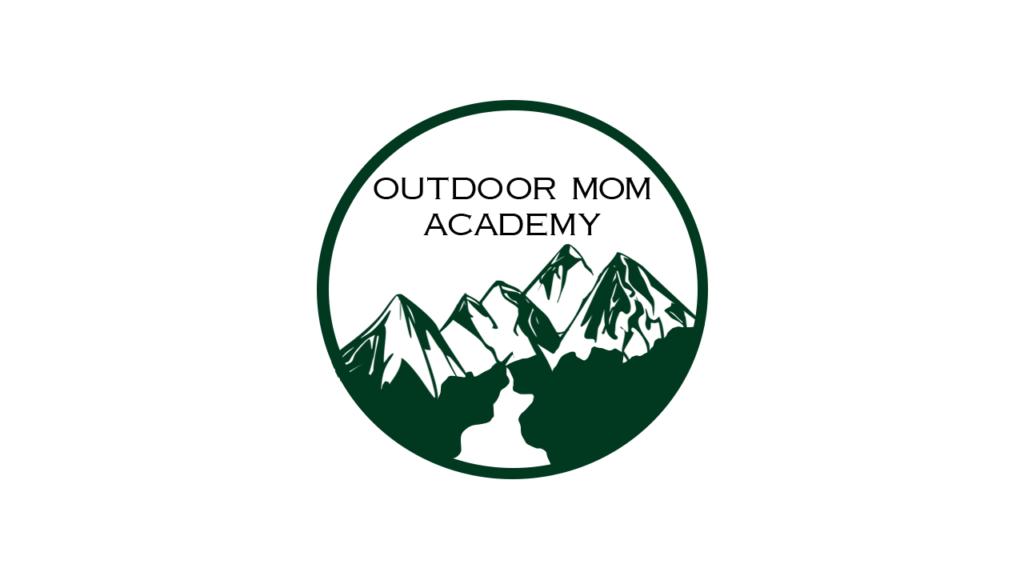 2. Vionic Tide Sandal
All last summer on our National Park-to-Park Highway tour I wore Vionic shoes. Now that summer is coming again, I'm breaking out my Vionic Women's Tide Arch Support Sandal, for an easy, stylish footwear option.
What makes Vionic shoes unique is their built in arch support. Every shoe and sandal has a built in orthotic that encourages natural alignment, combats planters fasciitis and offers elevated support. Plus they have lots of classy styles to choose from.
Lucky for you, you don't have to take my word for it. You could win a pair of your choice from our giveaway below!
Price: $65.95 – 74.95

3. Noso Patches
These adorable patches make gear repair easy! When I busted a seam in the seat of my snow pants I was able to stick on a butterfly patch and go. Waterproof and durable, Noso Patches let you customize your gear so that it's uniquely yours.
Noso Patches are great for coats, packs, sleeping bags, even tents – and now you have a chance to try them out for yourself. Check out our giveaway below for your chance to win.
Price: $14.99 for a three pack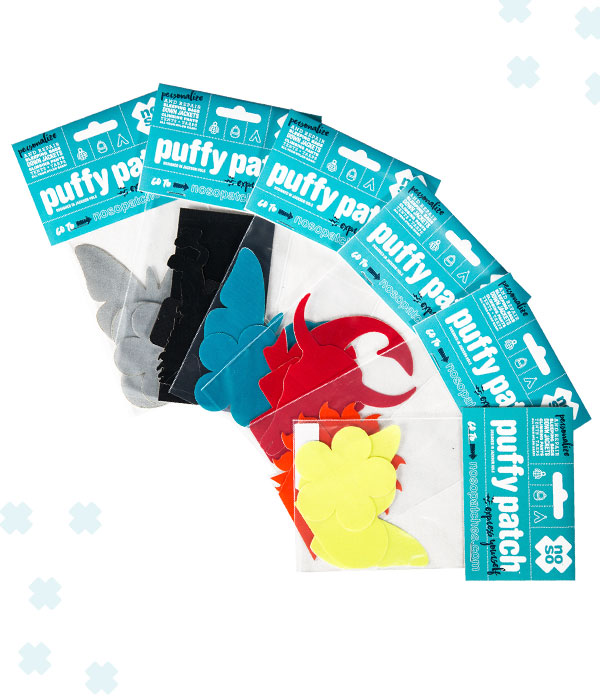 4. Hydro Flask
If you've seen what I wear when adventuring, you know that I love bright colors. With 14 colors to choose from, Hydro Flask has the largest selection of brightly colored water bottles that I've ever seen.
Not only does Hydro Flask offer endless customizable options, the double walled insulation keeps drinks hotter and colder for longer. And right now there's a special – buy one for you and one for your mom and get 10 per cent off your total order!
Price: $24.95 – 64.95
5. Stonewear Liberty Tight Capri
These Stonewear Liberty Tight Capri pants would make a great outdoor mom gift. They are my favorite pants for adventuring.
Soft, stretchy fabric feels great when hiking, biking or doing yoga. Pair these with Stonewear's Cruiser Skirt and you're ready to adventure in style.
Price: $78
6. Square Foot Gardening
Every spring my thoughts turn toward gardening, even though I'm not what you'd call a green thumb. I just like being outdoors (in case you couldn't tell) and planting a garden is a great way to get outdoors with kids.
The best gardening advice I've ever gotten came from this book All New Square Foot Gardening: The Revolutionary Way to Grow More in Less Space by Mel Bartholomew. Planting one crop per square foot of space simplified growing things for me and helped me feel successful growing just a few plants instead of worrying about a whole crop.
Price: $14.99

7. BioLite Solar Panel 10+
We used our Biolite Solar Panel 5+ while camping on the National Park-to-Park Highway last summer and loved it, so when Biolite announced their new Solar Panel 10+, I immediately added it to my wish list.
This double solar panel with built in battery lets you charge electronics on the go, while camping, hiking, even when sitting in a window (we put ours on our dashboard to charge while we drove).
Price: $129.95
8. Jetboil Joule
As our family grew from two adults to a family of five, we knew our camping stove would have to grow too. We loved our Jetboil backpacking stove for just the two of us, so when two grew to five, you'd better believe we bought the Jetboil Joule to keep up.
The Jetboil Joule camp stove system has enough capacity for 2.5 liters and can boil water in less than three minutes, no matter the weather. Plus it's so easy to pack up – all the pieces fit neatly inside.
Price: $199.99
9. Swiss Army SwissCard
This awesome little tool has lived in my purse for more than fourteen years. About the size of a credit card, my Swiss Army Swisscard was given to me by Tio Monte (Mountain Dad's brother) as a wedding gift.
I love the slim design and the every day use items including a writing pen, scissors and micro blade. It also has a ruler, toothpick, pin and protractor. It's one of the few gear items I've had for over a decade –  although I'm sorry to say the protractor popped off about 4 years ago.
Price: $29.95
10. Yeti Tundra
I hate that the Yeti Tundra Cooler is so expensive, but I love how it keeps my food cooler longer. I bought the Yeti Tundra as a birthday gift for Mountain Dad last fall and after trying it out, we're hooked.
Price: $249.99 – $1,299.99
BONUS PICK: Babysitting
I know I said I'd only share my top ten picks for Outdoor Mom Gifts, but I couldn't help including Babysitting on the list.
One gift I ask for, no matter the holiday, is free time. Don't get me wrong – on Mother's Day I make a point to spend quality time with each of my kids, but after Mother's Day I want a chance to adventure without kids.
Mountain biking season is calling! It's tough to bike down a rocky trail with a baby trailer so give that Mom in your life a free night of her own, or a date with her favorite adventure friend!
Outdoor Mom Gifts Giveaway
Now's the moment you've all been waiting for. It's time to win some Outdoor Mom Gifts of your own! One lucky winner can get their choice of a pair of shoes from Vionic as well as two patch packs from Noso Patches!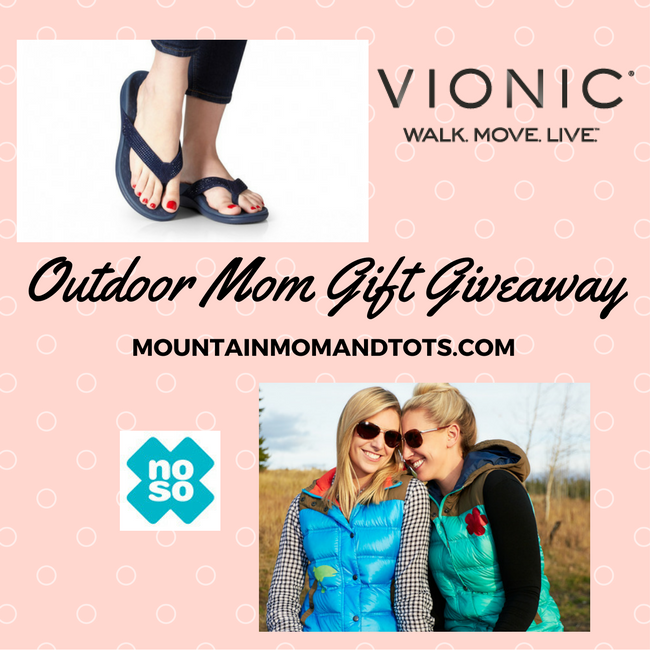 More Mother's Day Gift Guides
Little Family Adventures Gifts for Women Who Love the Outdoors
Outdoor Families Online 2017 Mothers Day Gift Guide for Adventurers
Play Outside Guide Outdoorsy Mother's Day Gift Guide + Giveaways
Rockies to Islands Ideas for Mother's Day Gifts – The Athletic Mom + Giveaway
Happy Mother's Day!