June is Great Outdoors Month in the US for good reason. It's the beginning of summer! My family is celebrating Great Outdoors Month with a very special June Outdoor Challenge. Join us!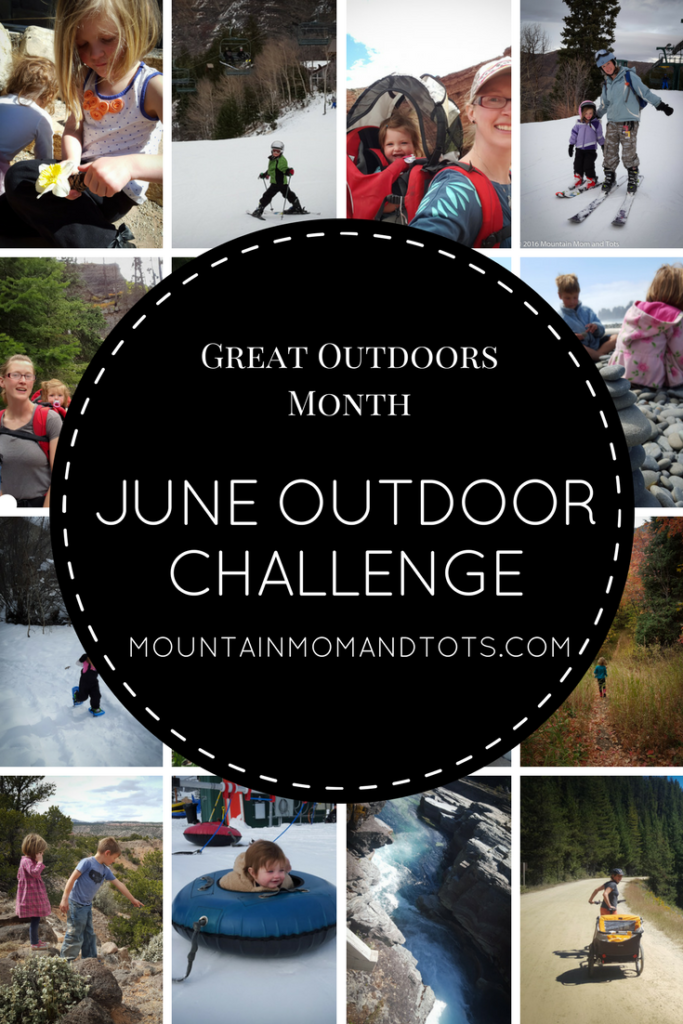 June Outdoor Challenge
This month's outdoor challenge is perfect for Great Outdoors Month. It'll encourage you and your family to get outside, enjoy nature and spend time together. PLUS if you complete the challenge you'll be entered into my exclusive gear giveaway where your chances of winning are always 1 in 50 or better.

June's Monthly Outdoor Challenge Sponsor is none other than Sea to Summit! They make some of my favorite camping gear, and they've generously donated a Pro Double Hammock and Straps for one lucky Outdoor Challenge Winner.
How it Works
My Monthly Outdoor Challenge is very simple. Here's how it works:
Sign up for the Monthly Outdoor Challenge and pay the $3.00 per month participation fee. You can also sign up for 12 or 6 months at a discounted price.
You'll receive three to four personal emails from me throughout the month. The emails announce the challenge, share exclusive tips and tricks to accomplish it and share great research about the benefits of getting outdoors.
Post a photo of you completing the challenge on social media and tag @mountainmomtots or you can email it to me – susan@mountainmomandtots.com. I will feature your photos on MountainMomandTots.com and my instagram feed (unless of course you'd rather not).
You: "For less than the cost of a Starbucks Caffe Mocha I get a challenge, exclusive content and a one in fifty chance to win awesome outdoor gear? That's amazing!"
Me: "Why yes. I think so too."
May Family Biking Challenge
May's Outdoor Challenge was to go on a five mile family bike ride somewhere you've never been before. Winners of the WoomBikesUSA Melon helmet will be chosen June 1st. Here are a few of the awesome entries I've seen for May's challenge so far.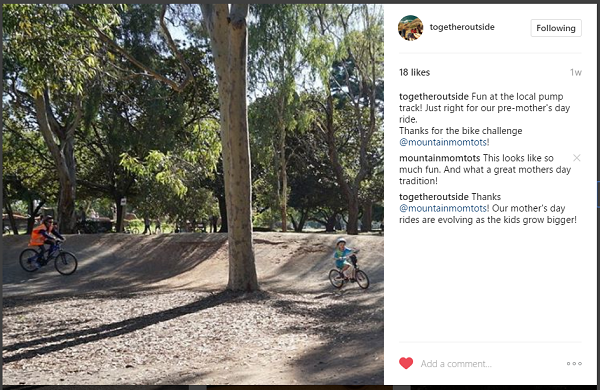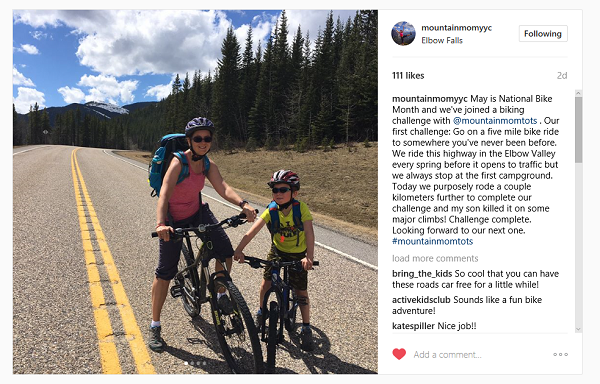 My final plea
If you're looking for inspiration to get outdoors with your family this June sign up here. Great Outdoors Month is the perfect time to explore outdoors with kids.
See you in the outdoors!
~Mountain Mom
Psst…Some links in this post are affiliate links. If you purchase something after clicking those links I make a small (we're talking maybe a dollar or two) commission.