Father's Day is Sunday June 18. What should you get the Outdoor Dad in your life? Try some of these Great Gifts for Outdoor Dads.
Make sure you scroll down to enter our Great Gifts for Outdoor Dads GIVEAWAY!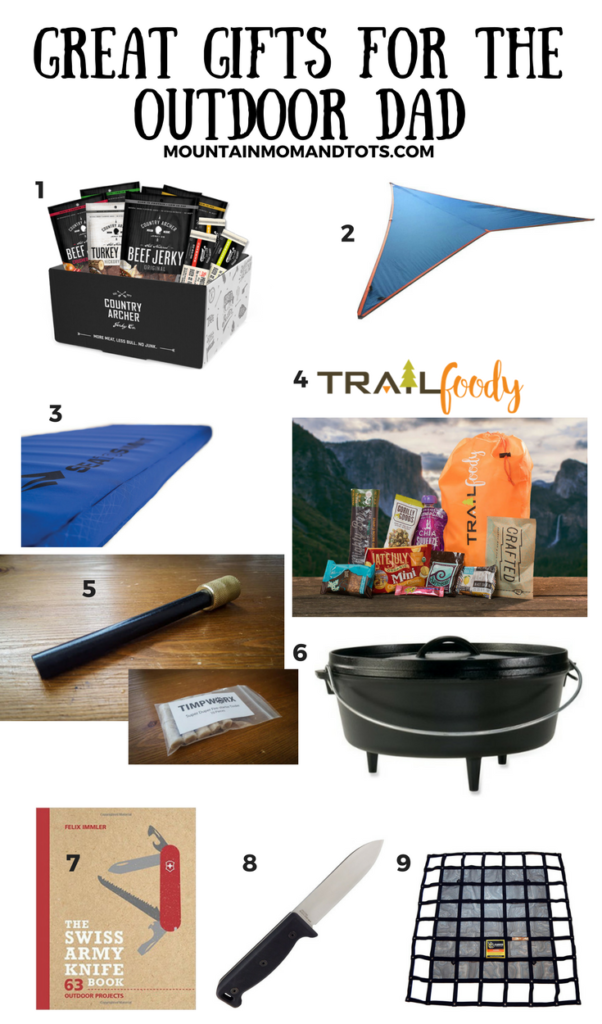 Psst: You should know that I affiliate-linked the heck out of this post. You should also know that, in general, I never promote a product I haven't tried personally. I received some of the items below to review, but many of them Mountain Dad or I purchased. If you click on a link and purchase something, maybe I can buy Mountain Dad a nice Father's Day gift too!
1. Country Archer Jerky
Mountain Dad is a huge beef jerky fan, so when County Archer sent us a sample pack of some of their gourmet beef jerky, turkey jerky, and Frontier bars he designated himself as the official taste tester. This jerky is as gourmet as jerky gets – just like their slogan says. Country Archer isn't messing around with their meat. With flavors like sriracha and herb citrus turkey the jerky and frontier bars have a variety of flavors everyone will love.
Their Fronteir Bars boast 20 grams of protein each, offering dense, high protein snack for any outdoor adventure. But you don't have to take my word for it! Country Archer offered to send one lucky reader an Adventure pack of meat treats. That's a $75 value! Enter the giveaway below!
PRICE: $2.75 – $6.00 per single package, $31.00-$75.00 per boxed set
2. Tentsile T Mini Hammock
I recently got to try out the Tentsile T Mini Hammock and have to say it is awesome! The T Mini Hammock is the baby of the Tentsile family, a company known for unique tree house tents. These tents remind me of alien space craft, levitating above the ground. They look SO COOL! In fact Tentsile made it on my top ten picks from Outdoor Retailer Winter Market this year because their designs are so unique.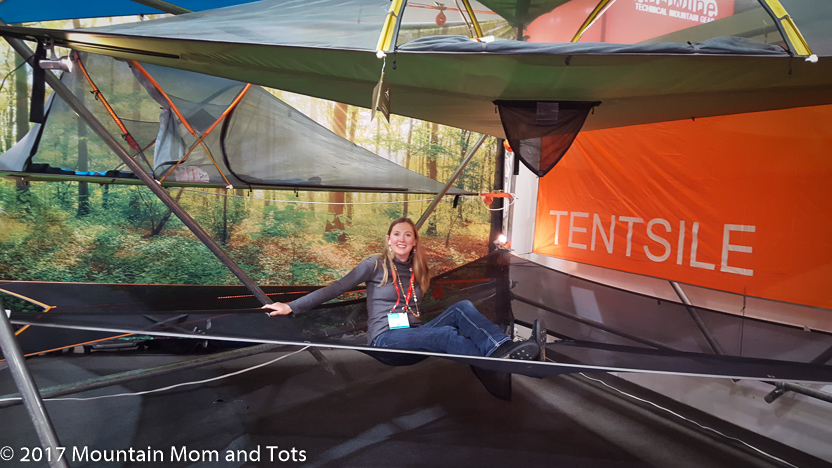 Set up of the T Mini Hammock was a hassle, I'm not going to lie. But lounging on it was awesome. This two person hammock can support up to 480 pounds, enough for me and three of my kids to pile on no problem.
Tentsile tents are truly remarkable. If the Outdoor Dad in your life is a gear geek like Mountain Dad, you will love these tents.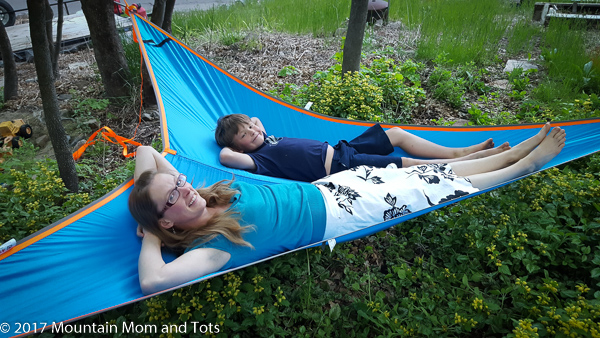 3. Sea to Summit Comfort Deluxe Self Inflating Mat
I'm a big fan of Sea to Summit gear, but the piece that most recently caught my eye was the Comfort Deluxe Self Inflating Mat. I'm a tent camper and I've learned from experience that a good nights sleep while camping is golden.
The Comfort Deluxe Self Inflating Mat boasts FOUR inches of comfort. That's the thickest camp pad I've seen on the market! Plus you can get it as a double size, 51 inches wide – large enough to sleep me and Mountain Dad!
4. TrailFoody
One of my new favorite companies. TrailFoody is a subscription service that sends a monthly food pack filled with tasty snacks for the trail. Each month you get a different mix of foods and they come in a convenient stuff sack you can use to just grab and go.
TrailFoody chooses foods that are healthy, easy to pack, and versatile. Our son with food allergies had to avoid some of the snacks with nuts, but other than that, the pack was fast, convenient and fun.
If you have taste buds that match your adventurous spirit. Try TrailFoody for a month, or sign up for the year. TrailFoody is pretty cool.
PRICE: $21.95 – $53.95 per month, depending on which plan you choose
5. Mountain Dad's Super Duper Fire Starting Tinder and Gentleman's Firestriker
I'm not a flint and steel kinda gal, mostly because matches have always worked better for starting fires for me. At least that was before Mountain Dad began tinkering in his shop. After several experiments he emerged from his man cave with an awesome fire starting combo – Super Duper Fire Starting Tinder and the Gentleman's Firestriker – a monster ferro rod good for thousands of strikes.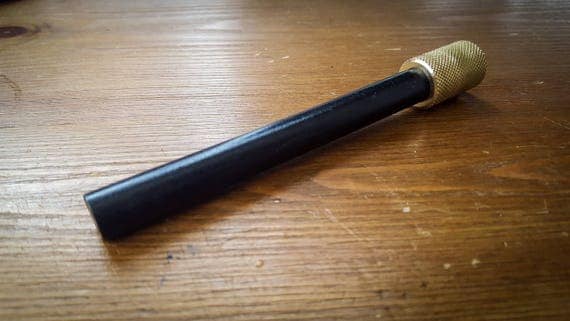 This 1/2″ thick ferrocium rod isn't messing around. Scrape the back of your knife against it lengthwise and a shower of 5000 degree sparks spray forward. Seriously, my kids call it fireworks.
It includes a hand-machined, knurled handle for slip free grip, and it's only $15.99. Add his proprietary Super Duper Fire Starting Tinder and you've got the recipe for perfect campfires anywhere you go.  This 100% cotton tinder is waterproof and a whole lot less messy than your standard diy cottonball/petroleum jelly combo.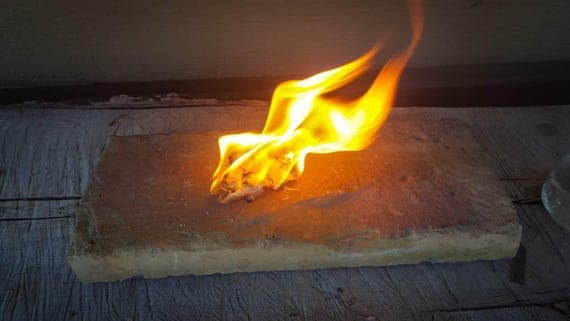 This is my method of choice for starting fires now – forget matches and lighters. I can make fireworks.
PRICE: $8.99 Super Duper Fire Starter Tinder 10 pack, $15.99 Gentleman's Fire Striker
6. Dutch Oven Starter Set
One of our favorite summer activities is to have a dutch oven dinner. Our outdoor fire pit makes a great place to relax with the fam and enjoy tasty meals cooked over a fire.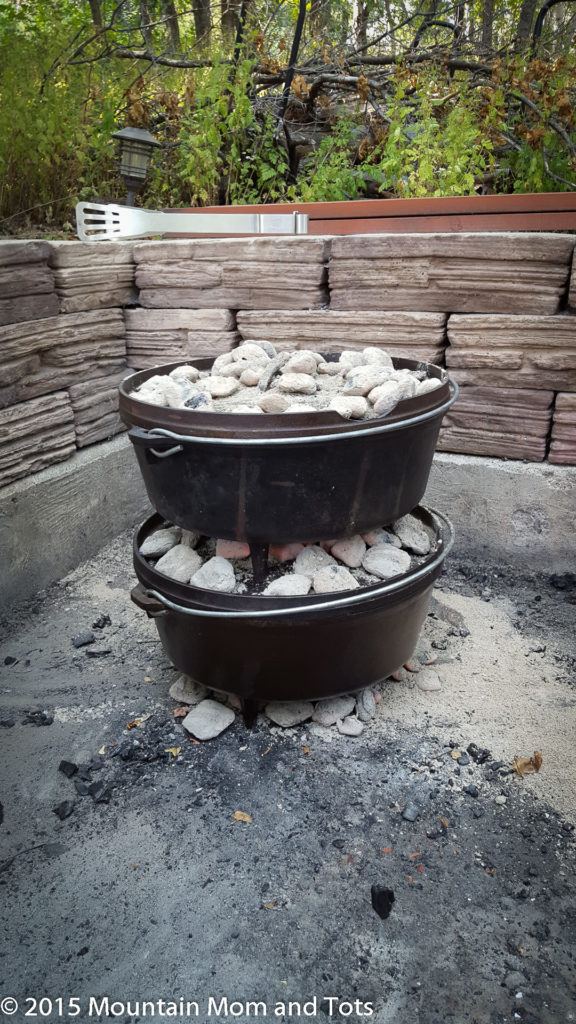 To get started with Dutch Oven cooking, however, you need a few important tools including a dutch oven and charcoal. That's really all you need, but a few dutch oven accessories help a lot. I recommend a lid lifter, charcoal chimney starter, parchment paper liners (these prevent huge messes) and fireproof gloves.
Try a new family tradition with Dutch Oven Cooking!
7. The Swiss Army Knife Book
Learn how to make a bed, shelter, shelves, table, ladder and more using only a Swiss Army Knife! The The Swiss Army Knife Book is a visual instruction manual on how to set up a bush craft camp using only branches, brush and leaves found naturally in the outdoors.
The 63 projects presented in The Swiss Army Knife Book demonstrated by author Felix Immler, are well planned out and explained easily, with step-by-step color photos.
If the outdoor dad in your life loves camping and bushcraft, definitely check out this book!
8. Ontario Black Bird SK -5 Knife
One thing you can always count on when we're camping is that Mountain Dad has a knife in his pocket. His favorite camp knife is this tough Ontario Black Bird SK-5 Knife. With a five inch, stainless steel blade, and full flat tapered grind, this knife has been known to to double as a hatchet, cut through rope, even slice an apple when needed.
It's a beast, but definitely a good thing to have around the campsite.
PRICE: $106.37
9. Gladiator Cargo Nets
On our National Park-to-Park Highway trip last summer we decked out our truck, turning it into the Ultimate Adventure Vehicle. As part of that we added a Yakima LoadWarrior basket to our roof, loaded it up, and secured our gear with a cargo net. A few weeks into the trip, the elastic of the cargo net stretched, cracked and fell apart.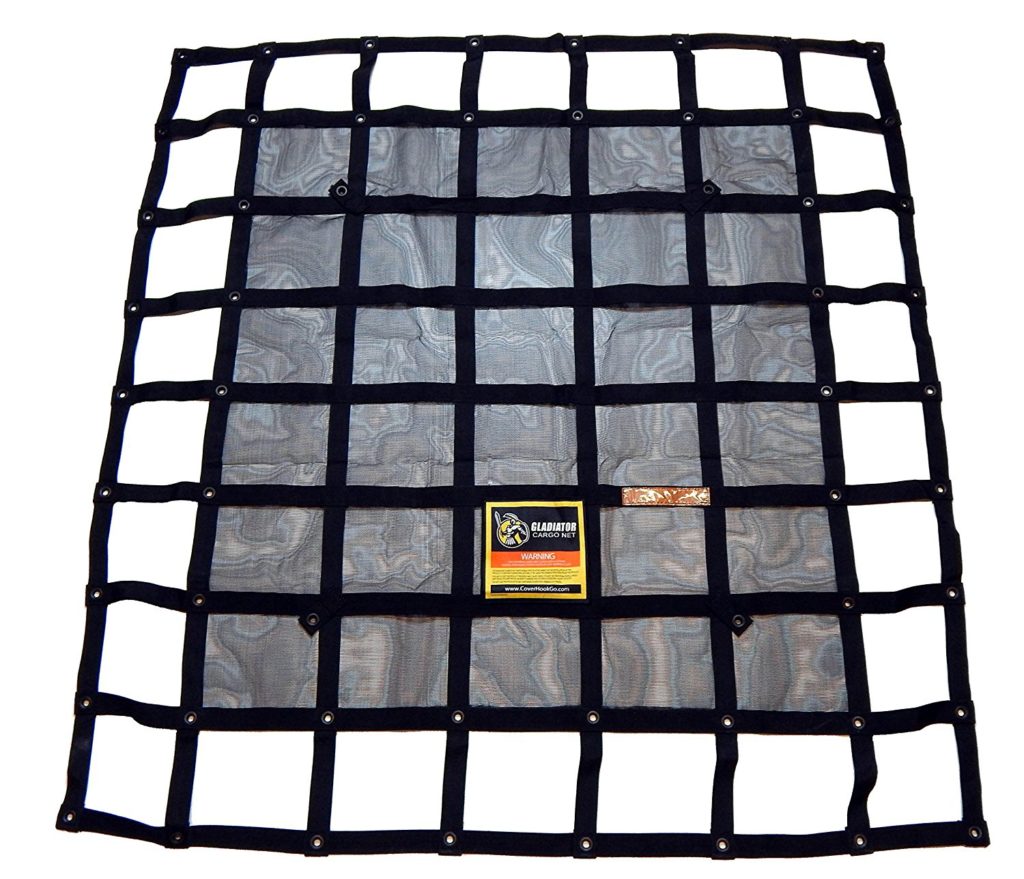 This summer we've replaced the cargo net with a Gladiator Heavy Duty Cargo Net. So far it's been fantastic. The integrated webbing and mesh cinches down tight with the enclosed hook and ratchet system – far superior to the elastic net we used last year. The Gladiator Heavy Duty Cargo Net is a great addition to our Ultimate Adventure Vehicle. We liked it so much, we bought a second one to use inside our truck cap.
There you have it – Our picks for Great Gifts for Outdoor Dads. Now it's time for a GIVEAWAY!
Enter before Friday June 14th for your chance to win this $75 value adventure pack from Country Archer Jerky.
Great Gifts for the Outdoor Dad

If you still haven't found something you love after reading my list, check out some of my other outdoor blogger friends' Great Gifts for the Outdoor Dad posts.