Over the last few weeks I've been in Mountain Biking heaven. Why? Because Big E is finally big enough to mountain bike with me! Since this year is Big E's first time mountain biking, I made sure to find the right trail and use the right bike. For us it was a Prevelo Zulu Three.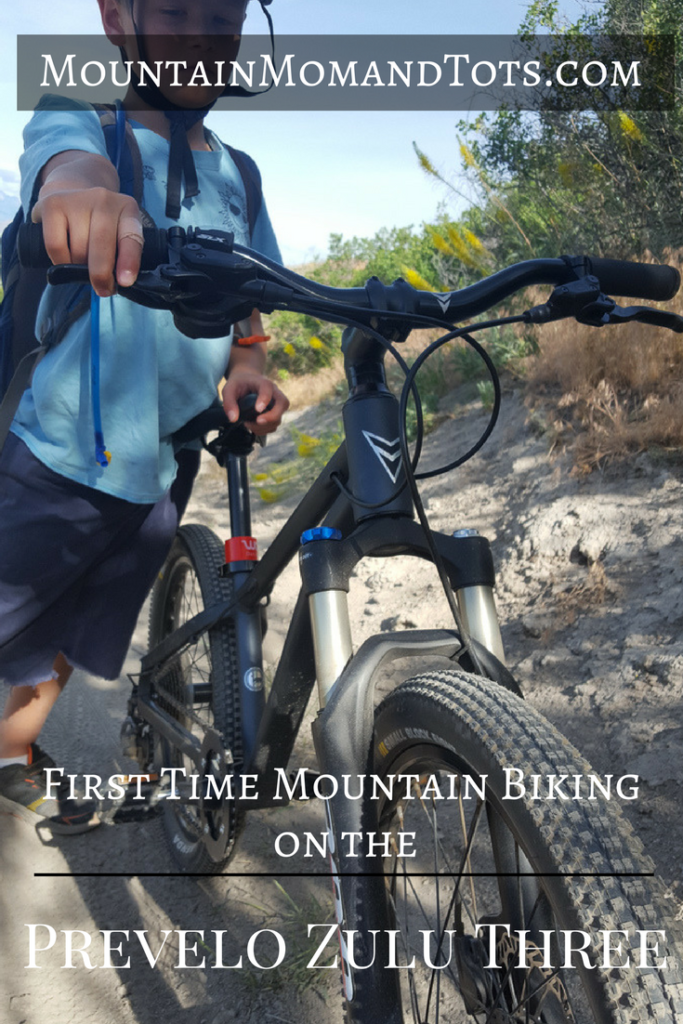 First Time Mountain Biking
Follow these tips to help your child's first time mountain biking be a success.
Keep it short – under three miles. Your child's first time mountain biking may be slow going. Avoid burning out your muscles or patience by keeping the ride short.
End when everyone is still having fun.
Avoid excessive uphill (downhill is way more fun for everyone).
Bring snacks and plenty of water.
Take breaks.
In addition to following the above tips, you'll want to find the right trail and find the right bike for your child's first time mountain biking experience.
Find the Right Trail
Once you're ready to get off the pavement, look for a well-established, hard-packed trail surface for your first attempt. Single track trails may feel claustrophobic for new bikers, so I opted to take Big E on an unpaved, low traffic road for his time.
Well, actually his first time we tried a single track road with minimal uphill and he gave up after ten minutes. That's how outdoor adventures with kids go sometimes. So for the SECOND attempt we tried an unpaved road.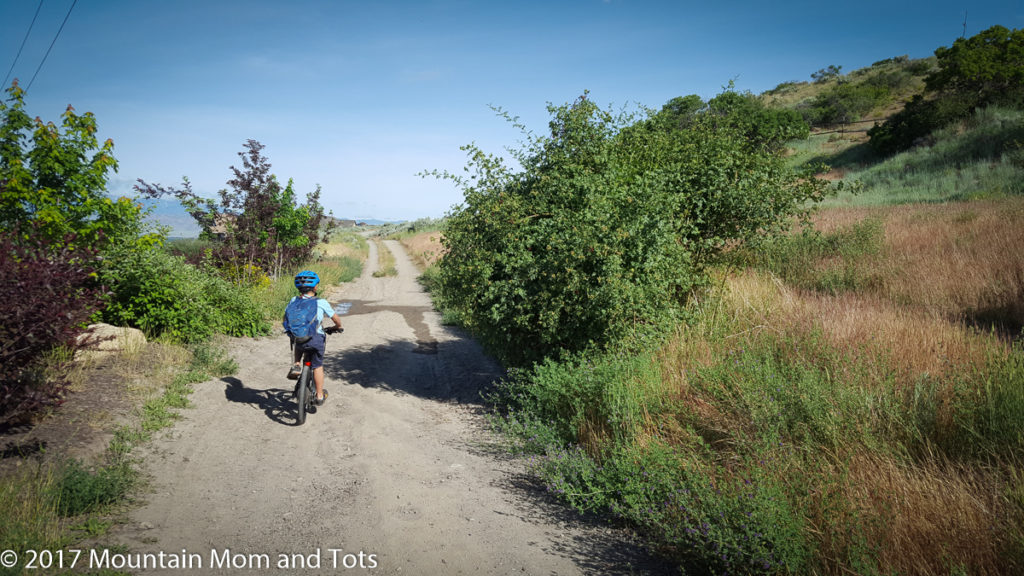 Unpaved roads or double track trails are good because:
You can ride along side your child.
You can introduce your child to a variety of trail surfaces.
Many dirt roads are graded for automobile traffic and tend to have minimal elevation change.
We live near Sundance Mountain Resort in Utah. It's a great place to ski and snowboard in the winter and mountain bike in the summer. Unfortunately the "easy" trails at Sundance are steep and rocky with several quick switch backs. I didn't feel comfortable taking Big E there for his first time mountain biking, but now that he's gone a few times, we'll be heading there next.
Find the Right Bike
With first time mountain biking on easy trails, you can probably get away with using a high quality kid's bike. But if you want to really get mountain biking with your child, you'll want to invest in a kids' mountain bike.
The right mountain bike for Big E was the Prevelo Zulu Three. Prevelo sent me a demo bike to try out with Big E and I've gotta say, It's AWESOME!
With a lightweight frame that's designed for kids, 2.1 inch wide tires, hydraulic disc brakes and an adjustable front suspension air fork, the Zulu Three is a great bike for serious off-road riding. It's better than my bike for sure! And thanks to Prevelo's kid-designed geometry, Big E was set up for a more aggressive stance – essential for mountain biking.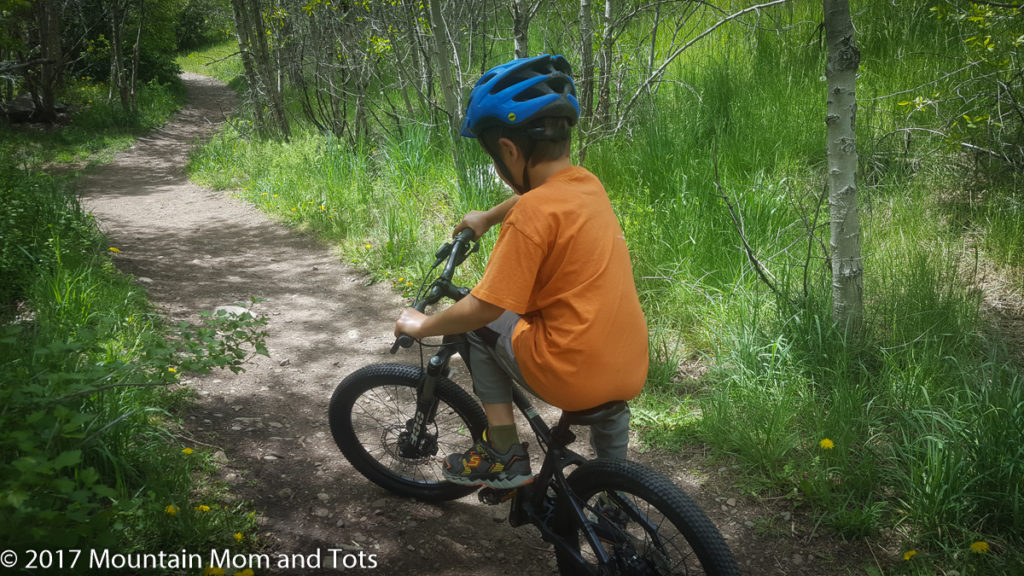 Prevelo Zulu Three
What sets Prevelo apart from other bikes for kids is their low-to-the-ground design. Founder Jacob Rheuban describes what motivated this fundamental design decision:
"When teaching my two sons Jonah and Elliot, I noticed they were more confident and took to riding more easily when they were lower to the ground…This turned into the core design philosophy of Prevelo bikes. It makes kids safer, increases confidence, and makes it easier for them to learn and ride."
Prevelo designs bikes exclusively for kids. Their Alpha series offers great all-purpose riding, while the Zulu series was made for off-road adventures. Both the Alpha and Zulu boast lightweight bike frames with short and narrow pedal cranks. That frame style allows the child sit lower to the ground while the pedals make for an easier straddle position and control.
The Zulu Three and Zulu Four are mountain bikes designed for aggressive riders ages 6 to 11. With 20 inch tires on the Zulu Three and 24 inch tires on the Zulu Four, high quality components like Shimano ZEE 10-speed drive train and hydraulic disc brakes with kid-sized short reach brake levers, these bikes are way tougher than your average kid bike. And while the Zulu Three looks tough, it's an easy ride. It's really an awesome bike.
To give you an idea of just how cool these mountain bikes are: When my brother-in-law saw Big E's Zulu Three his jaw dropped. "That's Big E's bike? It's nice! I want one."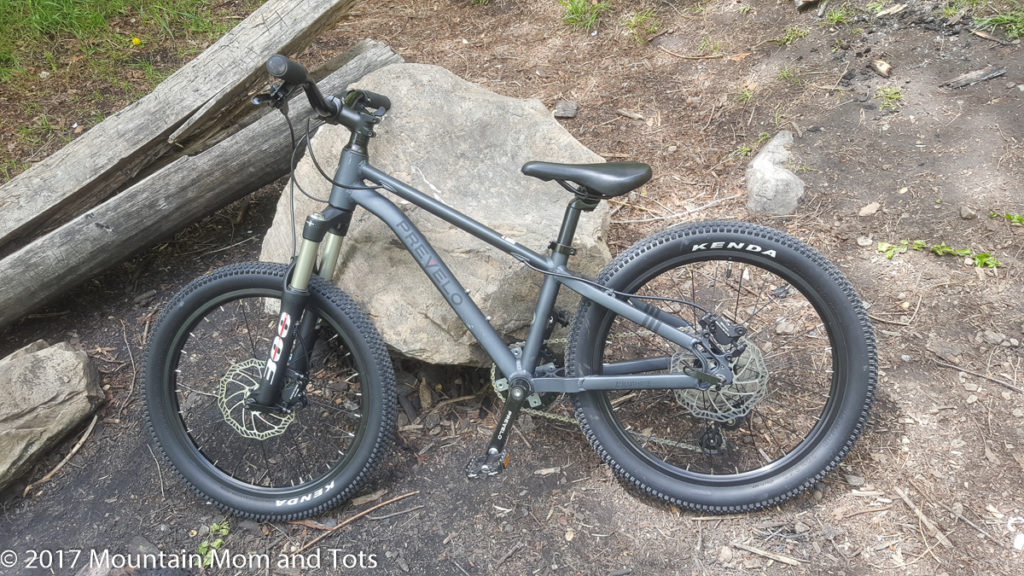 Now, I don't recommend starting a never-biked-before kid on the Zulu – it's more machine than you need. However, if you're ready for first time mountain biking with your child you can't go wrong with a Prevelo Zulu series bike.
What I Love
There are so many things to like about the Zulu Three that it's hard to pick my favorites. Here's just a few:
Lightweight aluminum frame
High quality components – chain, derailer, kid-sized brake levers, trigger shifters
Disc brakes
Hydraulic shock
Internally routed cables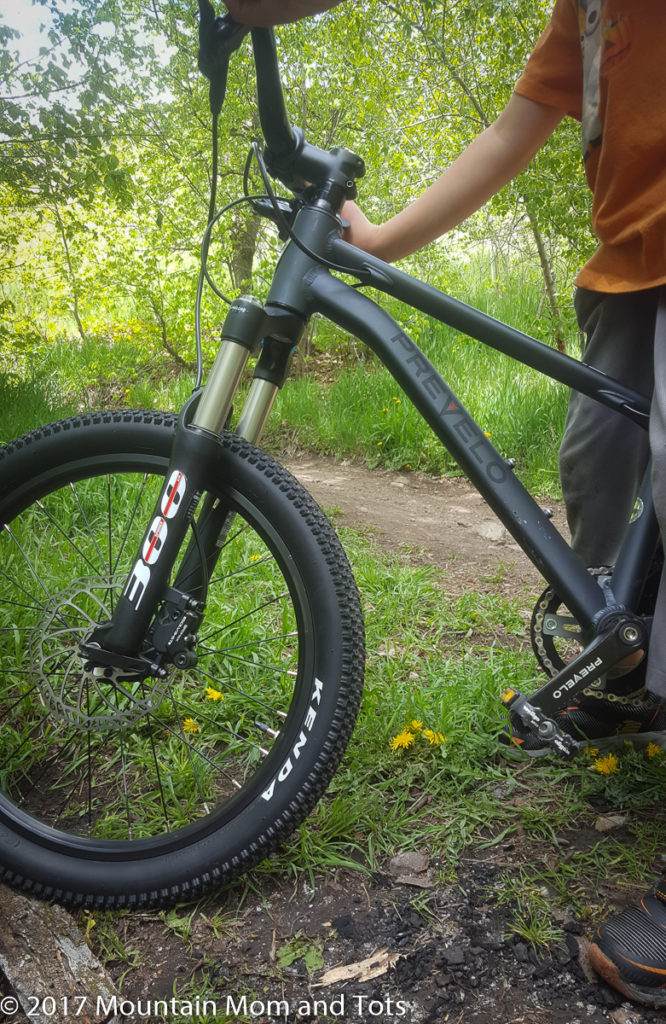 I appreciate well-designed gear. Some things that impressed me about Prevelo's design that I didn't even think to consider include:
Rounded axle bolts (on Alpha Zero, One and Two) so kids don't scrape their legs on rough edges. Seriously brilliant. This is my kids' number one complaint when biking.
Shorter pedal cranks and narrower distance between pedals (Q factor). This makes it easier for kids to straddle the bike without getting scraped when standing or with their feet off the pedals. It also allows control while riding.
Low minimum saddle height. A lower saddle height means shorter kids can ride a bigger bike. So if you have an aggressive child on the short side, they can mountain bike at their level without having to wait until they're taller.
Here's what Big E likes about the Prevelo Zulu Three (direct quotes):
The boing, boing, boing, boing shock
It holds in speed! Like when I press it (brakes) when I'm going downhill, I go slowly, but then when I release the brakes, I go faster ffwhoosh! (I think this means the disc brakes give him more speed control).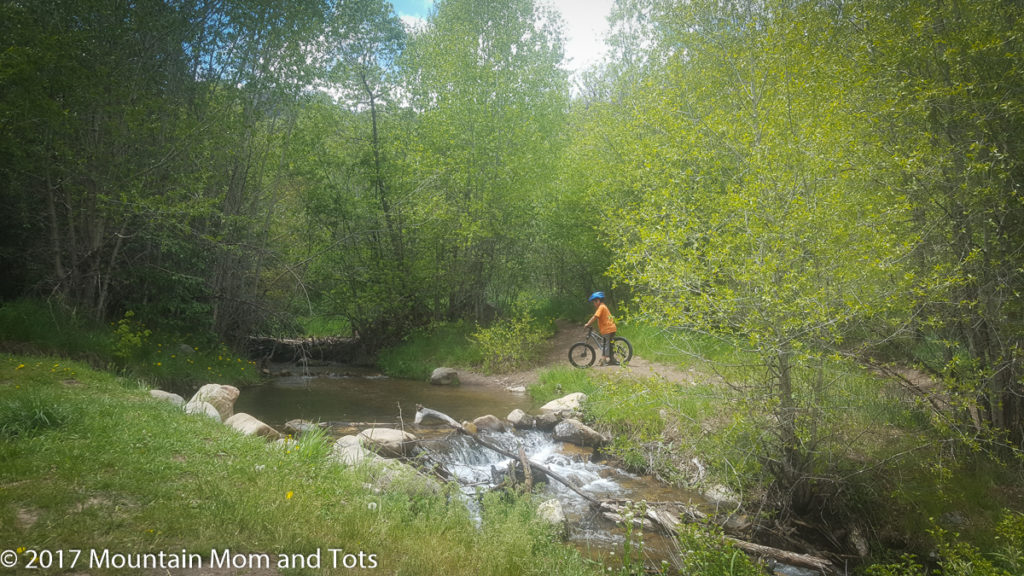 Suggested Improvements
The one thing I wish the Zulu Three had is a kickstand. In my opinion, every kids bike should have one, even if mountain bikes traditionally don't.
When I mentioned this to Prevelo founder Jacob Rheuban he sent a detailed explanation of how the "special chain stay yoke [on the Zulu Three] is robust and provides extra clearance for large tires…That yoke is not designed to accommodate a kickstand and I wouldn't recommend attaching one. Generally, the Zulu Series customers value trail performance and ridability above all else."
I couldn't argue with that; trail performance and ridability are what I value too. What I found impressive was that even his response shows the attention to detail that goes into designing Prevelo Bikes. Also, don't worry. Kickstands are available for the Prevelo Alpha Series.
The other suggested improvement I have is to lower the price. Ringing up at $899, the Zulu Three is not for the budget conscious bike shopper. This bike is designed for serious mountain biking. Granted, you get a lot for what you pay for, so a higher price is justified, it's just hard to drop that much cash on a bike I know my child will eventually outgrow. Luckily Prevelo offers a 30 day money back guarantee and five year warranty on the frame so you can pass it on to younger children.
If you're ready to introduce your child to some real trails, this bike is for you, but if you're looking for an around-the-block-and-light-off-road riding, check out the Prevelo Alpha Series instead.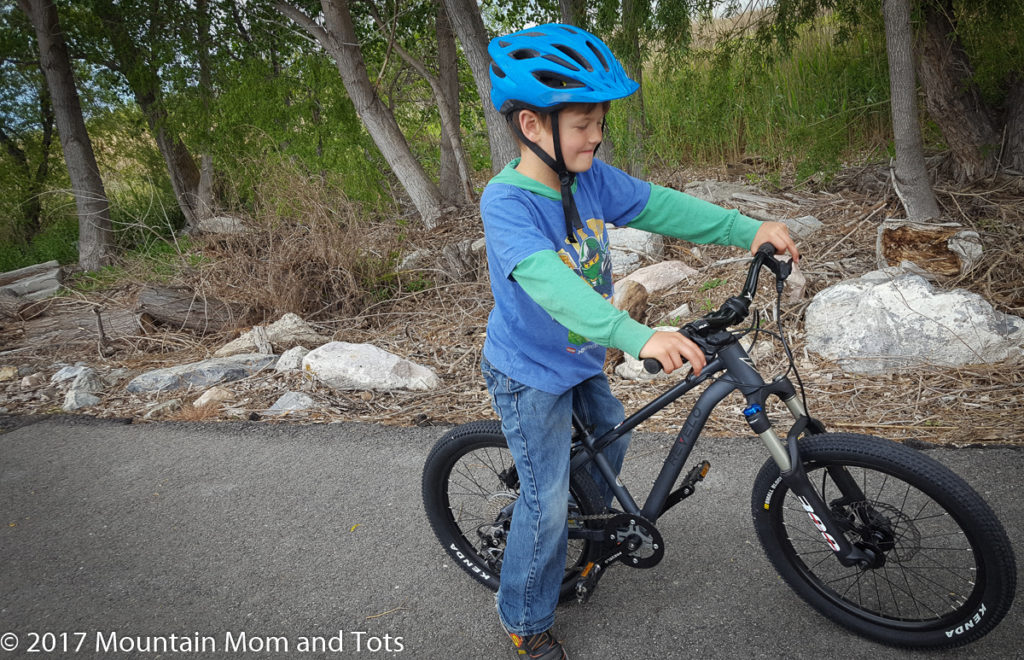 There you have it – my tips for first time mountain biking with kids. Remember to find the right trail and the right bike and you'll be set to go!
I enjoyed the Zulu Three so much, I applied to be an affiliate for them shortly after posting this review. The links here are now affiliate links, meaning if you buy something after clicking on them I receive a small commission.