My blogger friend Heather Balogh Rochfort over at Just a Colorado Gal just published 
her first book, Backpacking 101
. I was sent a copy to review, and learned a ton – just in time for my son's first backpacking disaster. Here's my review.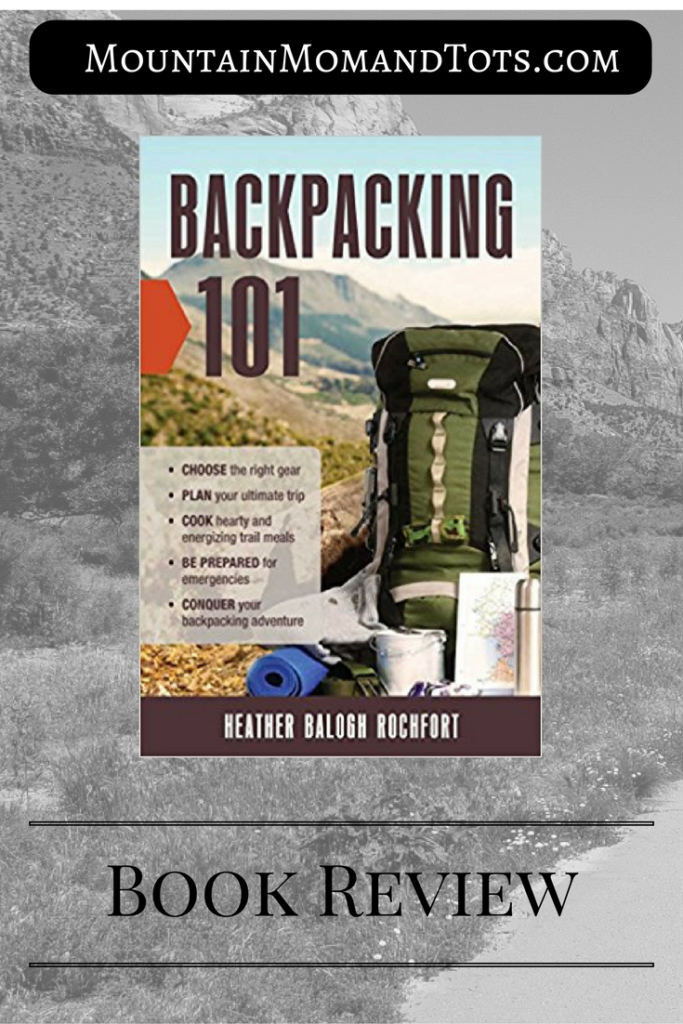 I Have Never Taken My Kids Backpacking
Okay, it's confession time. I have never taken my kids backpacking.
That may not be shocking to the average person, but I'm an outdoor family blogger. I'm surrounded online by hard core camping, hiking and outdoor families. I feel like I should've at least tried family backpacking by now. My kids are 8, 5 and 2 and with two healthy adults to carry gear, I'm sure we could find a way to manage it.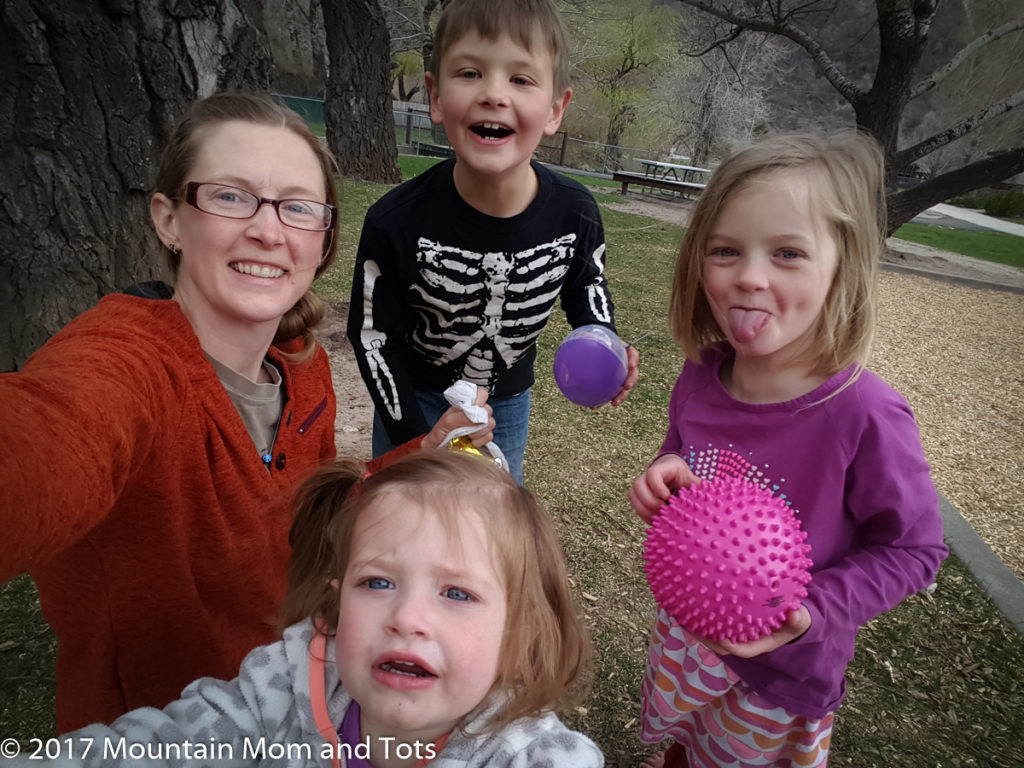 But here's the thing. The thought of hiking into the backcountry carrying a kid AND all our gear and food has never appealed to me. Because although I haven't backpacked with my family, I've been on plenty of day hikes. There's always a point where the two-year-old needs to be carried. I don't enjoy feeling like a pack horse (Maybe that's how we could manage it – hire a pack horse).
So when I was sent a copy of Backpacking 101
to review, I thought "Okay, it's time to learn what backpacking is all about. This could be our next family outdoor experience." But first, I needed to learn how to go backpacking in the first place.
Backpacking 101
Backpacking 101
by Heather Balogh Rochfort gives a great overview of what you need to know to hit the backcountry trails. From detailed information on how to choose the best gear (do you know what hydrophobic down is?) to how best to avoid bear encounters, Backpacking 101
covers ALL the basics.

This book begins at the beginning, which is good for any newbies in the hiking/camping world. Since my family is already pretty good at hiking and car camping, I already knew some of the material in Backpacking 101
. It felt good to give myself an imaginary pat on the back that I was doing some things right.
What I didn't know, that Backpacking 101
taught well, were tidbits like:
how to set up a back country campsite so animals don't eat you or your food.
how to navigate with just a map and compass.
in certain situations it's best to smear poo over rocks to dry out (I'm not kidding).
I especially enjoyed reading backpacking tips from a woman's point of view. As a female, backpacking feels more achieveable when I learn how-to tips from another woman. That's not to say males won't get great information from Backpacking 101
– there's plenty to learn for either gender.
Heather Balogh Rochfort is the author of JustaColoradoGal.com and a contributor for Backpacker magazine – so she knows what she's talking about. I got to meet her in person at Outdoor Retailer this year, and have to say she's super nice…and very pregnant. I'm interested to see how adding a baby to the mix will affect her family's backpacking experience.
First Time Backpacking
Now I'm sure you're wondering, did Backpacking 101
inspire me to actually go backpacking with kids? The answer is yes and no. Yes, part of my family – eight-year-old Big E and Mountain Dad – went backpacking. No, I did not go with them. Instead I sent them off with Tio Monte (Mountain Dad's brother) and Cousin E.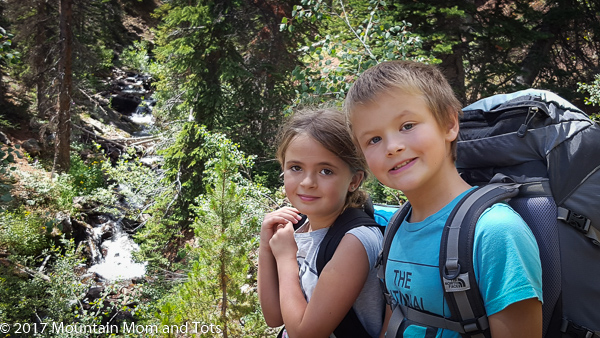 For this, Big E's first backpacking trip, Mountain Dad chose a short hike to an alpine lake. The entire trip was less than three miles, and it would've been an easy experience all around, if it weren't for diarrhea and thunderstorms.
Diarrhea and Thunderstorms
As with all outdoor adventures with children, you should always expect the unexpected. In this case, the unexpected began when Big E complained of an upset tummy.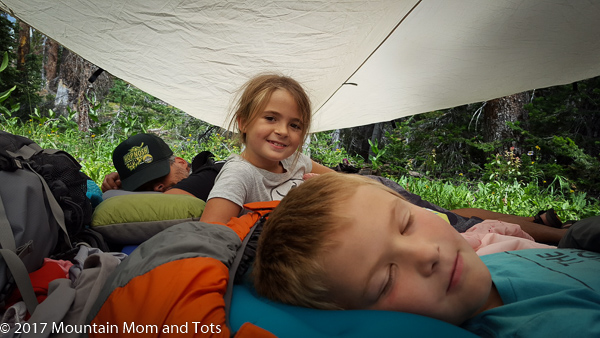 As you'll learn in Backpacking 101
, there's an appropriate way to deal with poop in the outdoors. It involves digging a cat hole at least six inches deep and using that as an outdoor toilet (the smearing is just under extreme circumstances). Mountain Dad reported that after helping Big E once successfully, nature called again in rapid succession. Before he could get another outdoor toilet dug, there was a diarrhea accident.*
This situation is bad no matter how you look at it, but for added awkwardness, imagine having just one change of clothes, minimal wipes or washcloths and having to pack out everything you brought in. Then imagine you disregarded your mother's advice to always wear clean underwear and decided to go commando.
At that point, I probably would've packed up and gone home, but Mountain Dad was determined. He helped clean up, put the mess in an Odor-Barrier Bag
and they all lay down for bed.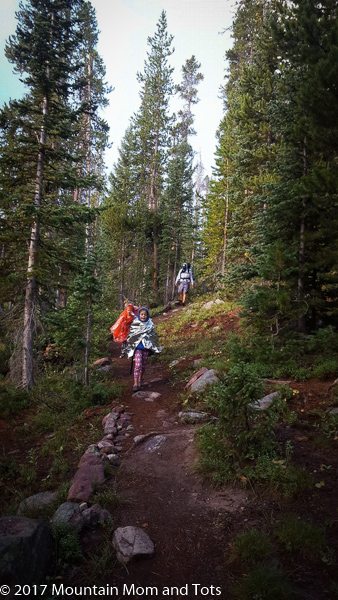 During the night a storm rolled in. Wanting to keep packs light, Mountain Dad and Tio Monte brought a fifteen-year-old Kelty Noah's Tarp and ground cover instead of a tent. While the set up handled the evening drizzle well, when the real rain started in the early morning, the Noah's Tarp failed, dripping water over everyone and everything. Soaked and tired, Tio Monte and Mountain Dad packed up camp while Big E and his cousin hid under a sleeping bag.
*Big E is going to love it when I share this post with his future girlfriends.
Power of Positivity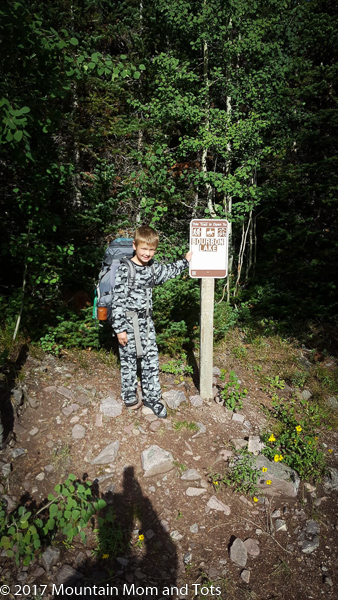 Back at the trail head, Mountain Dad felt a bit bummed that the trip didn't go as planned. So in an effort to still enjoy the experience, the group stopped for a warm breakfast near a waterfall. The rain had stopped, Big E felt better and it was high time for some scenic outdoor therapy.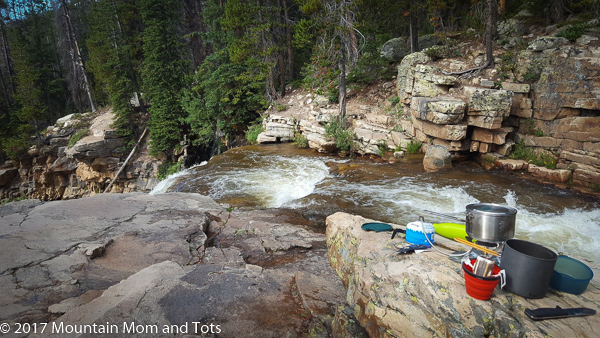 Now that they felt safe, dry and satiated, the trip didn't seem so bad. In fact, later, when I asked the kids what they liked about backpacking, here's what they said:
Cousin E: "Everything…except for the rain."
Big E: "Same!"
Both cousins enjoyed the experience, despite the discomforts involved. I guess that goes to show how powerful and fun the outdoors can be. It can even help you forget the tough times.
Future Family Backpacking
Even with this rocky start to family backpacking, I feel confident that in the next few years we'll be hitting the backcountry more. Part of that confidence comes from education, and Backpacking 101
is a great book for that.
Once all my children can walk five miles on their own without being carried, I will take them backpacking. For now, I'll just enjoy hearing Mountain Dad's stories about it.
Have you taken your kids backpacking? How was the experience?
Leave a comment here or connect with me on facebook, twitter or instagram. I'd love to hear all about your outdoor family adventures.
See you in the outdoors!
~Mountain Mom
PS – This post includes affiliate links. If you purchase something after clicking on these links I may make a dollar or two. Please do, then I can save up for a real backpacking tent.
PPS – For more camping tips, and to see the gear we use and love, check out our camping resources page.