Camp cooking is one of the biggest struggles beginner campers have to work through. What can I make that my family will eat? How do I cook without my stove top and oven?
Camp cooking takes a little bit of preparation and planning, but once you have the right tools and skills, camp cooking can be the best part of exploring outdoors as a family!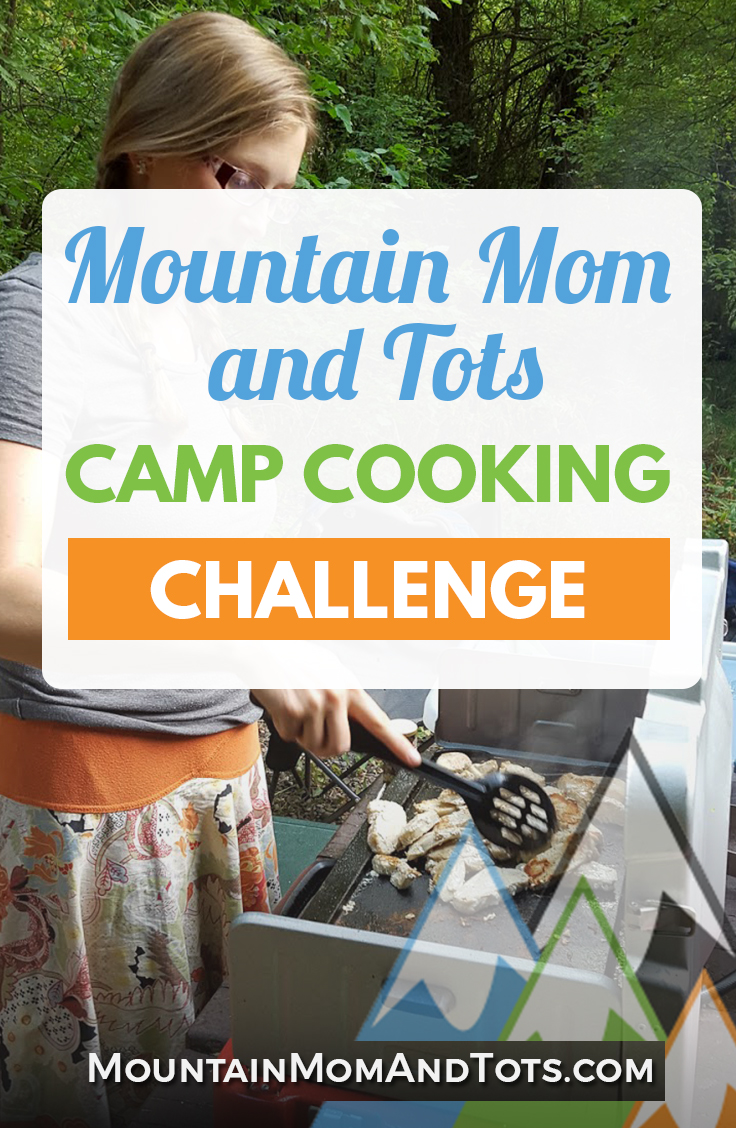 Benefits of Outdoor Cooking
When you prepare meals outdoors you combine activity, food and company in a beautiful environment. Eating outdoors invites a party attitude whether it's a backyard picnic or a backcountry adventure. Camp cooking is something you can do all year round to get your family outdoors, regardless of the temperature. You've gotta eat and campfires keep you warm in the fall and winter too.
Three benefits of outdoor cooking include:
More campfire moments in life. Campfire Moment = Food, Family and Friends happily gathered outdoors.
Built in nature time for the whole family. If you find it hard to get outdoors with your kids everyday, preparing meals outside is a great way to sneak nature time into daily life.
Food tastes better outdoors. I'm not kidding. Some of the most delicious meals of my life have been eaten outdoors. Why do you think so many restaurants offer outdoor dining areas?
Camp Cooking Outdoor Challenge
This month (October 2017) my outdoor challenge has been:
Prepare one meal outdoors in the next 30 days.
Why did I choose this challenge? With cool fall weather rolling in, I know it's sometimes easier to just stay indoors. But staying indoors means missing out on all the fun of playing in nature.
I want to encourage families to get outdoors in spite of cool weather and this camp cooking challenge does just that. Like all my monthly outdoor challenges, this camp cooking challenge:
Requires you to get outside.
Is something you can bring kids on.
Costs nothing or next to nothing.
Is a little challenging. It is a challenge after all.
Win a Total Tailgate Cookout Pack
I'm proud to announce the October Camp Cooking Challenge Sponsor is non other than CampMaid! Their Dutch Oven gear makes cooking outdoors so much easier. It keeps your lid out of the dirt, everything fits inside your dutch oven for storage and it can even convert your dutch oven into an outdoor grill and pizza oven. So cool.
One lucky October Camp Cooking Challenge participant will win the CampMaid Total Tailgate Cookout Pack With 10″ Dutch Oven from CampMaid worth $167.99 which includes:
Sign up for the challenge and you'll receive these awesome freebies right to your inbox:
My Family's 3 day/2 night Camp Cooking Menu,
A Video Tutorial on how to make the perfect camp cook fire and
the Ultimate Camp Kitchen Packing Checklist.
Once you complete the camp cooking challenge post a photo of your #campcooking meal on social media by November 5, 2017 at 11:59pm and tag @mountainmomtots. Then you're entered! Wanna know the best part? Your chances to win will always be 1 in 50 or better (I only accept the first fifty entries).
If it's past October 2017 when you read this post, no worries. I still want you to join the challenge. You'll still get all the great freebies right to your inbox, plus I may feature your photos on MountainMomandTots.com and my instagram feed (unless of course you'd rather they weren't).
30 Outdoor Meals in 30 Days
In order to really get in the camp cooking mindset, and to encourage all of you challenge participants, I gave myself an additional camp cooking challenge. I've committed to cook 30 OUTDOOR meals in 30 days during the month of October 2017.
Breakfast, Lunch, Dinner and Snacks.
Why? Because I need food AND I need nature Every. Single. Day.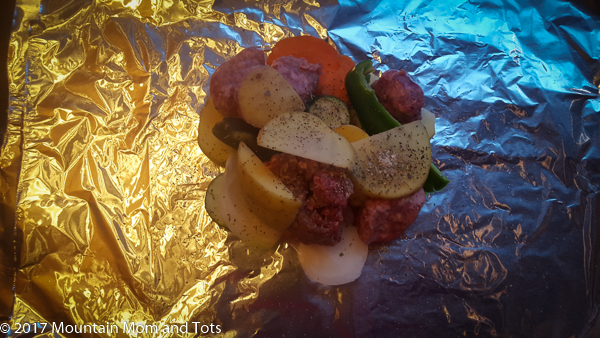 Since there's just one week left for my 30 Outdoor Meals in 30 Days Challenge I thought I'd give you an update of what meals I've made so far outdoors. Ready?
Fried Eggs and Toast
Orange Cakes that tasted "like urinal cakes"
Tin Foil Dinners
Dutch Oven Birthday Cake (the best gluten-free, egg-free, nut-free, dairy-free dutch oven cake I've ever tasted – yea for food allergies!)
Dutch Oven Vegetable Stew
Oatmeal
Cereal
Rotisserie Chicken, Rolls, Pasta Salad and Cheese snacks all purchased pre-prepared from the grocery store, and eaten outdoors. I often have picnic lunches when camping, and this was while we were on a campout so I'm counting it.
Pizza Hut and Wendy's Drive-Through, eaten outdoors.
Homemade Lunchables with Rice Crackers, Cheese Squares and Lunch Meat
Savory S'mores – Meat, cheese and veggies roasted over a fire
Sweet S'mores made with chocolate covered cookies and Chocolate mints for variety
Roasted Starburst
Pancakes and Bacon – It's a fave, so we made it twice.
Grilled Chicken, Mashed Potatoes and Butternut Squash
There's just a few more days for me to finish my goal. Follow along on my instagram feed to see what's for dinner.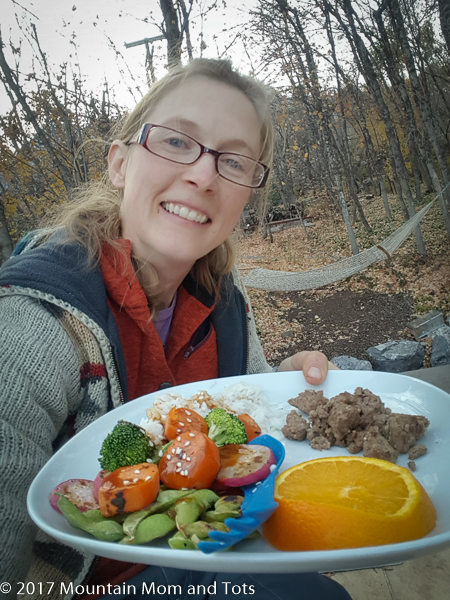 Get Outdoors and Get it Done!
Now that you know the challenge, your job is to get outdoors and get it DONE! Sign up here to get tips, tricks, research and outdoor inspiration right in your inbox. Then take a photo while you cooking and post it on facebook, twitter or instagram. Tag @mountainmomtots to get credit and use #mountainmomtots so we can all see your awesomeness. You can also email your photo to susan@mountainmomandtots.com.
Give yourself more campfire moments this fall. Get out there and get cooking.
See you in the outdoors,
~Mountain Mom