When I'm camping I'm outdoors, I'm active and I'm hungry. Food is the best part of camping, but camp cooking can be intimidating if you've never done it before. In this camp cooking for beginners post I'll share different ways to prepare food outdoors as well as five tips for planning what food to bring camping. When you're done you'll be ready for your own outdoor feast!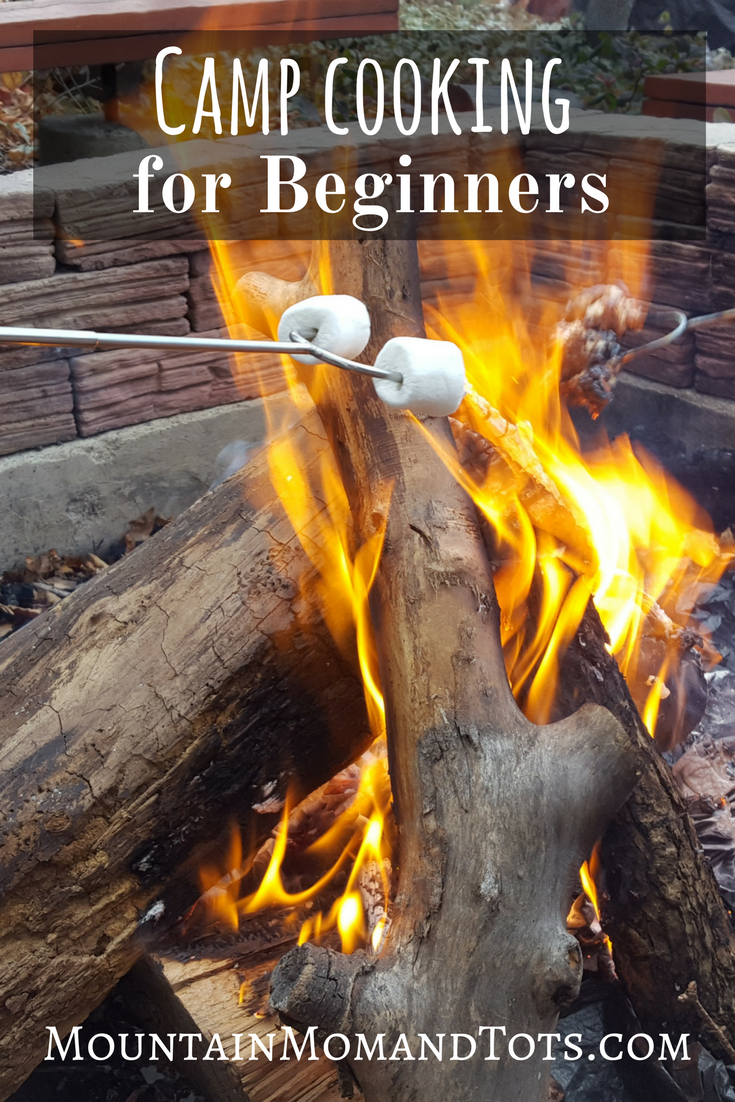 How to Prepare Food Outdoors
Many camp cooking beginners may be intimidated by the logistics of preparing food outdoors. Don't worry. With the right tools, cooking food outdoors is as easy as cooking at home.
Any food you make at home can be made outdoors as well. There's a way to fry, steam, bake and roast just about anything, however some forms of cooking outdoors are easier than others. Before camp cooking for the first time, decide how you will heat your food. Here are the most common options.
Camp Stove
Our family uses a basic two burner camp stove as our go-to food prep option. The same meals you cook on a stove top at home can be made outdoors pretty easily. Once the propane canister is connected it's as easy as lighting the flame and cooking like you normally would. You can see all the gear we use and love on our camping resources page.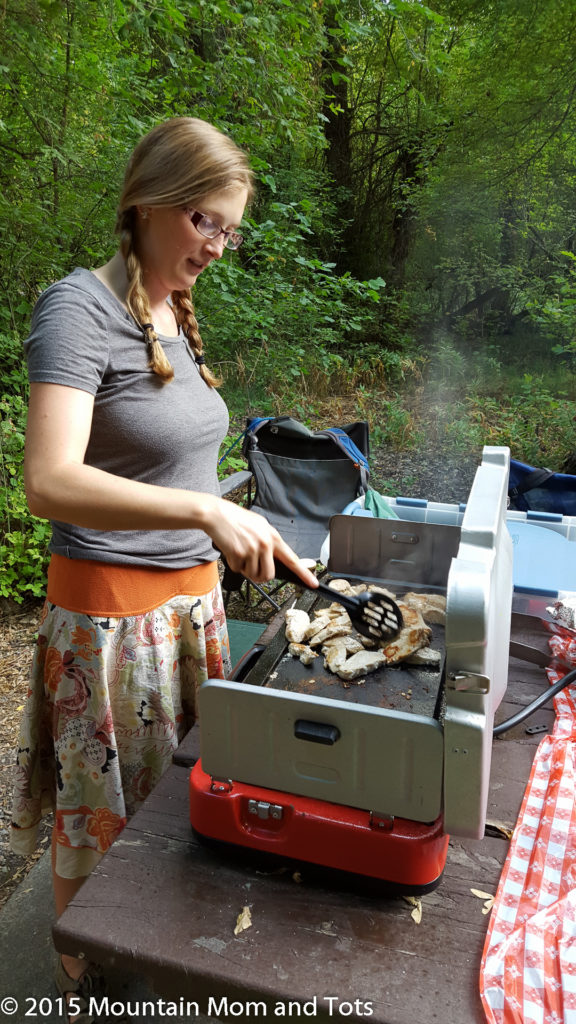 Backpacking Stove
A canister stove is great for boiling water quickly. We will often use this for warm oatmeal and hot cocoa breakfasts when we're camping. It's also the best choice for backpacking because of its compact, lighter weight design.
Dutch Oven
These heavy cast iron pots can go directly over coals and are great for making stews, desserts and for baking outdoors. They are heavy and can be difficult to clean. My tip is to buy Parchment Paper Dutch Oven Liners to go in the bottom before you put the food in. Then clean up is as easy as lifting out the paper.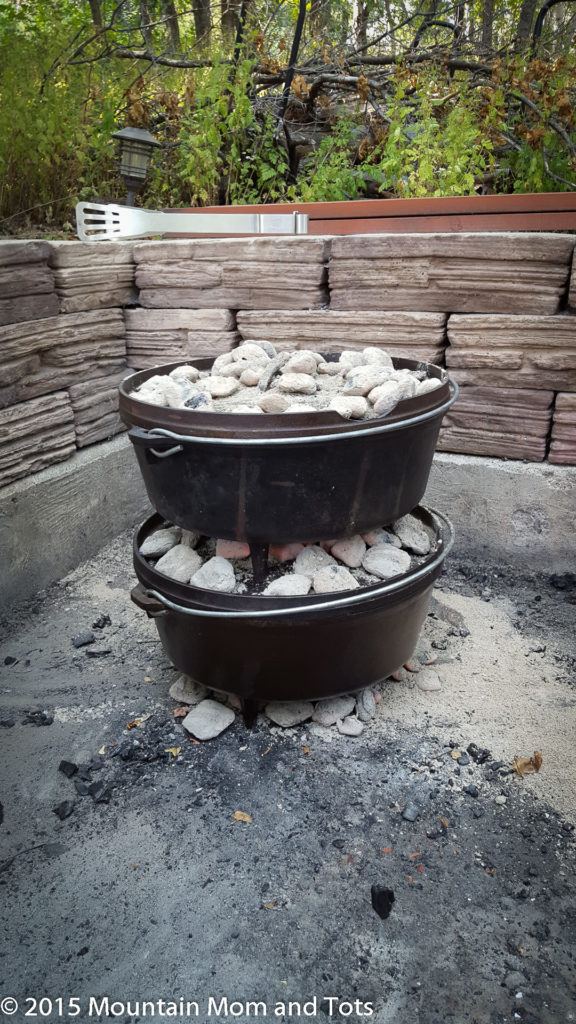 Camp Fire Cooking
Roasting hot dogs and marshmallows are often considered standard camping fare. You can use a roasting stick or over fire grill to cook your food to the perfection. When you cook over a fire, you actually want to cook over the coals, not the flames – otherwise your food is likely to burn.
We like making tin foil dinners over the coals as well. No pot necessary. Just wrap your food in a layer of tin foil followed by a layer of wet newspaper or paper towels and finally another layer of tin foil. The wet paper keeps the food from burning as it cooks.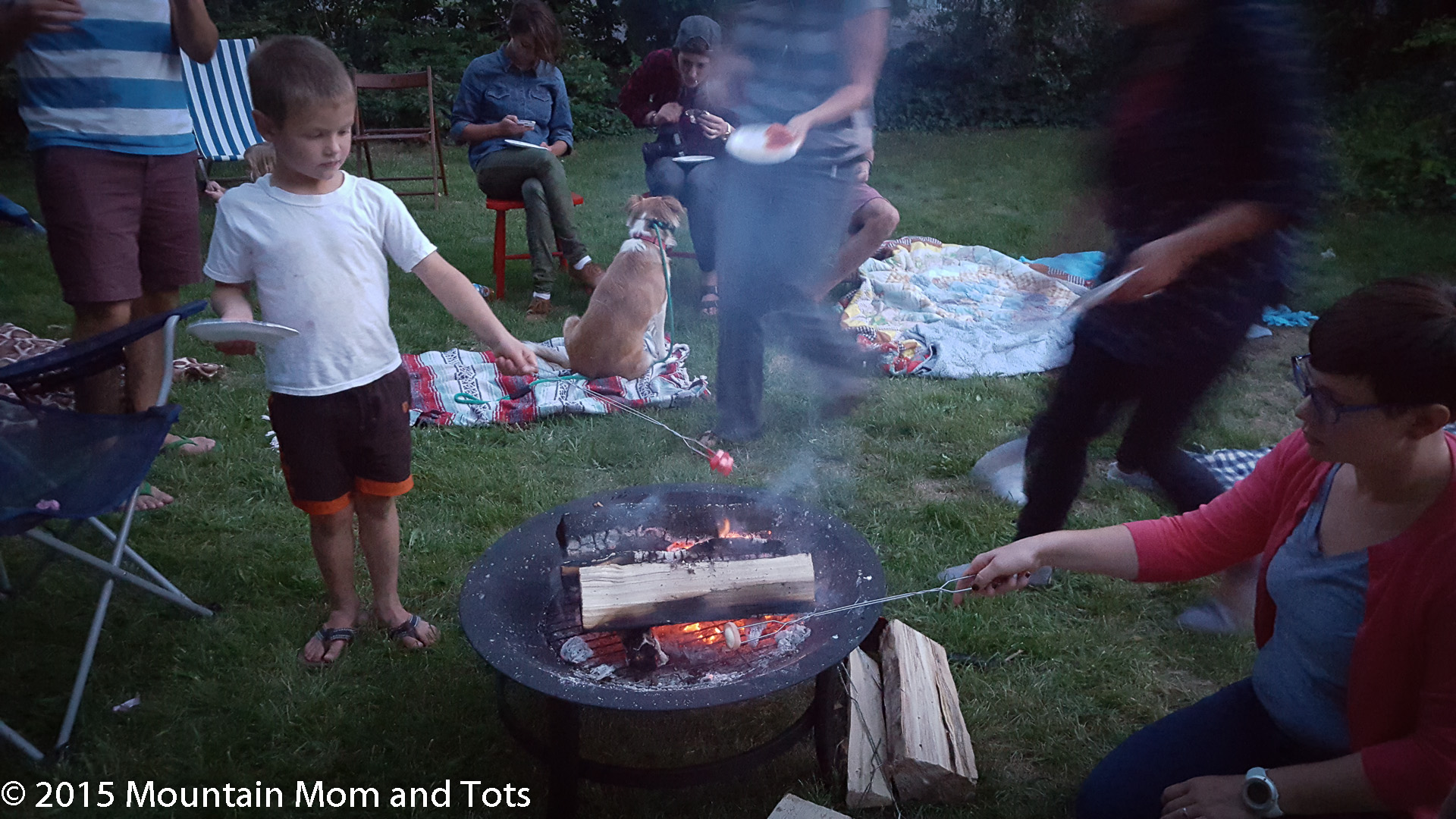 Baking Outdoors
I've found that baking outdoors is the most difficult form of outdoor cooking, but it is possible. Some ways to bake outdoors include using a dutch oven, a solar oven, a reflector oven or trying pit cooking.
Camp Cooking for Beginners Tips
Now that you've got your cooking solution decided, let's talk about my top five tips for planning what food to bring.
When planning for outdoor eating, a little prep work can go a long way. I don't believe in cooking everything at home and just warming it up while camping, but that is an option if you're not sure what to make. For me, instead of chopping, marinating, and preparing my food before I leave home, I make sure I have all the kitchen utensils I would need already packed in the camp drawer in my truck. Check out my camping resources page to see the gear my family loves for our camp kitchen.
Cook Food You Normally Eat
The easiest meal to eat when camping is the one you're most comfortable making at home. What meals do your family love at home? Pasta? Roast Chicken? Pancakes? Pack the tools and ingredients to make those meals outdoors too.
When I'm camping, I primarily choose meals that I can make over a two burner stove. For us that includes pancakes, quesadillas, rice and prepackaged Indian food, chicken and potatoes.
If you're cooking over a fire, try tin foil dinners or roasting food on a grill attachment. You can also purchase backpacking meals where you just add hot water and cook the food directly in the pouch.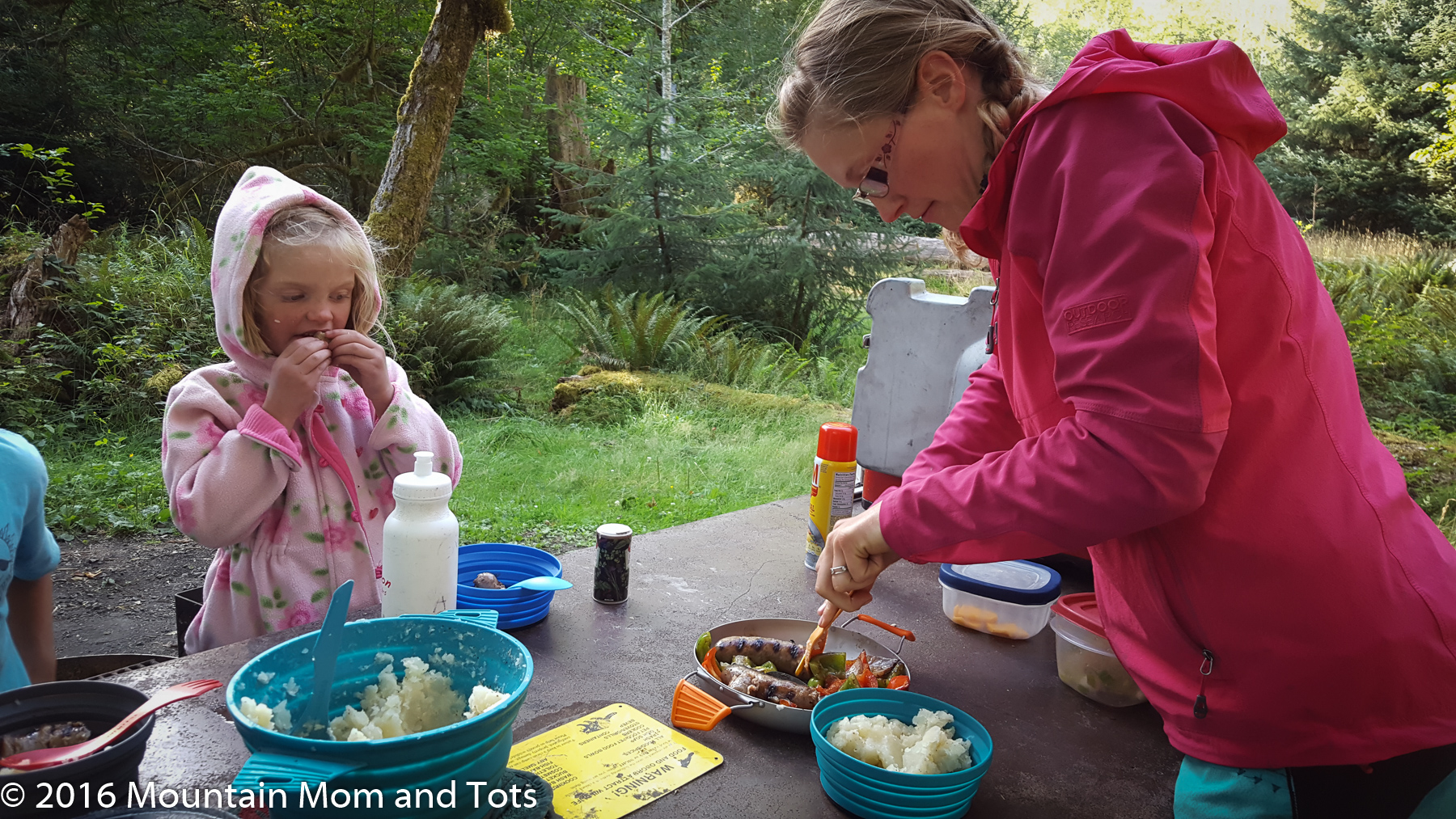 Keep Cold Foods Cold
Next to a camp cooking solution, a cooler is your most important camp kitchen item. When camping, you want a quality cooler that will actually keep your cold food cold. Pack it full of the foods that you normally eat.
One trick I use is to freeze any meat I plan on making at the campsite and pack it in the cooler still frozen. It's less likely to leak, it keeps the other food cold longer and if it doesn't defrost in time that's no big deal since you can easily cook meat right from frozen.
Bring a Lot of Food
You and your family will burn more calories when you're active and being outdoors encourages lots of activity. Plan on eating more than you normally would at home. Camping is inherently more difficult than living normal life. Tasty, recognizable food is one of those comfort things that can help make camping more enjoyable for everyone.
Snacks
Don't forget easy-to-pack snacks for daytime adventures or in the car. Include snacks your kids can eat without your help – I like to pack fruit, granola bars and sunflower seeds on hikes. My kids like candy.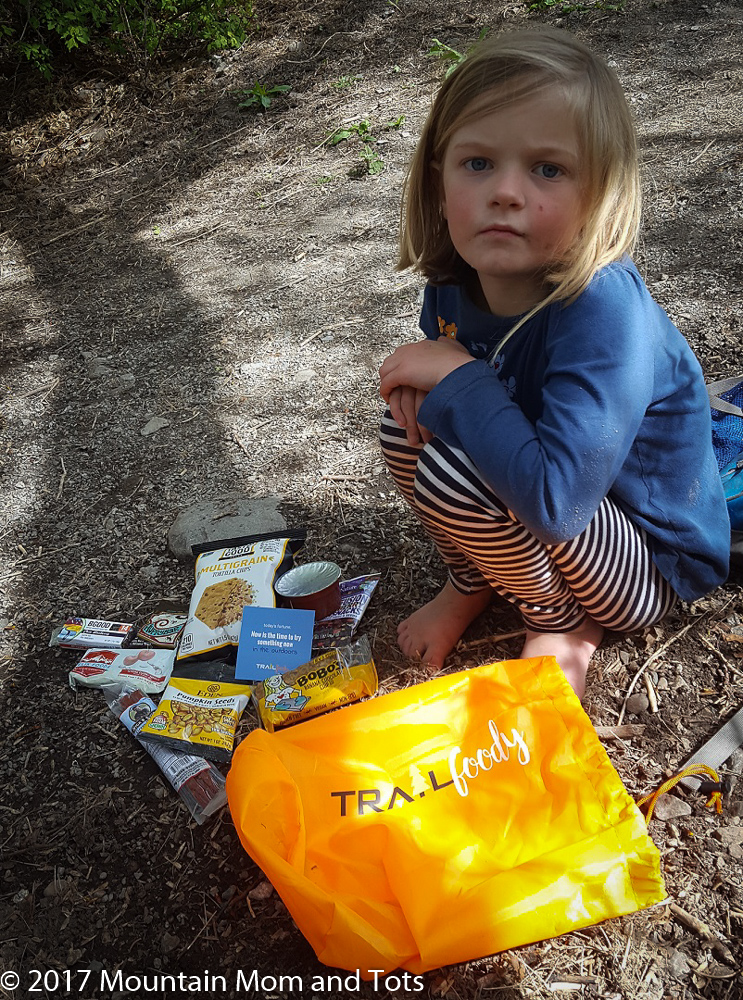 Bring Plenty of Water
The general guideline for camping in desert climates is to have a gallon of water per person per day. We have a five gallon water cooler that we fill and keep it at our campsite then have a water bottle or camelbak bladder for every member of our family.
Having designated water bottles for each member of our family means there are fewer dishes for me to wash. It also gives me an idea of how much water my kids are drinking during the day.

Camp Cooking Challenge
Now that you have my top five tips for camp meal prep, let's put that knowledge into action! No matter the season, gathering around a campfire and sharing food and friendship is one of the best ways to explore outdoors.
I want YOU to prepare one meal outdoors with your family in the next 30 days.
You've gotta eat. Why not do it outdoors?
Want some help? Sign up here for my FREE camp cooking challenge and over the next two weeks you'll get:
My family's favorite 3 day/2 night camp cooking menu.
A quick video tutorial on how to make the perfect camp cook fire.
My downloadable checklist of everything you need to stock up your camp kitchen.
Outdoor inspiration direct to your inbox.
My camp cooking for beginners challenge is totally FREE. I just want to help your family explore outdoors. Join me!
See you in the outdoors!
~Mountain Mom
PS – Some of the links above are affiliate links. If you're gonna buy outdoor gear anyway, why not buy it after clicking through my link? Then I'll get a few cents at no extra cost to you. Please, pretty please buy through my links 'cause I'm saving up for snowboarding adventures this winter.