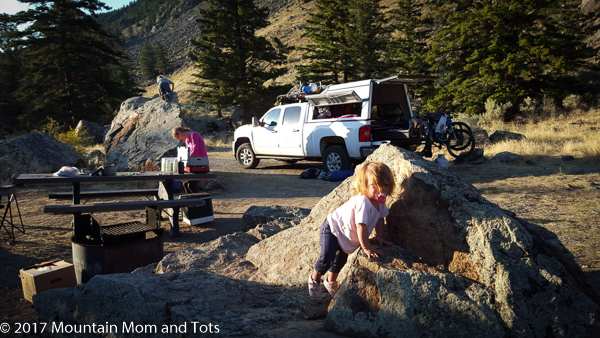 Camping with kids can be tough. That's why it's important to have the right gear. Here's what we use to make our camping adventures go smoothly.
Everything listed on this page is what we actually use on our adventures. Most of it we purchased ourselves, although some was given to us for the purpose of review. I only include items on this page if we really love them, so know that we recommend these things whole-heartedly.
Also, you should know that the links on this page are affiliate links. I get a small commission if you purchase something after clicking through these links. Please do so. I'm trying to save up for our next great family adventure.
Camping Resources – Kitchen
Every item in the gallery below is something we've tried, tested and loved while camping. When looking for products to include in our camp kitchen, I search for durable, easy to pack and clean items.
We especially love our Sea to Summit X Pot and dishes. They're an essential part of our Zero Waste Camp Kitchen. If you're interested in more camp cooking tips and recommendations check out more posts here.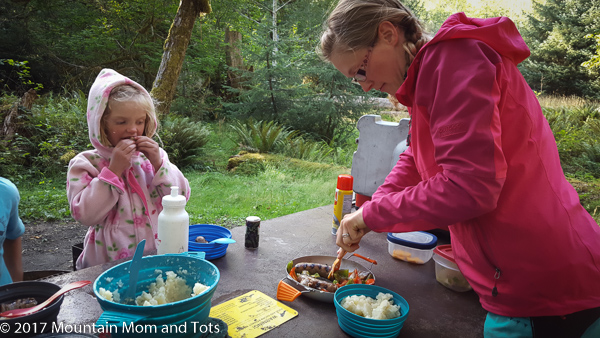 Camping Resources – Sleeping
My biggest struggle with camping is getting a good night sleep. That's why I like the cushiest camp pad I can possibly find – the REI 3.5 Self Inflating Camp Pad.  I've tried lots of different camp bed options (even an inflatable pool lounger) and like the thick self-inflating pads the best.
I tried to find the exact model of sleeping bags that Mountain Dad and I use, but since they are both over a decade old it was not meant to be. Since I couldn't find the exact model to display, so I chose the ones I thought were most similar to what we have.
What can I say? We use what we've got and if you buy good gear it will last forever. Again, most of these items we purchased ourselves and several are older than this blog.
PRO CAMP TIP: I like to completely unzip my sleeping bag and use it like a blanket when I sleep next to my toddler.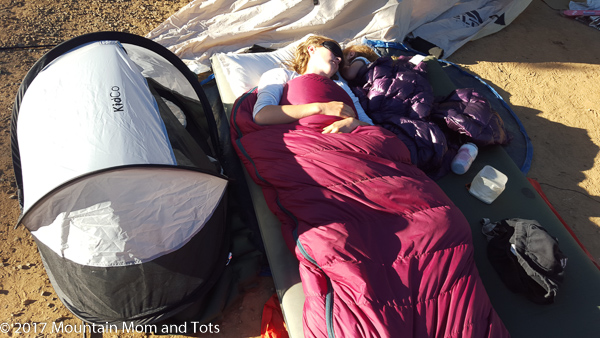 Camping Resources – Shelter
In addition to our tent, we have a truck cap on our truck that we sleep in. I've included some items below that we installed on our truck in order to make it more camp ready. You can read more about our Ultimate Adventure Vehicle here.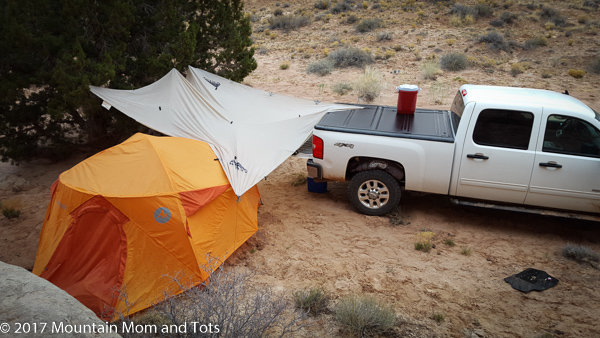 Lightspeed Outdoors Tripod Canopy

Buy Now
Camping Resources – Accessories
No camp would be complete without the little things that make camp life easier. Our flashlights, pocket knives, day packs and more are all listed here.
Again, we purchased the vast majority of these items, I think only one of the camp chairs was given to us for the purpose of a review. The day packs we use have since been discontinued, so I included the models that were most similar to what we have in both style and brand.



There you have it – the camping gear we use and love. If you have any suggestions of YOUR favorites please comment below! I love trying out new gear!
Great Gear, Great Price
If you're planning on purchasing any camping gear please consider shopping through one of the following affiliate links. I receive a small commission if you purchase something after clicking these links. Thank you!