Winter is a great time to get outdoors, but when it's cold the right gear makes all the difference. We're a skiing and snowboarding family so good winter gear is essential.
The items listed here are what we actually use every day. We purchased almost all of this gear ourselves (if I got it free to review I'll let you know) and would purchase it again in a heartbeat. I only put gear on here that I absolutely love.
These gear items are what we use every time we explore outdoors in winter – hiking, snowshoeing, skiing, snowboarding, or sledding. All of those fun winter activities require being dressed for success. Read my tips on how to dress kids for winter play here, and don't forget the accessories.
Be sure to check out the skiing and snowboarding gear pages for specific gear I recommend for those sports.
The links on this page are affiliate links, meaning that if you buy something after clicking them I receive a small commission at no extra cost to you. Please do so! I'm saving up for snowboards for the kids.
Base Layer
Ella's Wool and Luvmother Base Layers Base Layers for kids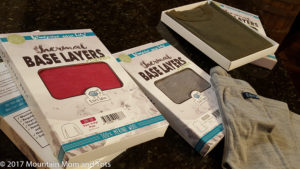 A good quality base layer makes a world of difference when you're out playing in the snow. Our favorite brands of base layers for kids are Ella's Wool
and Luvmother.
Made from merino wool, which has natural wicking properties and odor neutralizers, these base layers are a warm and soft option for kids. And they doesn't itch – seriously. We LOVE ours.
Ella's Wool offers merino wool base layer sets for kids age 3 months to 10 years. They fit tight to the body (that's what they are designed to do) so if that bothers your child I recommend getting the next size up. That's what we did for Big E.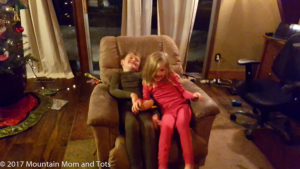 I could not believe how soft these were when Ella's Wool first sent us these base layers to review. They are a nice midweight density which keep the kids warm and super comfortable whenever we play outside in snow. Little G wears her Ella's Wool almost every day in winter.
Ellas Wool also offers Ella's Wool Tubes knit leggings for a thicker base or mid layer, but I can't give my opinion on those because we haven't tried them yet.
Luvmother's everyday merino wool base layers are super fine and could easily be worn all year round, even in summer. That's the magic of merino wool – it's breathable and doesn't keep your sweat right next to your skin which makes it warmer in winter and cooler in summer. Magic!
We love Luvmother's styles, especially the stripes set they sent for Big E to try out. Luvmother focuses on super fine merino wool for kids – meaning their pants and tops are very light weight. At first I worried that they wouldn't be warm enough, but after putting these to the test a few times I discovered that they were perfect for my son. They also tend to have a more casual cut, so they wear a bit looser which Big E prefers. Luvmother offers merino wool base layer sets for kids age 3 months to 12 years.
PRICE: $89.95 for a bundle (Shop in their outlet section for  a discount)
Outerwear
When possible I listed the items we actually use. When I couldn't find an exact match I listed the closest match I could find. Read my review of Bogs Footwear here.
Cross Country Skiing
Coming Soon