"Adventure is worthwhile in itself."– Amelia Earhart
Winter hiking with kids can be a grand adventure – throwing snowballs, feeling fresh cold air in your lungs, seeing the world transformed under a blanket of snow. Winter hiking can also be awful if you're not properly prepared. These five tips will help you plan and execute your next successful family winter hiking adventure.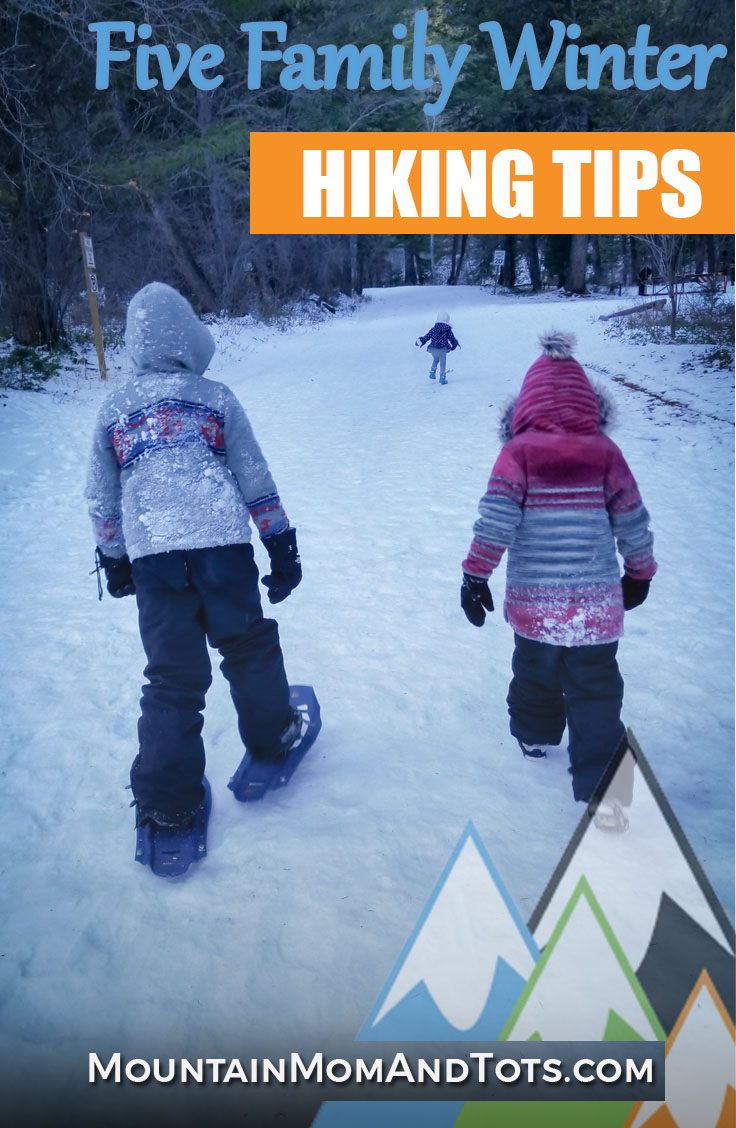 Winter Hiking Adventure Tips
Tip 1. Research the trail you want to hike. Know the distance, elevation change and landmarks to expect. Plan your hike around the littlest hiker or the one most likely to get cold first and above all avoid dangerous trail conditions (steep drop offs, river crossings, excessive ice, avalanche zones).
Tip 2. Expect to hike only half the distance you would in warmer months. If you're hiking a favorite summer trail in the winter, don't be surprised if you can't finish the entire thing. Tromping in snow, wearing extra layers and carrying extra supplies adds to your exertion level. Summer family hiking speed typically is 2 miles per hour. With winter hiking, especially with young kids, plan on completing just 1 mile per hour.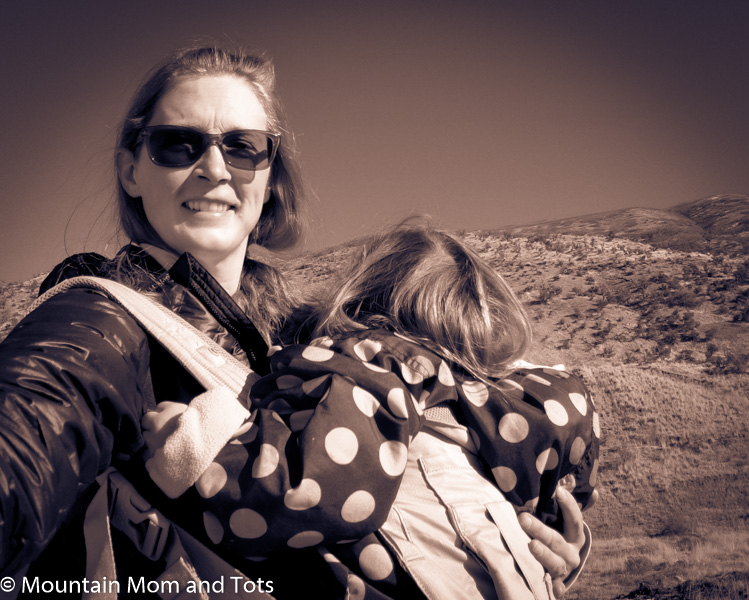 "1 mile takes 1 hour with my 2.5 year old." Nicole Metzel, Helping Families Explore Outdoors Facebook Group  
Tip 3. Be realistic with your goals. It's better to finish warm and early than cold and late. Your goal with family winter hiking adventures should always be to stay safe and have fun – NOT to hike a certain distance or reach a specific landmark.
Winter Hiking Gear
Tip 4. Planning a winter hiking adventure requires having the right gear. You want everyone in your family to be warm and happy while you're out exploring and a big part of staying warm is what you wear.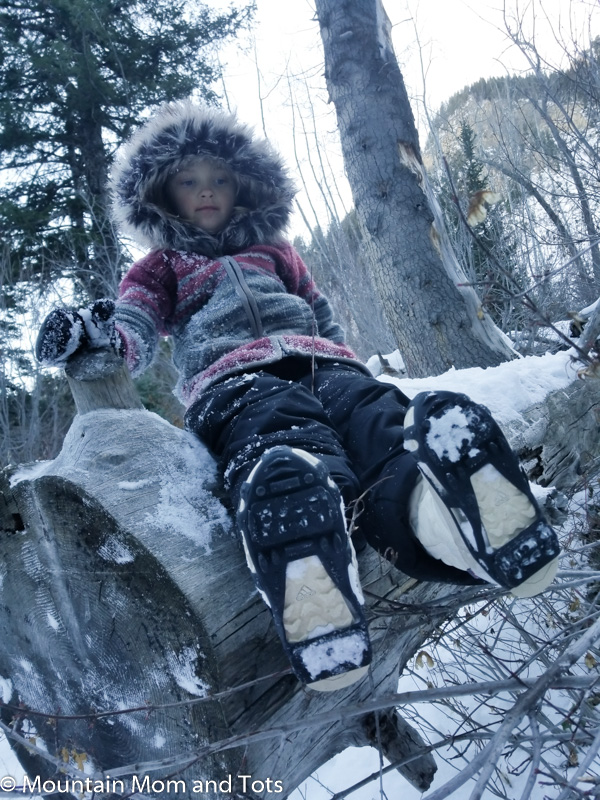 Essential winter hiking gear items include merino wool base layers
, waterproof snow suits, mittens or mitts (these are our favorites for toddlers
), hats and the Onya Baby sent us their Nexstep.
Trekking poles and microspikes are also recommended if ice is possible on the trail and snowshoes are essential for hiking in powder.
PSST: The links above are affiliate links to products my family LOVES and use all the time. Find all of our family's gear recommendations at www.mountainmomandtots.com/gear.
Onya Baby Nexstep
Tip 5. Carry your baby close to you to share each others body heat. One essential winter hiking item for families is a good kid carrier. Onya Baby sent us their Nexstep for Baby L to try out and I LOVE it for winter hiking adventures. Here's why:
I've used the same Kelty framed hiking pack with all of my kids. We bought it 8 years ago when Big E was a baby, and while it's great for hiking with kids age 6 to 24 months, it's impossible to wrangle an opinionated two-year-old into it. It's especially difficult if that two-year-old is decked out in puffy winter gear.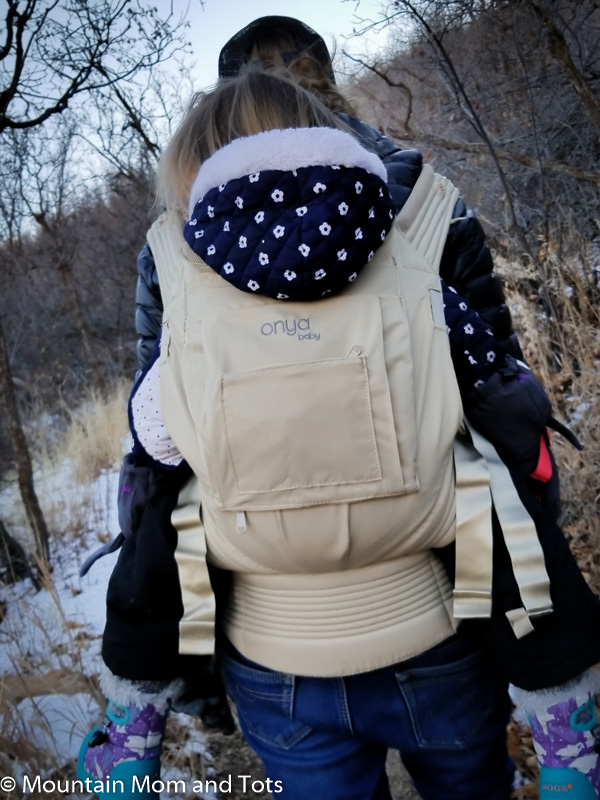 I had given up on hiking at more than a snail's pace this winter now that Baby L says "I wan walk!" every time we hit the trail. I figured this was just the time of life when I slowed WAY down to accommodate her little legs and strong opinions. But when Onya Baby sent us the Nexstep to review, that all changed.
I was pleasantly surprised at how easy and comfortable the NexStep Baby Carrier
is to use. The thick waist band provides support for my toddler, while lying comfortably on my hips. The wide buckle at the waist includes a safety elastic to prevent unclipping accidentally.
Made from 100% recycled materials, the NexStep Carrier
is soft and comfortable to wear and while it's called a BABY carrier, I think it's great for toddlers and larger kids. I have a friend who could carry her five-year-old in one of these.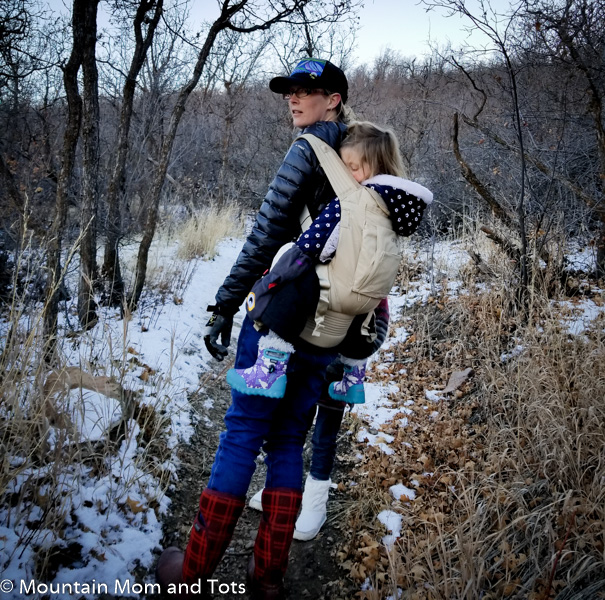 "Soft carriers keep kids close to our body heat but have them walk too to keep blood flowing." Natalie Lynn, Helping Families Explore Outdoors Facebook Group
What I really liked about the Onya Baby NexStep Baby Carrier
was that it made it easy for my busy toddler to go from being carried to running down the trail on her own. Now I don't have to be stuck at a snail's pace on our winter hiking adventures! It's awesome.
One additional bonus of the NexStep Baby Carrier
is that it can convert any kitchen chair into a baby seat, which is pretty cool.
Winter Hiking Adventures
So many people I know give up on outdoor adventures in the winter. I think that's a shame! Winter is my favorite season for outdoor exploring, mostly because I love skiing and snowboarding, but also because I need more nature to lift my dreary winter mood.
But in order to really enjoy winter adventures, it's essential to have to right gear that will keep you and your family members warm, happy and moving down the trail.
See you in the outdoors,
~Mountain Mom
Quotes in this post are from members of my FREE Helping Families Explore Outdoors facebook group. It's a great resource for outdoor parents to ask questions, share victories and support each other. Join us!