Planning your next family ski vacation? Here are 10 Things to Look for to make it great.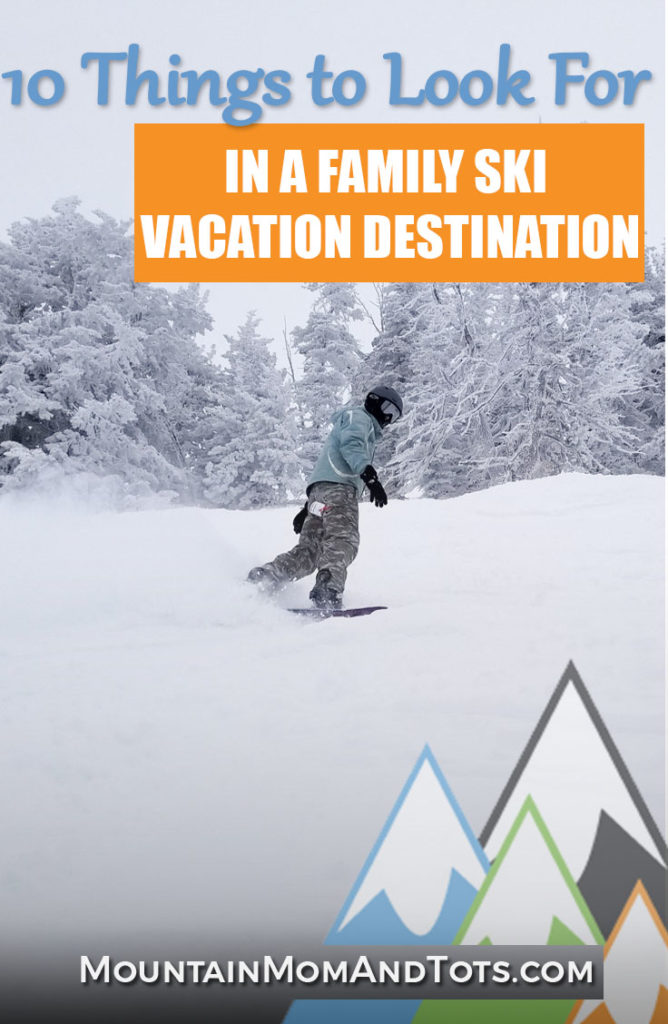 I'm gonna let you in on a secret. Although I live full-time at Sundance Mountain Resort in Utah, it would NOT be my choice for a family ski vacation destination.
Why? Because it doesn't check off all of these 10 things.
10 Things to Look For in a Family Ski Vacation Destination
1. Snow – Great snow is the most important criteria when planning a family ski vacation. It's partially luck if you get a great powder day during your scheduled trip, but you can get a good idea of what snow to expect by looking at annual snow totals.
2. Variety of Terrain – The best family ski vacation destinations offer lots of beginner runs as well as great powder and steeps for more experienced skiers.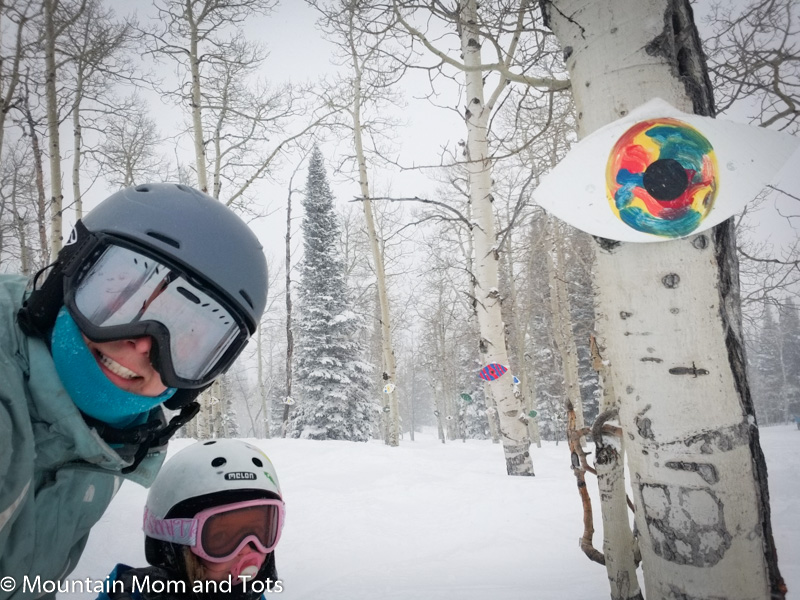 3. Beginner only lift – When planning your next family ski vacation, look for a resort with a dedicated beginners lift. Not only will this protect new skiers in your group from getting on too steep terrain, expert skiers and speed demons will avoid them, keeping everyone safe.
4. Family discounts – Many resorts in the US offer free lift tickets for kids age 5 and under, or discounted tickets if you stay on site.
5. Ski in/Ski out Lodging– If your family ski vacation will be with young kids, you'll want to maximize your time on the slopes by staying ON the mountain. This lets adults take turns skiing, while the other watches kids in the room. It also prevents extra driving drama and gives you a place for breaks and naps.
6. Child Care – Larger resorts often offer child care so parents can ski a few powder runs without their young kids. The drawback to this is the expense (it often costs more than a lift ticket). My suggestion is to build this expense into your vacation savings and prepay for it before you arrive. Having solo or couples time on the slopes is totally worth spending a little extra. Or if you have ski family friends, invite other adults and switch off babysitting.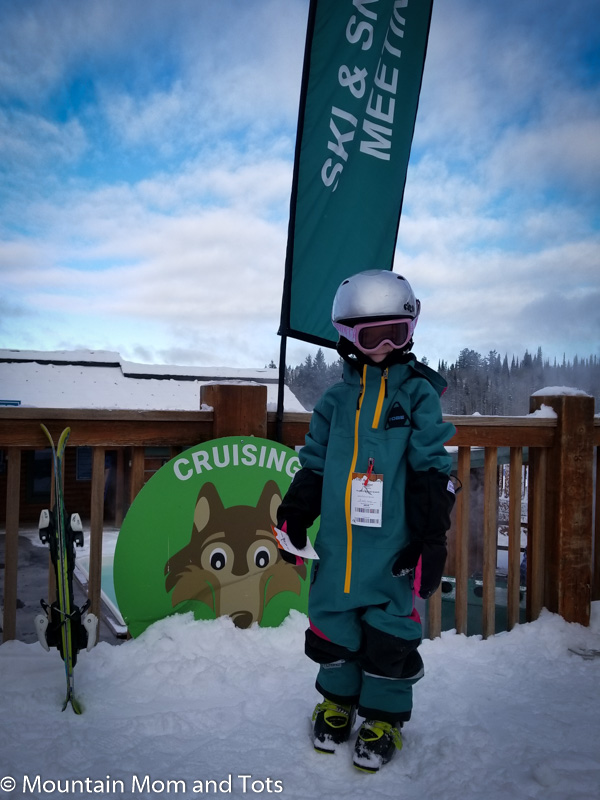 7. Excellent Ski School – I'm a big proponent of teaching your own kids to ski. That's why I started OnlineFamilySkiSchool.com along with Alyssa from kidproject.org and Kristen from BraveSkiMom.com. However, when it comes to searching for the perfect family ski vacation destination, taking a professional ski lesson is a good idea. Not only does it give your beginners a chance to improve their skills, it lets you have a break from the kids to catch some steeper terrain.
8. Beginner Terrain Park – No doubt you and your kids will want to try out some jumps, especially after watching X games and the Winter Olympics. As a parent, terrain parks can be scary so it's nice when a resort offers a terrain park dedicated to beginners. Riding on boxes, small jumps and small features allow both kids and adults to practice their skills without getting in over their head. ALWAYS WEAR A HELMET.
9. Snow sports for the NON- gravity inclined. – There's one in every family. Someone who can't, won't or isn't interested in downhill skiing or snowboarding. For those family members, it's nice to have flat land outdoor activity options like cross-country skiing, snowshoeing fat biking, and nature tours.
10. Extra Amenities –  If you don't have kids, you may not realize that the REAL reason any child wants to stay in a hotel is so they can swim in the pool. Along with that, soaking in a warm hot tub after a long day on the slopes is the perfect end to a perfect day.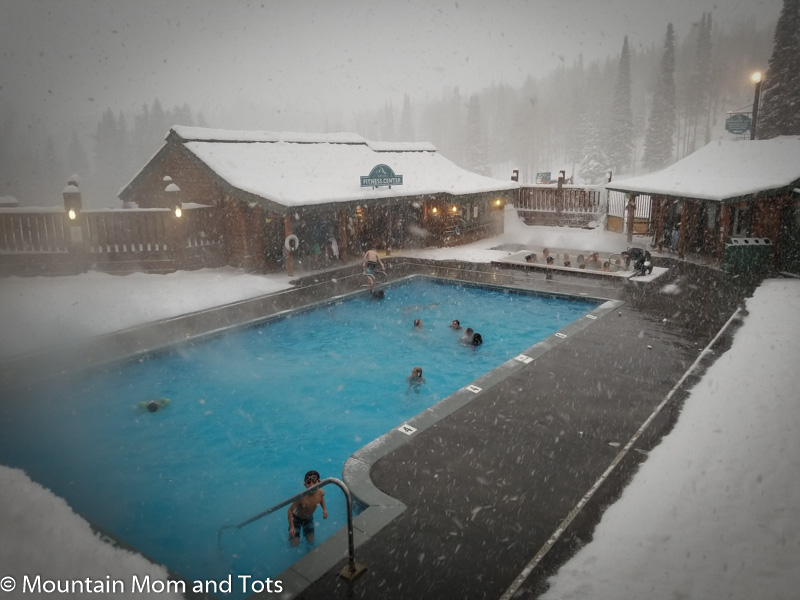 When planning a family ski vacation, extra amenities like a heated swimming pool and hot tub, can mean the difference between a good vacation and a great one. Here are a few on-site amenities to look for:
Gear Rental
Swimming Pool
Hot Tub
Sauna
Massage
Spa
Kid-Friendly Restaurants
In room fridge and microwave
Boot Dryer
Fire Pit
General Store
The Best Family Ski Vacation Destination: Grand Targhee Resort, Wyoming
In January 2018, Ski Idaho invited me and the Mountain Fam for a weekend visit to Grand Targhee Resort located on the Idaho/Wyoming border. It ROCKED! Grand Targhee checks off every one of the ten things on this list and more.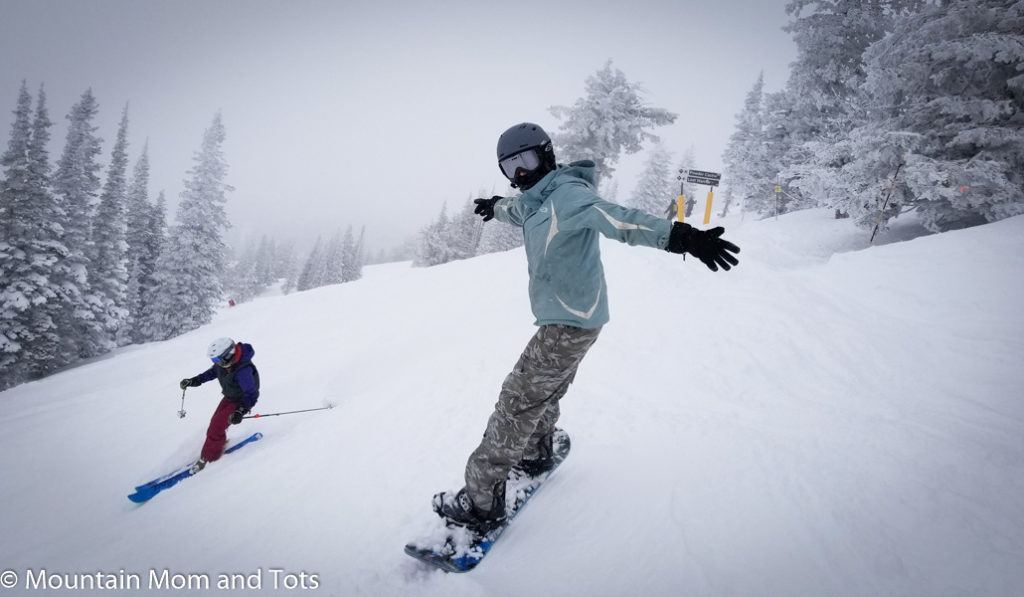 1. Snow – Grand Targhee gets over 500 inches annually. That's SO MUCH  snow. While the rest of the west is suffering from the worst snow in 60 years, Targhee has gotten more than 282 inches of snow so far this season (and counting).
2. Variety of Terrain – We got tons of powder during our visit. That meant me and Big E (age 9) hit black diamond expert runs while Mountain Dad took Little G in the Kids Adventure Zone.
3. Beginner only lift – The Shoshone lift at Grand Targhee gives access to all green runs – an entire lift of beginner trails! The whole mountain fam enjoyed the kid-friendly tree skiing in the Eyeball Forest and Gremlin Gulch.
4. Family Discounts – Kids 5 and under always ski free at Grand Targhee, but if you book three nights of lodging your 6-12 year old kids can ski free too.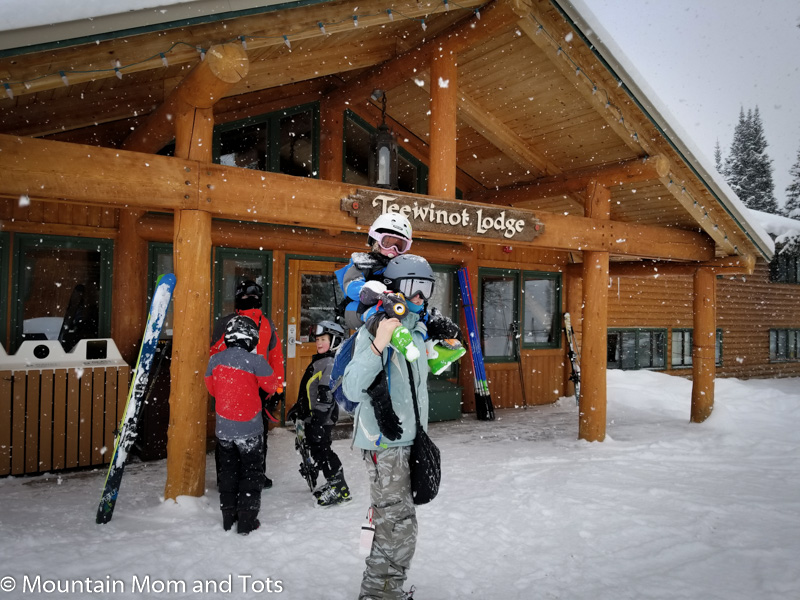 5. Ski in/Ski Out – Grand Targhee's slopeside lodging options are located right at the main base which allows easy access to lifts, shops, and restaurants. We recommend Teewinot Lodge – their lobby was a great place to play games, sit by the fire and let our kids run around.
6. Child Care – Baby L spent one morning in the Kid's Club during our Grand Targhee trip and had a blast playing with balls and the other little ones.  I was impressed with Targhee's Kid's Club and Child Care program where kids as young as 3 can take ski lessons, but come back to the Child Care center when they need a break. Grand Targhee also offers a Kids Night Out – you can leave the kids at the certified child care facility and enjoy some adult alone time.
7. Excellent Ski School – Mountain Dad and our two older kids (age 9 & 6) took ski lessons at Grand Targhee's Ski and Snowboard School and loved it. Mountain Dad's instructor easily identified the exact body movements he needed to work on in order to progress. Big E came back from his High Flying Eagles lesson saying "Squish the grapes!" I think that means lean forward more in your boots.
8. Beginner Terrain Park – One of the funnest parts of staying at Grand Targhee was exploring their Kid Adventure Zone and the North Pole terrain park. It has features designed for all levels, and plenty of smaller ride on boxes and jumps for terrain park beginners like me.
9. Snow sports for the NON gravity inclined – Grand Targhee offers 15 kilometers of cross-country, snowshoeing and fat biking trails and their on-site naturalist leads wildlife tours from the Winter Nature Center (Baby L loved the nature center more than the skiing). They also offer family friendly tubing.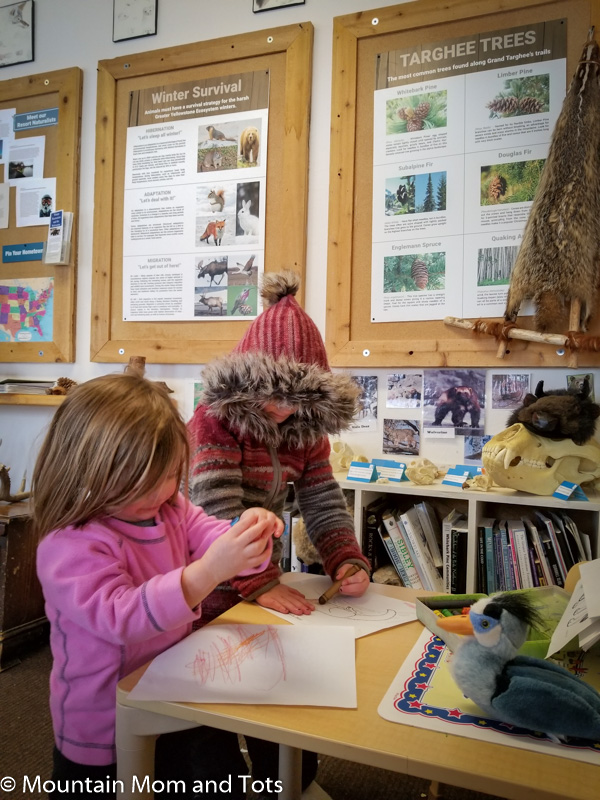 10. Extra Amenities – I don't think I've ever swam in an outdoor pool in the middle of winter before, but our whole Mountain Fam enjoyed the 98 degree heated pool and even warmer hot tub at Grand Targhee Resort.
Don't Just Take My Word For It
It's obvious that I think Grand Targhee resort is the perfect family ski vacation destination, but you don't have to just take my word for it.
While staying at Grand Targhee Resort I met members of the Henderson family from Salt Lake City. Every year for the last 20 years, their family has left the Greatest Snow on Earth and taken a family ski vacation to, you guessed it, Grand Targhee resort.
Their large crew of now 40 grandparents, parents, children, siblings, and cousins choose this resort as their perfect family ski vacation destination. Why? Because it checks off all 10 Things on the list.
Enjoy your next family ski vacation!
See you in the outdoors,
~Mountain Mom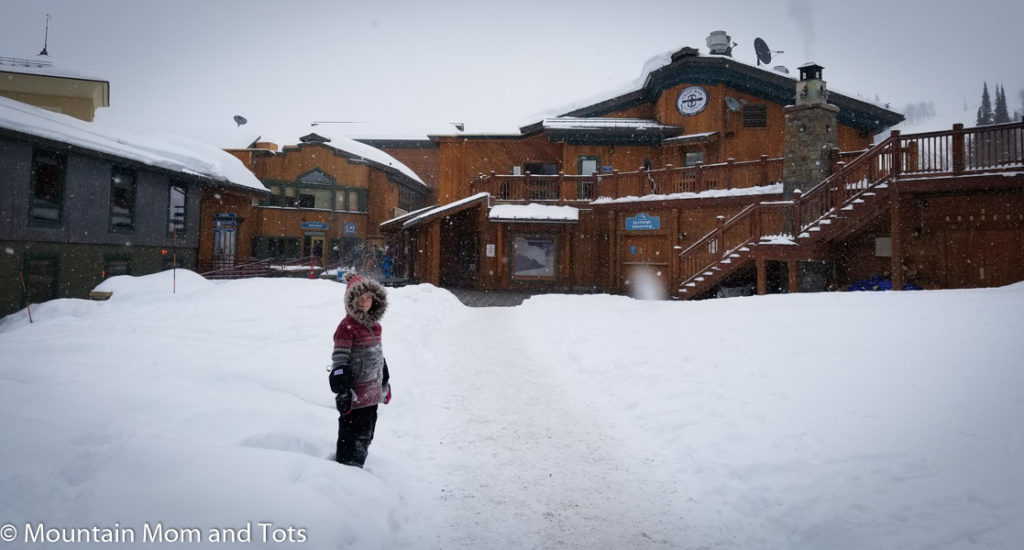 Just to be clear – I was given free lodging, lift tickets and access to lessons, child care and gear rental for the purpose of this review. Nobody said I had to write anything nice about Grand Targhee to get that free stuff, but I'm happy to because it was so awesome. That's my unbiased opinion. Thank you Ski Idaho.