I love reading (just see my book club page) so today I wanted to share my list of twenty-eight outdoor books to read in 2018. These outdoor books range from picture book titles for the kids to biographies of great explorers. There's sure to be an outdoor book for you on the list!
Some of these are outdoor books I read on my own, some were recommended to me by friends or book publicists and are on my want-to-read list. If you have an outdoor book that should be on this list just leave a comment below!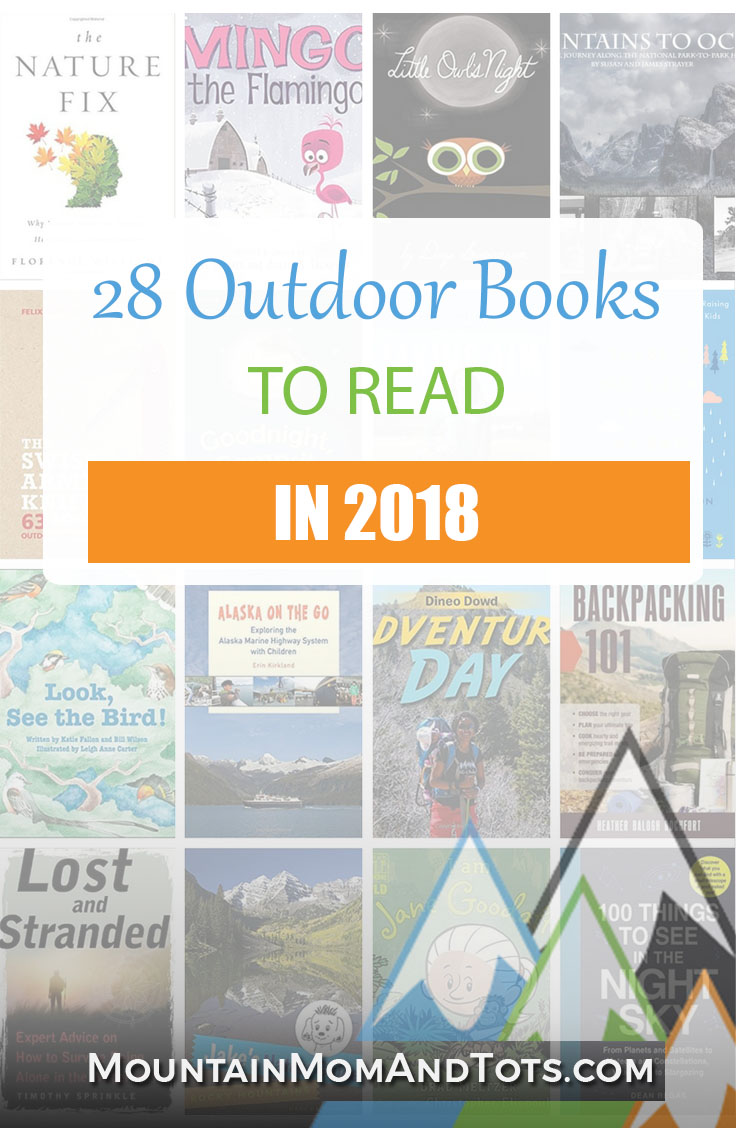 In many cases I received a free review copy of the books listed below, but I received no other form of compensation. Many of the links included in this post are affiliate links. That means I get a commission (at no extra cost to you) if you purchase something after clicking the link. Please do so. I'm saving up for backpacking gear for the whole family.
Outdoors Books for Kids
Little Owl's Night by Divya Srinivasan – My tots received this book from their Aunt who works as an elementary school teacher. In it a little owl shares its night time adventures with beautiful illustrations. Seriously beautiful. Age: 0-6 Price: $5.59
Adventure Day by Dineo Dowd – This is my favorite kids book suggestion because it was written by one of you! A Mountain Mom and Tots reader! Follow baby as she meets up with friends for a day of hiking adventure. Age: 0-6 Price: $15.97
Look, See the Bird! by Bill Wilson and Katie Fallon illustrated by Leigh Anne Carter – A great introduction to birding for kids. With colored pencil drawings of hawks, orioles, split tail flycatchers and more, children connect with birds from many climates and the families who watch them from below. Age: 4-8 Price: $10.59
Goodnight, Campsite by Loretta Sponsler illustrated by Olga Shevchenko – Introduce kids to the different people and activities they might see while camping. Goodnight, Campsite showcases camping in an RV as well as a tent and has cute illustrations and rhymes. Age: 4-8 Price: $9.92
Jake's Nature Guide: Rocky Mountains by Mark Danenhauer illustrations by Phyllis Danenhauer – A hand-held resource for that teaches about the birds and bees (not THOSE birds and bees, I mean actual bird and insect species) that call the Rocky Mountains home. In addition to birds and insects Jake's Nature Guide covers fungi, trees, plants, mammels, reptiles, fish and amphibians in my area. Both Big E and I have really enjoyed learning more about the natural world around us from this book. You can read my full review and watch an interview I had with the author here. Age: 7 – Adult Price: $18.14
A Young Researcher's Guide to Bigfoot by Gayle Beatty and Deborah Ray  – DO. NOT. BUY. THIS. BOOK. A Young Researcher's Guide to Bigfoot is the most unprofessional published book I've ever read. I was expecting a fun, nonfiction book that would present evidence or at least reports of Bigfoot sightings. Instead I got a jumbled pile of loosely connected "information" that ranged from Native Americans to Sasquatch language to leaving garlic out in the summer. The photographs were all blurry or seemed to have little or nothing to do with the topic. Why is there a cd player in the photo with Native American artifacts? Do we really need an amateur photo of the contents of your day pack?
Plus the authors never addressed the main controversy around Bigfoot – does it exist? Instead they mention how they stick apples on trees and tell stories of their grandchildren. I have no doubt Gayle and Deborah would be wonderful people to spend the day with, but I don't think they should publish any more books. I included this book on my recommendations list only to warn you to stay away…and because Little E didn't think it was that bad. Age: 6-12 Price:$19.09
Benji and the 24 Pound Banana Squash by Alan Fox illustrated by Eefje Kuijl – This book is on my want-to-read list because I love the idea of gardening with my kids, but when I've grown things with them in the past they always pick the fruit before it's ripe! This story tells about a little boy who grows a 24 pound banana squash, taking care of it every day and WAITING until it's ripe. Age: 2-7 Price: $12.29
Squirrels on Skis by J Hamilton Ray illustrated by Pascal Demaitre – This adorable book tells the story of a band of marauding squirrels on skis that take over a town. The style reminded me of the classic read aloud book Are You My Mother by P.D. Eastman. In this story even squirrels know what ski stoke is all about. Age: 4-10 Price: $8.84
I Am Jane Goodall (Ordinary People Change the World) by Brad Meltzer illustrated by Christopher Eliopoulos – This book was recommended to me by the editor of OutdoorFamiliesOnline.com. Here's what she said about it.
"My daughter is currently obsessed with I am Jane Goodall. Whenever she picks it up, my heart sings a happy song. Not only does it encourage her look more closely at her outdoor surroundings and patiently observe its nuances, it reinforces her love and curiosity of nature and illustrates how one person can create change, make an impact, and protect our environment." Age: 2-8 Price: $4.94
Mingo the Flamingo
by Pete Oswald and Justin K Thompson – Hehehe. I love silly stories. This one about a flamingo that gets lost in Siberia is sure to please the outdoor kids in your fam. Ages: 2-8 Price: $11.48
More Outdoor Books for Kids
The Wolves Return: A New Beginning for Yellowstone National Park by Celia Godkin
Skydiver: Saving the Fastest Bird in the World by Celia Godkin
My Busy Green Garden A Tilbury House Nature Book by Terry Pierce and illustrated by Carol Schwartz
Things That Grow by Libby Walden and illustrated by Becca Stadtlander
Animal Journeys by Patricia Hegarty and illustrated by Jessica Courtney-Tickle
Watch Out for the Crocodile by Lisa Moroni and illustrated by Eva Eriksson
A Place for Butterflies (Revised Edition) by Melissa Stewart and illustrated by Higgins Bond
Beneath the Sun by Melissa Stewart and illustrated by Constance R. Bergum
About Habitats: Polar Regions by Cathryn Sill and illustrated by John Sill
Outdoor Biography and Memoir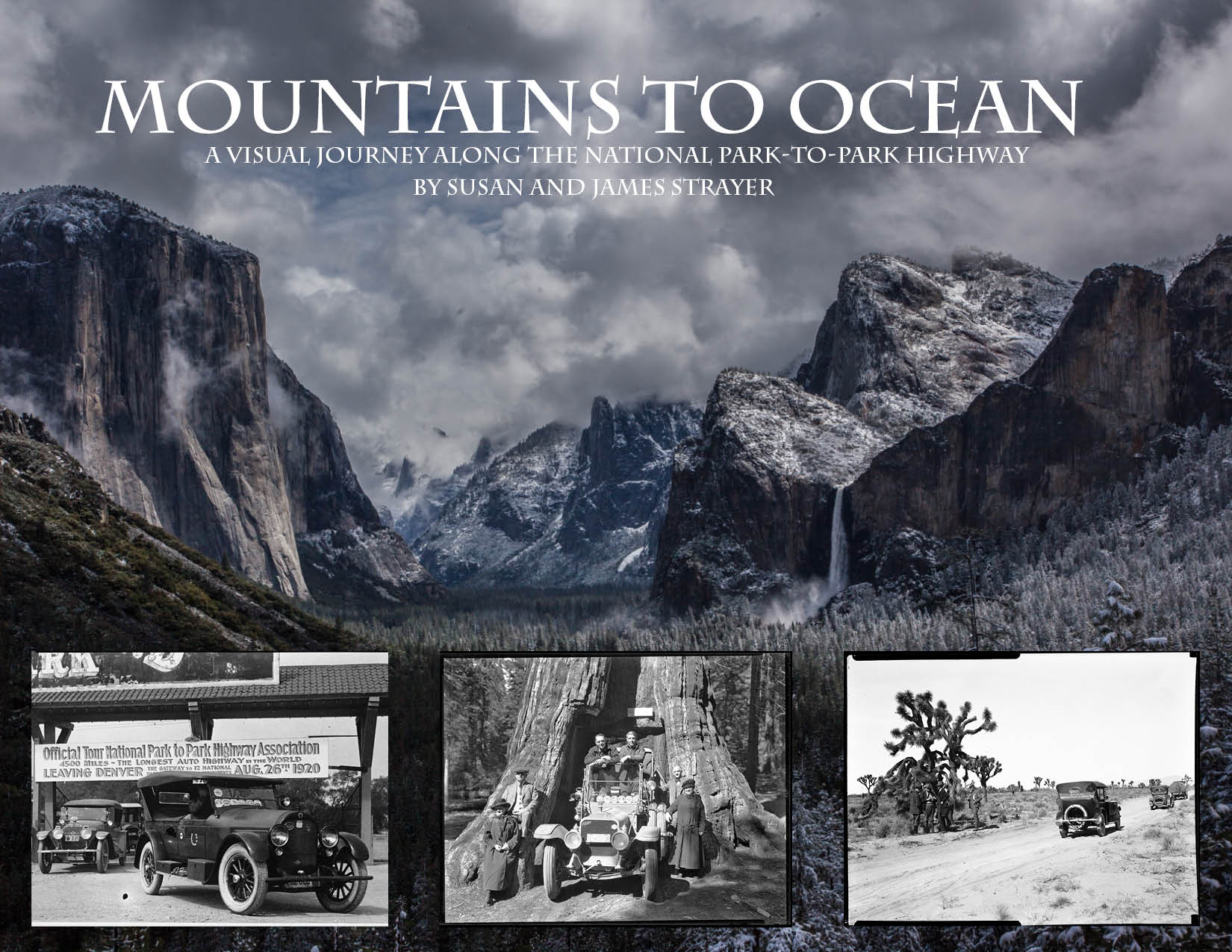 Mountains to Ocean: A Visual Journey Along the National Park-to-Park Highway by Susan and James Strayer  – This is my FAVORITE book recommendation because…it was written and photographed by me and my husband! This photo ebook chronicles our 7 week National Park-to-Park Highway adventure where we drove 7,000 miles camping along the way with three young children. We saw some of the most iconic wild places in the United States and tested our limits as family adventurers. You can get a copy of Mountains to Ocean totally free. Just sign up below. Price: FREE
There's No Such Thing as Bad Weather by Linda Akeson McGurk – When fellow outdoor family blogger RainorShineMamma invited me to read and review her new book I jumped at the chance. This well written memoir the best book I've read this year. The subtitle says it all A Scandinavian Mom's Secrets for Raising Healthy, Resilient, and Confident Kids (from Friluftsliv to Hygge) . To read my full review and to see an exclusive author interview video video click here. Price: $14.89
Taking Aim: Daring to Be Different, Happier, and Healthier in the Great Outdoors
by Eva Shockey with A.J. Gregory – This memoir written by the co-host of Jim Shockey's Hunting Adventures on Outdoor Channel talks about womens professional bow hunting. Didn't know that was a thing? Don't worry I didn't either until the publicist sent me a copy. I'm still reading this one, but I love the theme of daring to be different and happier in the great outdoors. Price: $15.74
A Speck in the Sea: A Story of Survival and Rescue by John Aldridge and Anthony Sosinski – You know those books that you keep thinking about even when  you really should be doing something else? Like listening to your husband/kids, making dinner or sleeping? Well, A Speck in the Sea: A Story of Survival and Rescue was that for me.
It tells the harrowing experience of John Aldridge being tossed overboard from his commercial fishing boat in the North Atlantic in the dead of night. His business partner and friend Anthony Sosinski launched a rescue attempt involving local fisherman and the US Coast Guard when he woke to find Aldridge missing. Stranded in open water, surrounded by sharks, Aldridge had to decide whether to live or die. Want to hear a great interview about it? Check out Go Adventure Mom's podcast episode here. Price: $15.99
A Walk for Sunshine: A 2,160 Mile Expedition for Charity on the Appalachian Trail by Jeff Alt – In 1998 Jeff Alt hiked the Appalachian trail in honor of his brother with cerebral palsy. This book chronicles the outdoor adventures he encountered but what's more interesting to me is the adventures that started once the hike was over. For the last 20 years Sunshine Walk Run and Roll fundraiser inspired by Jeff and his brother has raised money for people with disabilities. The anniversary edition of this book came out September of 2017. Price: $10.97
A Long Trek Home: 4,000 Miles by Boot, Raft, and Ski by Erin McKittrick – Could you walk from Seattle to the very tip of the Alaska's Aleutian Islands?  It's a journey of 4,000 miles that author Erin McKittrick completed with her husband in 2007. Together they hiked, skied and paddled for over a year, living and traveling through spring, summer, fall and an Alaskan winter.
I loved feeling the sense of adventure that came through with Erin's writing, especially since I read it during my own family's National Park-to-Park Highway adventure.
Although my epic cross country trip only involved camping out of our truck for seven weeks, I still could relate to Erin's wild adventure spirit. Read my full book review and author interview here.


I'm also really looking forward to reading her second book Small Feet, Big Land which talks about another epic journey she had with her husband and two young kids. Price: $15.11
Desert Solitaire by Edward Abbey – I had to include Mountain Dad's number one book recommendation (even though I found the audio version a bit slow). Desert Solitaire is a lyrical memoir about Edward Abbey's time as a  park Ranger in Arches National Park in the 1960s. Beautiful wild land descriptions are interwoven with personal stories, like finding bull snakes and rattlesnakes under his trailer and witnessing the destruction of land due to development. If you're looking for a classic literary read, Desert Solitaire is your book. Price: $10.61
Thirty Years in the Arctic Regions: The Narrative of a Polar Explorer (Explorers Club)
by Sir John Franklin – Originally published in 1859, Thirty Years in the Arctic Regions
 is Franklin's own record of his two overland arctic expeditions, be­gun in 1816 and 1825. But the real story starts with his third expedition where he and his crew disappeared for over a century and a half until the discovery of his missing ships in 2016. I haven't read this yet, but I'm looking forward to a first hand account of outdoor adventure in the 1800s. Price: $14.99
River Master: John Wesley Powell's Legendary Exploration of the Colorado River and Grand Canyon by Cecil Kuhne – Another great biography on my to-read list is River Master about explorer John Wesley Powell. I have a special place in my heart for Powell because he helped map much of southern Utah (my home state) and he was an awesome one-armed river rafter. We even considered naming Big E Powell in his honor.
Powell ran the Colorado river from its head waters through to the Grand Canyon. This book is part of The American Grit biography series which shares real life tales of endurance, exploration from American history using primary source journals and artwork. Price: $18.75
The Nature Fix: Why Nature Makes us Happier, Healthier, and More Creative
 by Florence Williams – This book isn't biography or memoir but it is nonfiction and sounds fascinating. The Nature Fix discusses why humans need the outdoors in their lives. I've had it on my reading list for a while and look forward to learning more about nature research by reading it. Price: $15.22
How To Outdoor Books
Backpacking 101 by Heather Balogh Rochfort – This how to book offers step by step instructions for how to hit the trail in the backcountry. Just check out the subtitle: Backpacking 101: Choose the Right Gear, Plan Your Ultimate Trip, Cook Hearty and Energizing Trail Meals, Be Prepared for Emergencies, Conquer Your Backpacking Adventures Author Heather Balogh Rochfort is another outdoor blogger friend of mine over at JustaColoradoGal.com and she also writes for Backpacker magazine. So yeah. She knows her stuff. Read my full book review (and about my son's first backpacking disaster) here. Price: $11.55
100 Things to See in the Night Sky: From Planets and Satellites to Meteors and Constellations, Your Guide to Stargazing
 by Dean Regas – After experiencing the COOLEST outdoor moment of my life in August of 2017 by witnessing the total solar eclipse in totality, I was super interested to add this book to my reading list. In 100 Things to See in the Night Sky
, author Dean Regas describes what planets and constellations are visible to the naked eye or visible with a small telescope and how to find them. He also describes the mythology behind many of the constellations. Fascinating! This book would be great for a Tween or Teen who is interested in astronomy (or greek mythology). Age 12 – Adult Price: $10.99
A Playful Life by Robyn Robledo – This author is living my dream life. Traveling full time in an RV with her family of 7, she's surfed the pacific coast and climbed the Italian Dolomites. In her book, A Playful Life she teaches how to eat, move and live with the emphasis always on healthy living for healthy playing.
I've gotta be honest, I hate diets and exercise regimens. I think they are evil and have caused untold pain for millions of American women. But for those of you looking for a way to focus on your health in 2018 with an emphasis on being able to explore and adventure more, you should read A Playful Life. Price: $8.27
Alaska on the Go: Exploring the Alaska Marine Highway System with Children
 by Erin Kirkland – For our 10th wedding anniversary Mountain Dad and I took a couples trip to Alaska. While there I got to meet fellow outdoor blogger Erin Kirkland from AKontheGo.com, and author of Alaska on the Go: Exploring the 49th State with Children.
That guidebook saved us so many times on that trip! It had food and lodging recommendations, cost saving tips and information only a local would know. I can't wait to go back and put her tips about the Marine Highway System to the test. Price: $19.75
Lost and Stranded: Expert Advice on How to Survive Being Alone in the Wilderness
by Timothy Sprinkle – What would you do if you were in an avalanche? Attacked by bears? Came down with a bacterial infection? I'm not sure what I'd do in all those situations, which is why Lost and Stranded is on my reading list. Price: $14.11
Velopedia: The infographic book of cycling by Robert Dineen – The most visually fascinating book I read this year! This nonfiction book about the history of cycling told entirely through infographics. You can turn to any page and find something interesting. If you know a Tour de France aficionado, they would love this book. Read my full book review here. Price: $19.71
The Swiss Army Knife Book: 63 Outdoor Projects by Felix Immler – This how-to book teaches everything from how to make a backwoods shelter to a kitchen spoon using only a regular Swiss Army Knife. I especially liked the full color photographs and step-by-step instructions. And if reading this visually engaging book isn't enough, you should also check out Author Felix Immler's popular YouTube channel. Price:$13.59
More Outdoor Books for Adults
THE COMPLETE JAMES HERRIOT Box Set 1-8
 by James Herriot including All Creatures Great and Small, All Things Bright and Beautiful, and All Things Wise and Wonderful (I really liked these stories of a small town British Veternarian during the decades around World War 2)
Lab Girl
by Hope Jahren
Into the Wild
by John Krakauer
Touching the Void: The True Story of One Man's Miraculous Survival
by Joe Simpson
How to Raise a Wild Child: The Art and Science of Falling in Love with Nature
by Dr. Scott Sampson
Before They're Gone: A Family's Year-Long Quest to Explore America's Most Endangered National Parks
by Michael Lanza
The National Parks: America's Best Idea
by Dayton Duncan and Ken Burns
There you have it – 28 Outdoor Books for your 2018 reading list. Do you have an Outdoor book you'd add to the list? Just comment below! I love a good book recommendation. And be sure to check out the Mountain Mom and Tots Book Club page for more great reads.
See you in the outdoors,
~Mountain Mom