Teaching kids to ski can be challenging, but it can also be SOOOO rewarding. That's why this month's Online Family Ski School challenge is all about Skiing with Kids.
When Big E was just three years old I tried to teach him to ski myself. I didn't really know what the heck I was doing, but I figured "It's sliding down snow. I know how to snowboard. It'll be fine."
Boy was I wrong. That first attempt ended in tears and frustration for both of us.
Fast forward five seasons, tons of research, lessons from professionals and about a million laps on the bunny hill with my three tots. Now I happily hit the slopes with Big E, Little G and Baby L all in tow.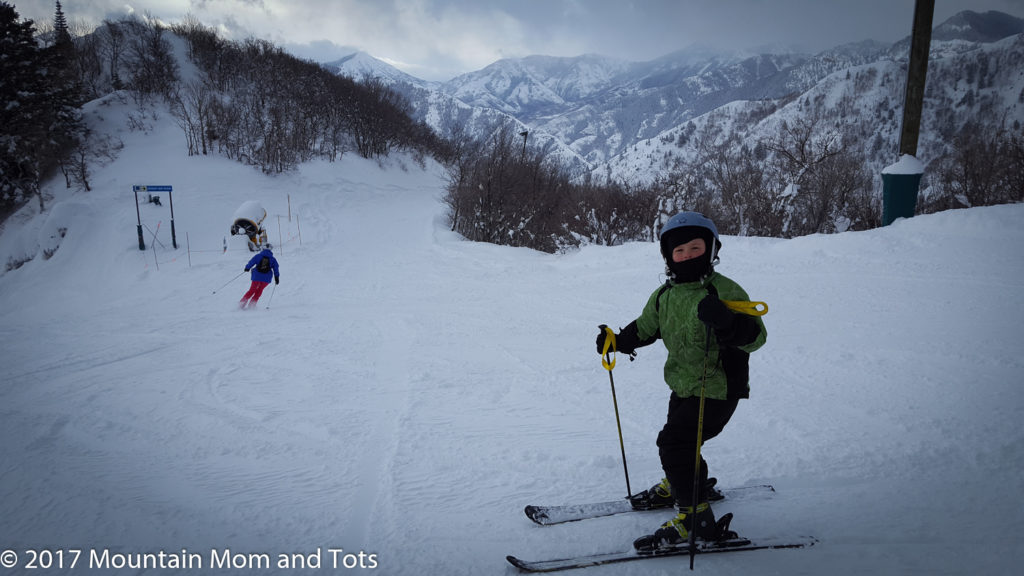 Why? Because we LOVE skiing. We're a ski family. We live at a ski resort for heavens sake!
And I want to help YOUR family explore outdoors through skiing too.
Online Family Ski School
Kristen Lummis, from Brave Ski Mom, Alyssa Erickson from kidproject.org and I have been working hard for MONTHS to put together an awesome  online family ski school course for parents, from parents.
The Online Family Ski School includes nine self-paced video lessons, exclusive real-life advice, printable pdfs and access to instructors with over 35 years of skiing with kids experience.
In the course we discuss:
Frequently Asked Questions
How to Dress Your Child for Skiing
Equipment
The Right Time, Right Place, Right Weather
Teaching Tips Indoor and Outdoor
How to Load and Unload the Lift
How to Move While Wearing Skis
Ready, Set, STOP – Teaching the Wedge
Ready, Set, TURN – Teaching the Turn
Designed for parents of 2-10 year olds, the Online Family Ski School will help your family hit the slopes this winter. Whether you want to teach your kids yourself or use the Online Family Ski School in connection with in person lessons, the real life skiing with kids tips we offer can help you become a ski family.
January 2018 marks the first time the Online Family Ski School will open its doors. We're launching the Beta version of this course to see how it works for you in real life. We want your feedback, after all the goal is to help YOUR family explore outdoors, so we're inviting you to join us. Sign up here, in the box after this sentence, and you'll receive a coupon code for 50% off the Online Family Ski School!
In addition to this awesome deal, you'll get weekly tips on how to ski with kids from me, kidproject.org and Braveskimom.com and you'll be automatically added to my January Ski with Kids challenge! Since January is Learn to Ski and Snowboard Month, now's the perfect time to learn to ski with kids.
January Ski with Kids Challenge
January is the perfect time to host this Ski with Kids challenge. Not only is it my birthday month, it's also Learn to Ski and Snowboard Month where ski resorts across the nation offer special beginner pricing for lessons, lift tickets and gear rentals.
Now you may be wondering what my monthly outdoor challenges are all about. Well, each month I host an outdoor challenge that:
Requires you to get outside.
Is something you can bring kids on.
Costs nothing or very little.
Is a little challenging. It is a challenge after all.
My monthly challenges are a year long journey in the outdoors, and I want you to join me. Each month the challenge is a little different, but this month's is by far my favorite – Ski with Kids!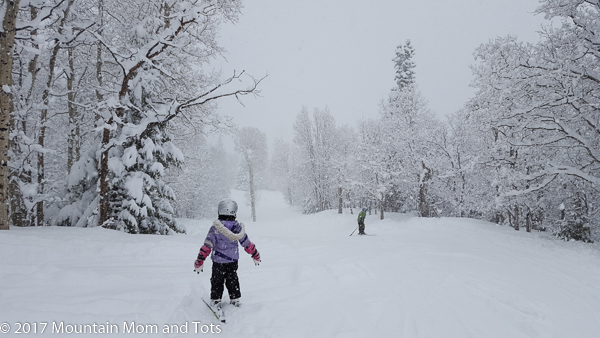 Some of you may be saying, "Wait a minute, I thought all your challenges cost nothing or very little. How does that work with skiing?" Well, I know skiing can be a bit pricey, but if Learn to Ski and Snowboard Month and the 50% off BETA version discount of the Online Family Ski School isn't enough of a discount for you, or if you live in a place where there's no snow in January, join and I'll offer an alternate outdoor challenge for you.
January's Ski with Kids Challenge is pretty simple. Here's how it works:
Sign up.
You'll receive three to four personal emails from me through out the month, giving you the 50% discount to the Online Family Ski School, and tips and resources for skiing with kids.
Post a photo of you skiing with kids on social media or in the FREE Helping Families Explore Outdoors Facebook Group and tag @mountainmomtots.
You'll be entered to win a FREE Beta version of the Online Family Ski School course as well as a sample pack of my new favorite ski snacks – Gluten Free Bites from The GFB Here's the best part –your chances of winning will always be 1 in 50 or better.
Gluten Free Bites
In addition to FREE access to the Online Family Ski School, and in honor of Gluten Free Day TODAY January 8 – one January Ski With Kids challenge winner will also win a sample pack of the tastiest ski snacks ever! Gluten Free Bites.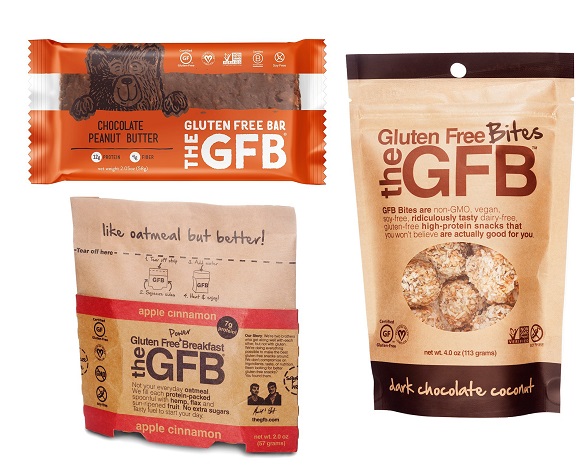 Big E has serious food allergies – wheat, eggs, nuts and peanuts – so when The GFB contacted me and offered to send some of their Gluten Free snacks to try I happily agreed. I'm always looking for foods my son can eat.
I would not have thought Non GMO, Vegan, soy-free, dairy-free, gluten free snacks would taste great (they don't when I make them) but the Gluten Free PB&J Bites were so super delicious I ate the whole bag in one sitting. Only Baby L got to try one before they disappeared in my belly (that's okay, Big E couldn't eat the peanuts anyway).
They were SOOOO good and would make perfect ski snacks – protein packed, filling, tasty, can fit in a pocket and are easy to eat while wearing gloves.
The GFB makes protein bars, gluten-free protein balls and Power Breakfast (These would be great for backpacking too). Developed by two gluten-free brothers, these snacks would make a great addition to anyone's ski bag.
Ski With Kids
If you struggle to get outdoors with kids in the cold, this Ski with Kids challenge is just for you. Join now and you'll get 50% off the BETA version of Online Family Ski School, access to my January Ski With Kids Challenge and a chance to win access to the Online Family Ski School for FREE and a sample pack from The GFB – Gluten Free Bar.
See you in the outdoors!
~Mountain Mom